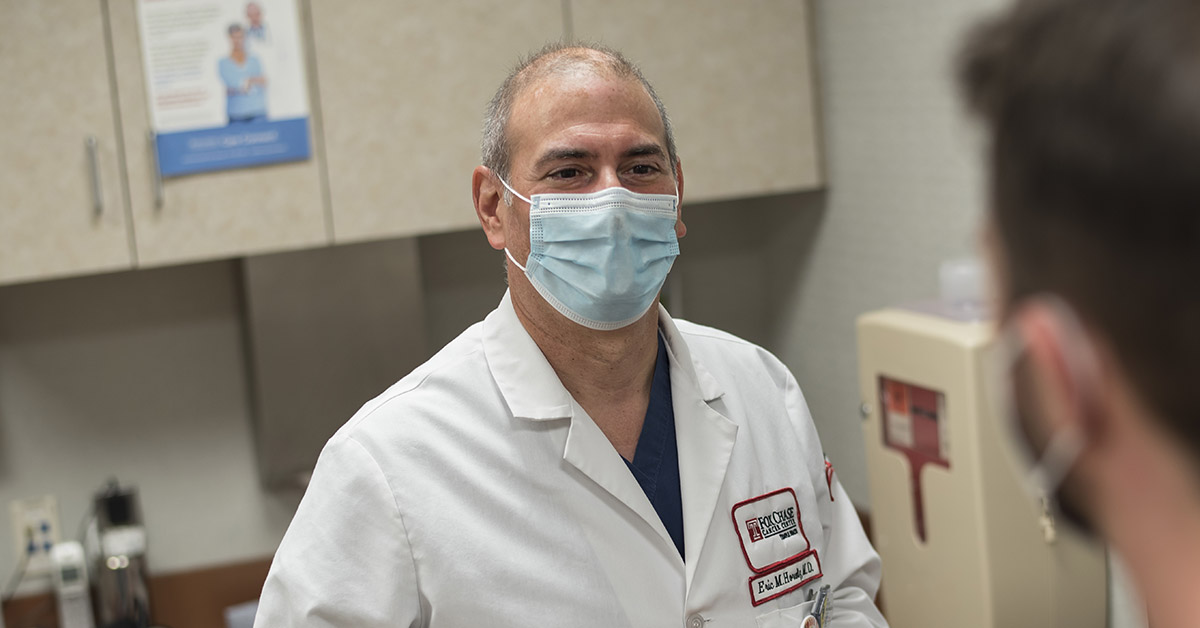 PHILADELPHIA (August 23, 2021)—Fox Chase Cancer Center is proud to announce the opening of a new Prostate & Urologic Cancer Program at its Fox Chase Cancer Center East Norriton - Hospital Outpatient Center.
"We're very excited because this clinic is aimed at men in the western suburbs and will give them the opportunity to see Fox Chase urologic oncologists and radiation oncologists in their own neighborhood. We want people to see Fox Chase physicians specifically to talk about this cancer without having to travel into Philadelphia," said Eric M. Horwitz, MD, FABS, FASTRO, professor and chair of the Department of Radiation Oncology at Fox Chase and the Gerald E. Hanks Endowed Chair in Radiation Oncology.
Fox Chase East Norriton, located on the campus of Suburban Community Hospital in Montgomery County, offers patients with urologic cancers a full scope of services—including surgical, radiation and medical oncology, genetic testing and counseling. In addition, the program offers an array of support services, such as survivorship clinics and the Men's Sexual Health Program and Erectile Dysfunction Clinic.
As a leader in prostate cancer care, Fox Chase specializes in focal therapy, prostate gland ablation, both robotic and traditional prostatectomy, and state of the art radiation therapy including stereotactic body radiation therapy and high dose rate prostate brachytherapy. In addition, Fox Chase also offers men with low-risk prostate cancer the option of active surveillance.
"What's unique about prostate cancer is that there are so many different treatment options and not everybody has the opportunity to hear about them before they make their decision," said Horwitz. "It's our job as physicians to provide that information."
The new program allows patients in the East Norriton area to access treatments such as targeted therapies, immunotherapy, chemotherapy, and other new treatments being tested in clinical trials.
Among the many options available for certain patients at the new clinic includes advanced hypofractionated radiation therapy. Hypofractionation is a state-of-the-art therapy offered to specific cancer patients that can shave weeks off the traditional treatment length with the possibility of fewer short-term side effects and a better quality of life.  "20 years ago, 8 to 9 weeks of external radiation treatment was the routine.  At Fox Chase, we have been involved in some of the original US clinical trials that established that hypofractionated radiation therapy is the new standard of care.  We can treat most patients with radiation treatments lasting from 1 to 5 weeks at most," said Horwitz.
"We're one of the main urologic cancer groups in the country. We have nationally recognized urologic oncologists, nationally recognized radiation oncologists. So this location is an opportunity for patients to get a full prostate cancer evaluation in that setting," said Horwitz.
"There are so many different choices and options out there. We feel that being able to focus on prostate cancer at Fox Chase East Norriton is going to be really good for people who live on this side of the region. Anything we can do to make it easier for patients is a good thing," he said.