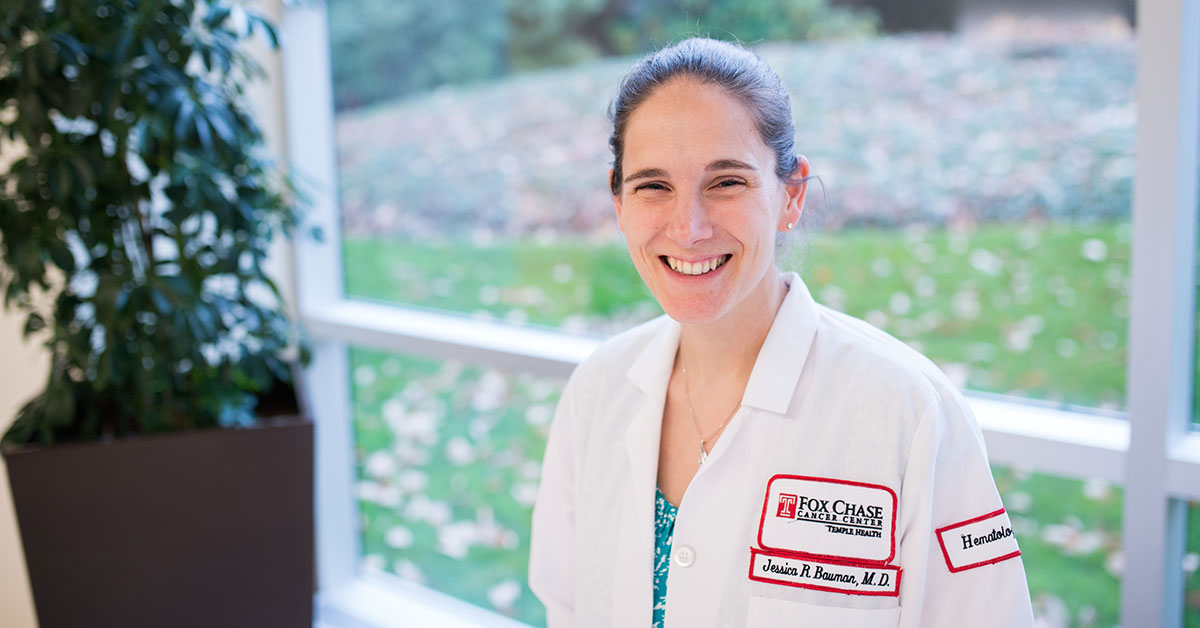 PHILADELPHIA (July 23, 2021)—Over 90% of head and neck cancer patients found weekly palliative care visits to be a valuable addition to their treatment, a recent study conducted at Fox Chase Cancer Center has concluded.
Although palliative care is known to improve symptoms and coping in patients with advanced cancer, it hasn't been evaluated for head and neck cancer (HNC) patients receiving curative-intent outpatient chemoradiation therapy at a single care delivery site. Chemoradiation for HNC is one of the most challenging treatments for patients due to significant side effects, so incorporating better supportive care during treatment is critical.
Jessica R. Bauman, MD, chief of the Division of Head and Neck Medical Oncology and assistant professor in the Department of Hematology/Oncology at Fox Chase, headed the study. Carolyn Y. Fang, PhD, professor in the Cancer Prevention and Control Program and associate director for Population Science, and Areej El-Jawahri, MD, associate director of the Cancer Outcomes Research and Education Program at Massachusetts General Hospital, served as mentors on the research. The pilot study was funded by the Palliative Care Research Cooperative Group. 
Weekly palliative care visits with a focus on symptom management and coping were integrated with oncology care for the study. Palliative care nurses provided the weekly palliative care visits; they were supported by palliative care nurse practitioners and palliative medicine physicians where necessary.
A post-intervention satisfaction survey was conducted to assess acceptability, symptom burden, mood, and quality of life. Ninety-five percent of patients found the one-on-one format of the intervention and the opportunity to receive additional care "very helpful" and would "definitely recommend" it.
"Adding an extra layer of support during very challenging treatment with incorporating a palliative care team into outpatient care" for these patients has never been studied, Bauman said. 
"We received favorable preliminary data with this pilot study. Now it's important to study a larger, randomized group of patients to determine how the intervention affects outcomes," which could help convince healthcare systems to invest in such strategies, she added.
Bauman said she would like to address other questions in a larger study, including whether such interventions can lessen the burden of symptoms and improve mood, and whether the palliative care intervention decreases hospitalizations, thus improving overall care.
"It's imperative that we deliver the best treatment and care. At the same time, we need to provide the whole patient with support. We want patients to survive and thrive," Bauman said.
The paper, "A Pilot Study of a Collaborative Palliative and Oncology Care Intervention for Patients With Head and Neck Cancer," was published in the Journal of Palliative Medicine.