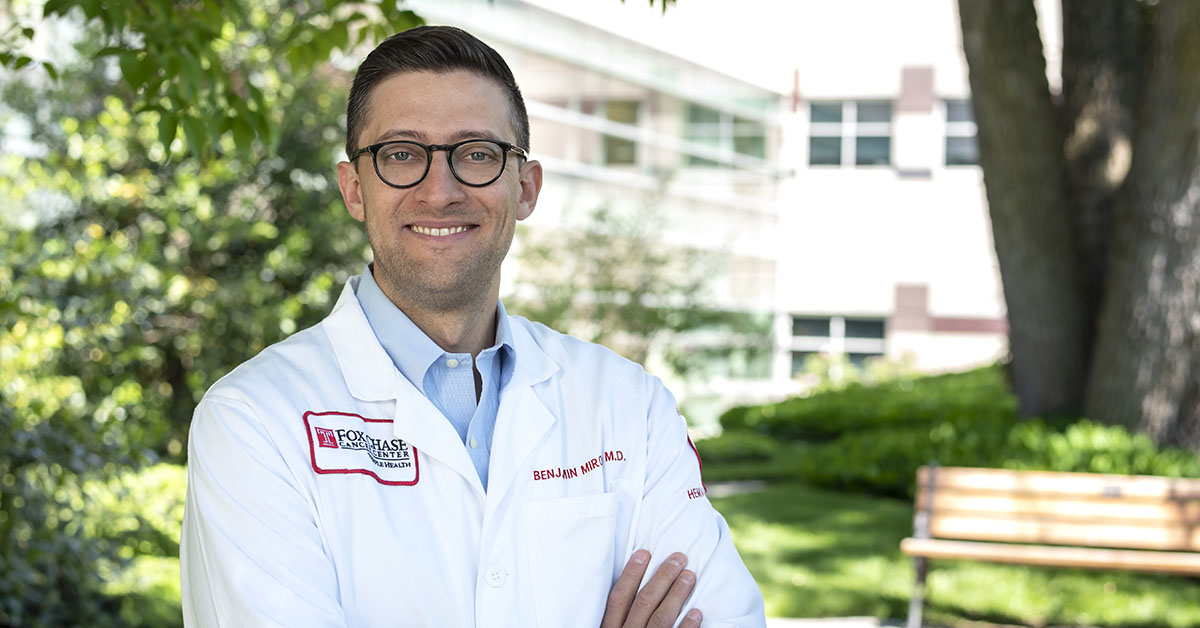 PHILADELPHIA (May 27, 2021)—The Bladder Cancer Advocacy Network (BCAN) has recognized Benjamin Miron, MD, a medical oncology fellow at Fox Chase Cancer Center, with the 2021 New Discoveries Young Investigator Award.
"It is an honor to be recognized with this award. This funding will help us investigate new biomarkers for bladder cancer to more accurately assess for responses to the treatments we give. This type of research is pivotal to understanding key factors in the treatment and development of bladder cancer and will help us develop novel approaches to evaluate and treat bladder cancer in the future," said Miron.
"The BCAN Young Investigator Award emphasizes the importance of investing in original research conceived and conducted by young scientists," said Elizabeth Plimack, MD, MS, chief of the division of Genitourinary Medical Oncology at Fox Chase. "We are thrilled both that Dr. Miron is being recognized for his potential to contribute to the field, and that his project will be funded so that we can learn more about biomarkers in the blood of bladder cancer patients"
The five New Discoveries Research Young Investigator Awards is a record for BCAN; the awards support the development of outstanding early career research scientists and clinical cancer research investigators who have shown a commitment to improving the lives of bladder cancer patients. This is the first year that BCAN has presented five awards. The organization noted that there are a few reasons for this, including the volume and quality of worthwhile entries received as well as the generous support of donors. 
The title of Miron's project is "Relationship of Circulating Tumor DNA in Patients With Muscle Invasive Bladder Cancer to Pathologic Staging and Disease Prognosis." Each Young Investigator Award provides a $50,000 grant that supports one year of early career bladder cancer research.
Since 2009, BCAN has awarded more than $5.5 million to promising scientists and research investigators across the country, and these awards demonstrate that the important work to improve the understanding of bladder cancer and its impact on patients and families continues.
"It is our distinct pleasure to invest in such promising early-career investigators in their quest to develop innovative approaches to improve the lives of bladder cancer patients and those who love them," said Andrea Maddox-Smith, chief executive officer of BCAN. "We also recognize the generosity of our donors who help make these awards possible, fueling today's research to provide tomorrow's improved outcomes."