PHILADELPHIA (April 16, 2021)—Colleen H. Tetzlaff, MHS, PA-C, advanced practice clinician in the Department of Hematology/Oncology at Fox Chase Cancer Center, has been recognized as the recipient of the first-ever Sharon Schwartz Award, which is presented by the Recognition and Development Model (RDM) Committee at Fox Chase.
The award recognizes one applicant who has performed above and beyond their clinical duties by taking part in activities that greatly contribute to the mission of Fox Chase.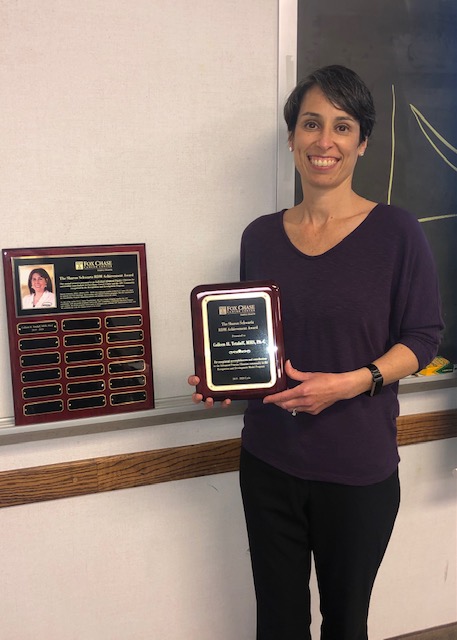 "I am incredibly honored to receive the inaugural RDM Sharon Schwartz Award. It is humbling to be recognized and chosen to receive this award among a group of such accomplished and deserving peers, and also in the memory of our beloved colleague Sharon," said Tetzlaff.
Sharon Schwartz, MSN, CRNP, was a member of the Fox Chase team who showed extraordinary dedication to her gynecologic oncology, gynecologic survivorship, and clinical genetics practice. Schwartz played a major role in developing services like the Oncofertility Program, which aids patients facing fertility issues along with their cancer diagnosis. Schwartz passed away on January 31, 2020.
"As one of the earlier Fox Chase Nurse Practitioners, she was a leader in bringing together the Advanced Practice Clinicians (APC) community with successful programs such as the APC Committee, Continuing Education Program and, notably, the RDM program, which seeks to recognize and celebrate APC achievements every year," the RDM Committee stated in their annual report. "She embodied grace and grit which carried over to her professional career, and the RDM Committee is so honored to acknowledge in her name the hard work of her colleagues of whom she was so proud."
Tetzlaff was selected for this award from dozens of nurse practitioners and physician assistant applicants for her work in helping to start the RDM program, serving as its chair, and continuing to improve it. She also reintroduced the APC Annual Report and was recently elected president of the Association of Physician Assistants in Oncology Board of Directors.
"I had the privilege of working with and becoming friends with Sharon as we served on multiple committees together at Fox Chase over the years. Sharon's dedication to her patients, Fox Chase, the advanced practice provider community, and her family was unwavering. To receive this award in honor of such a respected and admired colleague, both professionally and personally, is very special," said Tetzlaff.