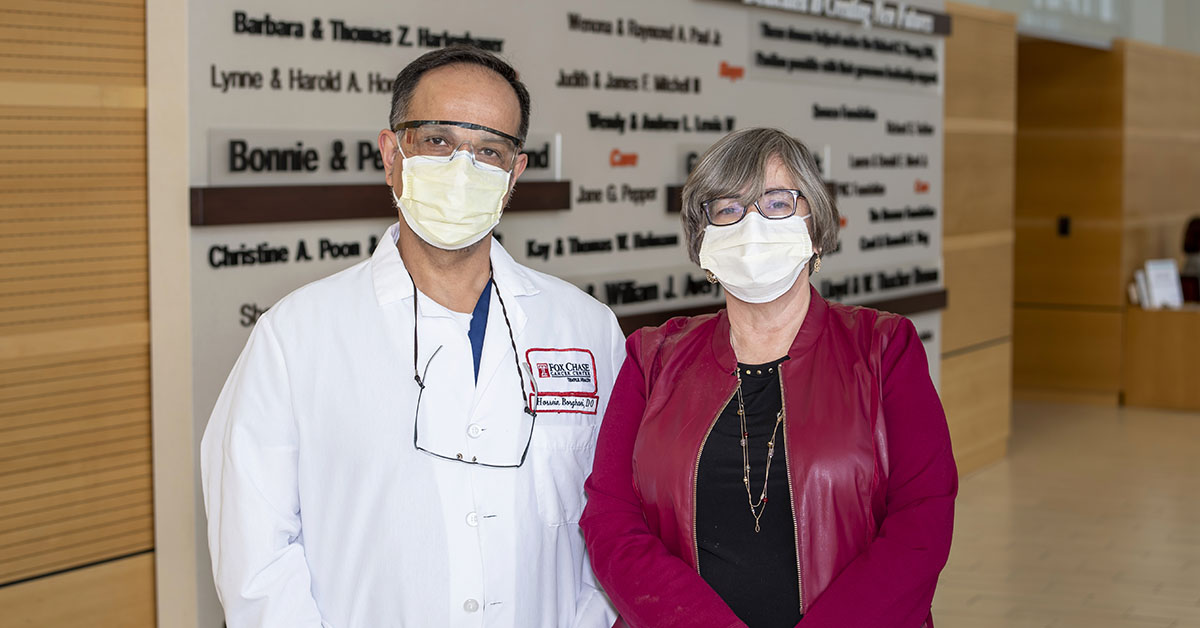 PHILADELPHIA (April 7, 2021)—Fox Chase Cancer Center was recently awarded Tobacco Treatment Program Supplements from the National Cancer Institute to support the expansion of current services for patients who use tobacco. 
The supplement puts Fox Chase among other National Cancer Institute (NCI)-designated cancer centers that are part of the Cancer Center Cessation Initiative. This competitive grant is a one-year award to support the goal of reaching all patients who use tobacco and support them in the process of quitting.
"There's a lot of research showing the benefits of quitting tobacco, even with a cancer diagnosis, in terms of improved outcomes with chemotherapy and other treatments. Therefore, this is an important initiative to help patients quit smoking," said Hossein Borghaei, DO, MS, a professor in the Department of Hematology/Oncology and chief of Thoracic Medical Oncology.
He is working on the project with Linda Fleisher, PhD, MPH, co-leader for the initiative and associate research professor in the Cancer Prevention and Control Program at Fox Chase.
The program includes input from nurse tobacco cessation specialists Donna Edmondson, MSN, CRNP, AOCNP, CTTS, and Kristen Kreamer, CRNP, MSN, AOCNP, APN, BC, Nurse TTP. A number of working groups and a steering committee have also been established.
"The grant is really about how we expand access to our program. We're really building in systems to be able to proactively reach out to our patients who use tobacco and support them in that process," said Fleisher.
As part of the initiative, working groups and a steering committee have established a tobacco registry to identify all patients who are currently smoking or recently quit using tobacco. The registry will provide important additional information about patients' tobacco use and refer them to tobacco treatment program services. These services are expanded to include self-help materials, motivational interviewing for those not ready to quit, and referrals to established tobacco treatment clinics.
The Fox Chase team will then follow-up with these patients to evaluate the services and make improvements. These services will be provided in person, by telephone, and by video-based sessions.  
"Patients are dealing with so much with their diagnosis and their treatments. It's important to provide them with other services that we offer that can help support them in this process," said Fleisher.
More information about the Fox Chase Cancer Center Tobacco Treatment Program can be found here.