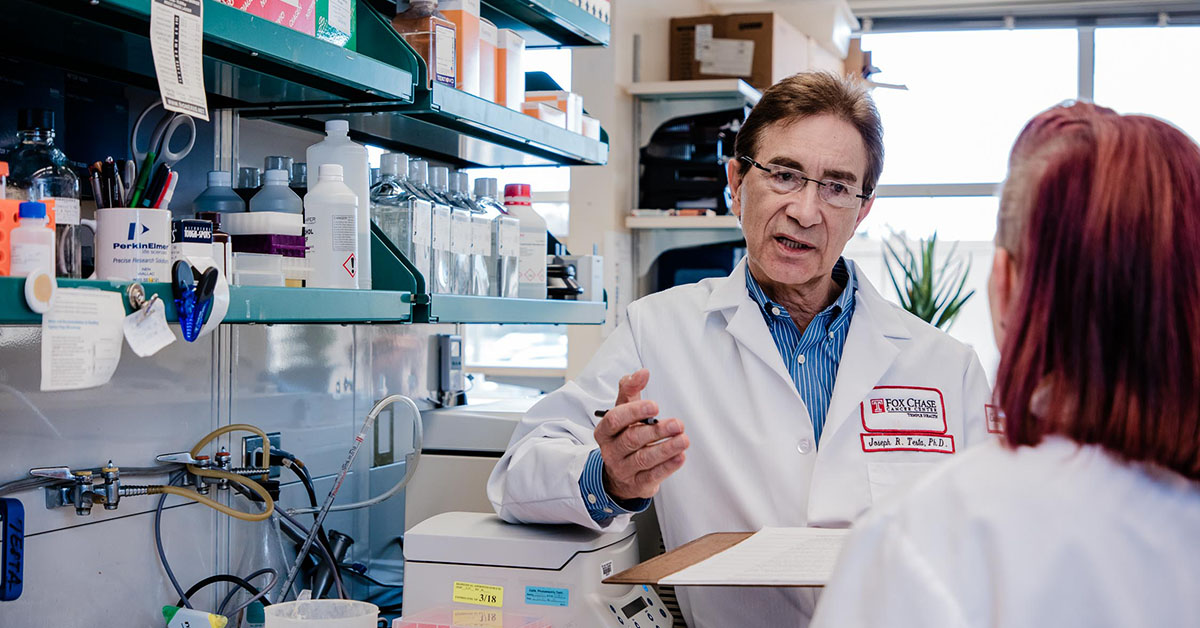 PHILADELPHIA (March 29, 2021)—In a recent study, researchers at Fox Chase Cancer Center found that the presence or absence of the receptor-interacting protein kinase 3 (RIPK3) can help determine the effectiveness of drugs in cases of malignant mesothelioma, a cancer that occurs in the tissue lining the chest and abdominal cavities. It is usually caused by the inhalation of asbestos.
"Inflammation plays a big role in the development of malignant mesothelioma. So we wanted to look at RIPK1 and RIPK3. These are receptor-interacting proteins that are involved in the inflammatory process," said Joseph R. Testa, PhD, FACMG, the Carol & Kenneth E. Weg Chair in Human Genetics, lead author of the study published in Clinical Cancer Research, a journal of the American Association for Cancer Research.
Testa is also a professor in the Cancer Signaling and Epigenetics Research Program at Fox Chase. He conducted the study with his lab staff, including Yinfei Tan, PhD; Eleonora Sementino, MS; Mitchell Cheung, PhD. Siddharth Balachandran, PhD, co-leader of the Blood Cell Development and Function Research Program, also worked on the research.
As part of the study, researchers looked for mutations and altered expression of RIPK in mesothelioma patients. While no mutations were found in RIPK genes in either mesothelioma cell lines or primary tumors, the researchers found that RIPK3 was either absent or only mildly expressed in about 60% of the tumors and cell lines tested.
Testa said this downregulation occurred as a result of a non-genetic process called promoter methylation, a process that can change the expression of a gene without changing its DNA sequence. This high percentage of RIPK3 absence or its mild expression could be important for determining prognosis or response to therapy, he said.
"We found that if you don't have RIPK3 expressed, the mesothelioma cells are not as sensitive to drug therapies. If you can turn that expression back on, the tumor cells become sensitized to the chemotherapy and can then respond and start to die by necroptosis, a programmed form of necrosis, a kind of cell death," said Testa.
He added that the type of cell death is an important distinction in mesothelioma cases. The two major types of cell death are necroptosis and apoptosis. "In the case of apoptosis, the cells die, and that's it.  However, when you have necroptosis, there starts to be an inflammatory response, because the cells release certain damage-associated 'danger signals,' and these can cause inflammation and other kinds of things to happen to surrounding cells," said Testa. "The fact that these things are happening might make these tumors more responsive to immunotherapies."
Testa said this work could promote new ways of thinking about treatment for patients who may have lost RIPK3 expression. "In the case of RIPK3, it may be possible to use a drug that restores its expression. Then perhaps you could use a targeted therapy when you have the release of these necrosis-related danger signals that cause an immune reaction. It could be very useful for immunotherapies," said Testa.
The study, Somatic Epigenetic Silencing of RIPK3 Inactivates Necroptosis and Contributes to Chemoresistance in Malignant Mesothelioma, was published in the journal Clinical Cancer Research.