PHILADELPHIA (October 6, 2020) – Researchers at Fox Chase Cancer Center have discovered a new function for the histone lysine demethylase KDM4A that supports its role as a "critical regulator" for replicative histones during the S phase of the cell cycle.
KDM4A was first identified in 2006 by Johnathan R. Whetstine, PhD, the Jack Schultz Chair in Basic Science and leader of the Cancer Epigenetics Program at Fox Chase, and colleagues. The enzyme has been shown to have a direct role in regulating DNA replication and in promoting DNA re-replication and in turn DNA amplification at drug resistant genes such as EGFR and CKS1B.
"KDM4A is overexpressed or amplified in about 20% of cancers, with more than 40% of ovarian cancers found to have KDM4A amplifications," Whetstine said. "Those amplifications were associated with worse outcomes."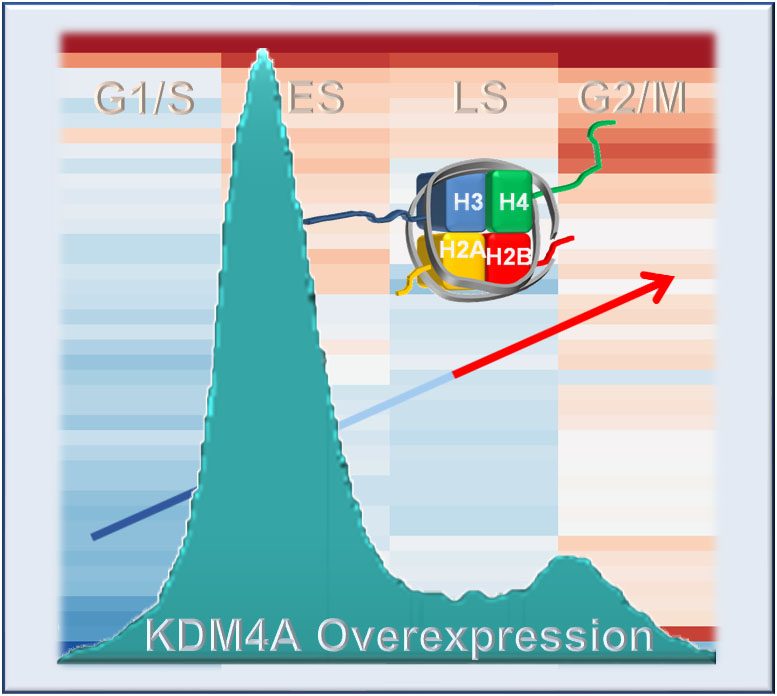 According to Whetstine, although it was known that KDM4A had a role in the direct regulation of replication and DNA amplification, it was unknown if the enzyme had any additional roles in controlling gene regulation during the cell cycle.
To explore those possibilities, Whetstine and colleagues developed an approach to sort cells at different points during cell division by sorting cell populations. They then conducted RNA sequencing to see the genes and the associated changes to capture insights into the effect of KDM4A overexpression.
The new study showed that KDM4A was directly regulating canonical replicative histone gene networks during the S phase. These canonical histone genes are part of a gene family under tight regulation during cell division. To do this, KDM4A was interacting with certain proteins—hnRPUL1 and FUS/TLS—that control histone expression and RNA processing.
"Histone genes are critical for inheritance and they also have been shown to be mutated in cancer," Whetstine said. "Therefore, understanding their regulation is critical."
The study was supported by funding from R01GM097360, the NIH/NCI Cancer Center Support Grant P30 CA006927, NIH NIDDK P30 DK040561, the Lung Cancer Discovery Award, and the Senior Research Training Fellowship from the American Lung Association.
The paper, "The Lysine Demethylase KDM4A Controls the Cell-Cycle Expression of Replicative Canonical Histone Genes," was published in BBA–Gene Regulatory Mechanisms.