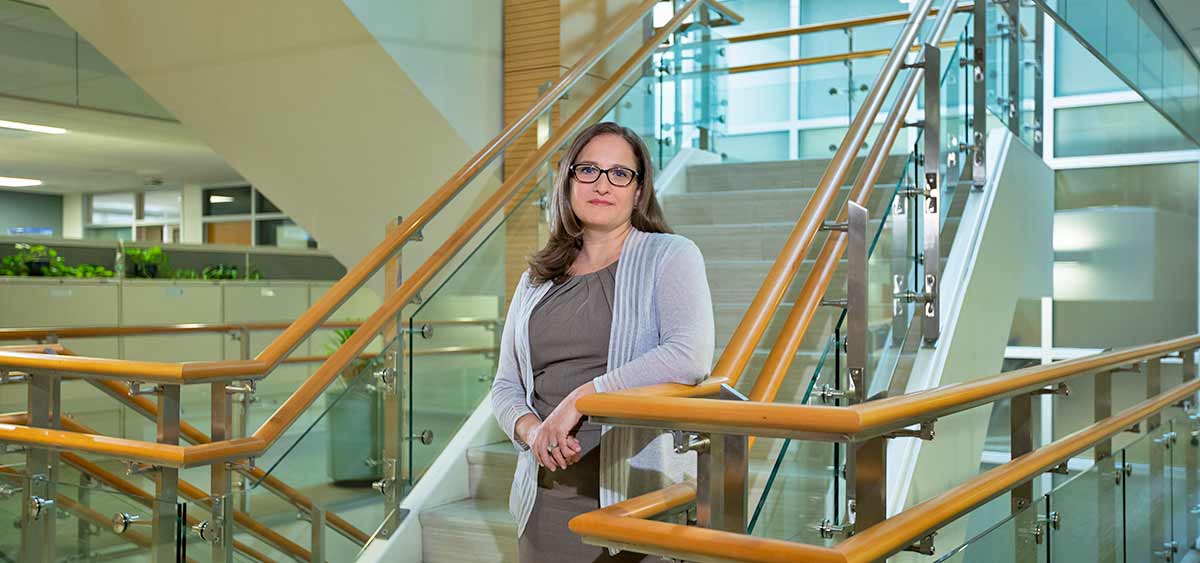 PHILADELPHIA (May 29, 2020)—Researchers at Fox Chase Cancer Center, along with an international team of investigators, have found that the use of pembrolizumab (Keytruda) in combination with axitinib (Inlyta) continues to show improved efficacy in the treatment of advanced renal cell carcinoma when compared with the use of sunitinib (Sutent).
"Kidney cancer, once it has spread, is not something we can cure. However, we've seen impressive results in terms of keeping people alive and feeling well for many years longer than we expected now that we have targeted therapies and immunotherapies," said Elizabeth Plimack, MD, MS, the lead investigator on the study. Plimack is chief of the Division of Genitourinary Medical Oncology in the Department of Hematology/Oncology at Fox Chase.
Plimack presented the findings of the updated study, "Pembrolizumab Plus Axitinib Versus Sunitinib as First-Line Therapy for Advanced Renal Cell Carcinoma (RCC): Updated Analysis of KEYNOTE-426," as part of the virtual scientific program of the 2020 American Society of Clinical Oncology (ASCO) Annual Meeting.
"The phase 3 trial compared combination axitinib plus pembrolizumab to one of the standards of care, sunitinib, and found people lived longer if they started with the combination treatment," she said.
Patients were enrolled between October 2016 and January 2018 and were randomly assigned treatment with either a combination of pembrolizumab and axitinib or sunitinib. Plimack said that when looking at the depth of response, results showed that the combination of pembrolizumab and axitinib shrinks tumors more reliably than sunitinib. The results also showed that those patients whose tumors shrank the most lived the longest.
"This therapeutic option is important because it not only helps patients live longer, but shrinking the tumor can help with many of the symptoms of metastatic kidney cancer as well," said Plimack.
The phase 3 study, which included investigators from 129 sites in 16 countries, provides an updated look at a phase 1 study that investigated the long-term safety and efficacy of pembrolizumab plus axitinib. Results from that study showed that combining pembrolizumab and axitinib had significant clinical benefits for patients, including long overall survival.
Plimack said the study was last presented about a year and a half ago, but at the time, there was not enough follow-up to determine if the survival benefit would continue for patients.
"This updated study fortunately shows that the survival benefit has persisted. The longer follow-up underscores the long-term benefits of starting with combination therapy," she said. Plimack added that the combination benefitted intermediate- and poor-risk patients the most.
"This is encouraging because those are the patients that need effective therapy the most because their cancer is the most aggressive," she said. "For patients with favorable risk, we don't yet know if this treatment is better than sunitinib, but that should become evident on further follow-up."
Plimack said next steps in the study could include looking at survival rates at three, four, and five years to see if the survival benefit persists.