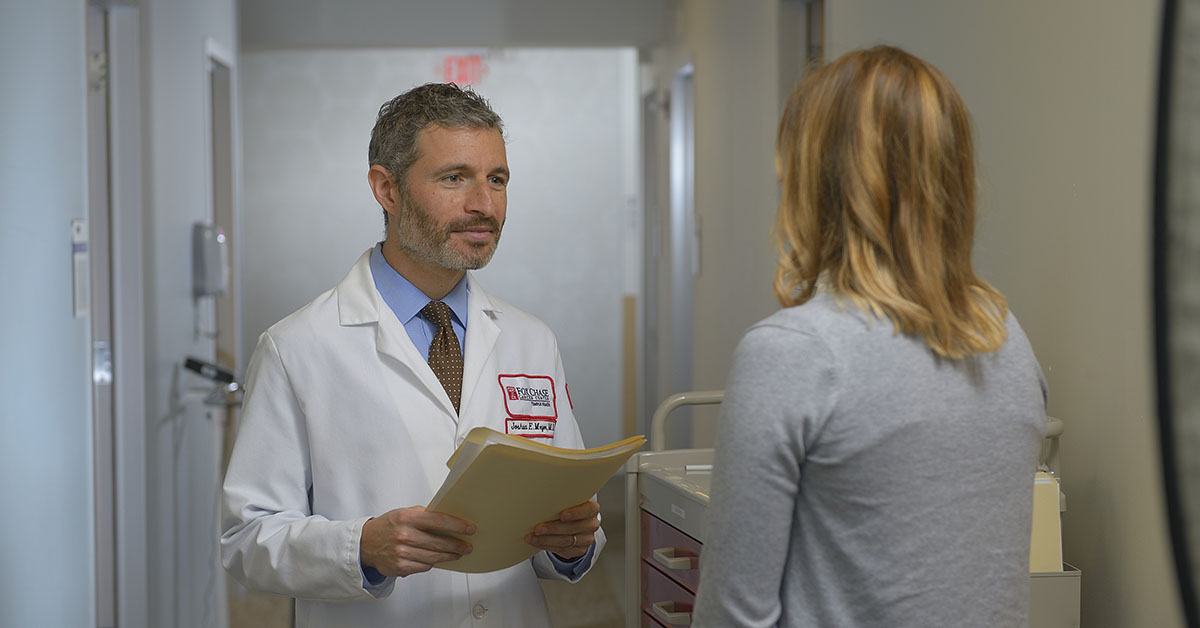 VIEW ALL POSTS
Young-Onset Colorectal Cancer: A Growing Concern
Colorectal cancer might not be on your radar if you're in your 30s or 40s—but it should be. One in 10 new cases are diagnosed in individuals under age 50, and rates of young-onset colorectal cancer are on the rise.

"Even though the number is still low, we've seen the rate of young-onset cases rising relatively quickly," said Joshua E. Meyer, MD, a radiation oncologist at Fox Chase Cancer Center. "We don't fully understand why the number of these cases is going up, but it's been documented in multiple countries and in multiple studies."

The good news is that simply knowing the signs of colorectal cancer can go a long way toward protecting your health—regardless of your age.

"The most important thing you can do is be aware of common symptoms and take action if you notice them," Meyer said. "Don't ignore them or try to tough them out."

Symptoms of colorectal cancer include:

Rectal bleeding or stool that looks dark or black
Any changes in bowel habits
Frequent diarrhea or constipation
Nausea or vomiting
Stool that looks narrower than usual
Stomach cramps, pain, bloating, or gas that doesn't seem to go away
Unexplained weight loss
Unexplained weakness or fatigue

While these symptoms can be a sign of colorectal cancer, it's important to know that they can also indicate other conditions that are more common in younger adults.

"Frequently, younger patients will first get diagnosed with hemorrhoids, which are very common and have no relationship to colorectal cancer," Meyer said. "It's a reasonable diagnosis, but if hemorrhoid treatment doesn't improve your symptoms within a couple of weeks, you might need a more in-depth evaluation."

Regular screenings (including screening colonoscopies) can be helpful too, but they're not for everyone. Though all individuals are advised to start regular colorectal cancer screening between the ages of 45 and 50, only those at high risk for colorectal cancer should be screened earlier.

You may be at high risk for colorectal cancer if you:

Have a family history of colorectal cancer or polyps (abnormal growths in the colon that can become cancerous)
Have an inflammatory bowel disease, such as Crohn's or ulcerative colitis
Have Lynch syndrome or another genetic condition that increases your risk of developing colorectal cancer
Have had colorectal cancer, certain types of polyps, or radiation to the abdomen or pelvic area in the past

Searching for Answers

Experts still have many questions about young-onset colorectal cancer, including why it's becoming more common and how best to treat it.

Fortunately, researchers are learning more every day, and the physicians and researchers at Fox Chase are on the forefront of this effort.

"Fox Chase researchers have worked on some of the most significant research to really pick apart these tumors and learn what makes them different," Meyer said.

Research led by Meyer, for instance, has discovered several key genes that seem to play a role in young-onset colorectal cancer and may impact how younger adults respond to therapy.

"There are some opportunities now in terms of understanding these tumors that weren't there a few years ago," Meyer said. "The long-term goal is to eventually take this knowledge back into the clinic to improve care for patients."

Learn more about colorectal cancer screening and treatment at Fox Chase Cancer Center.