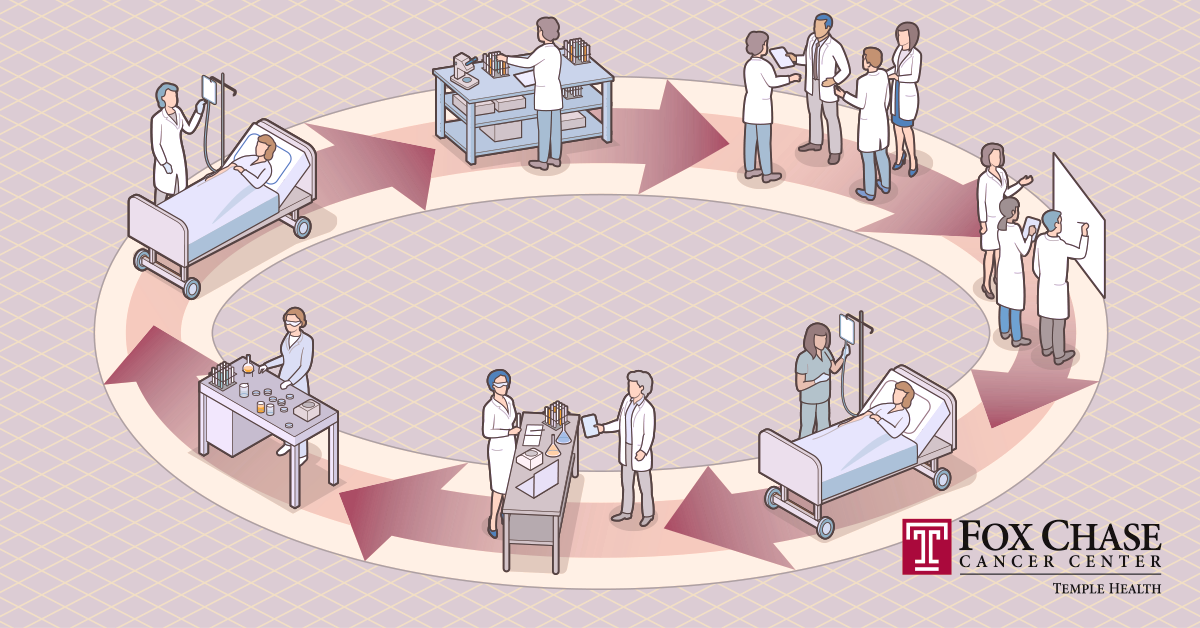 VIEW ALL POSTS
The Role of Translational Research in Fighting Cancer
You might not be familiar with the term translational research. But, if you or a loved one is being treated for cancer, you might benefit—without realizing it—from findings that are the result of this type of research.

Translational research uses observations from basic science or patient settings to learn more about a disease and to develop powerful new treatment options.

"The key word is translational," explained Margaret von Mehren, MD, a hematologist/oncologist at Fox Chase Cancer Center. "Translational research is about taking scientific findings and translating them into information that can be used to move therapy forward."

That's especially important when it comes to cancer.

Many standard cancer treatments, like chemotherapy, work in a generalized manner. They kill cancer cells by affecting the cells' ability to grow and divide. Translational research can help uncover treatments that are more targeted—and more effective.

"Cancer is primarily a disease of genetic abnormalities," Dr. von Mehren said. "Identifying these abnormalities helps us learn more about the biology of different cancers and develop more specific ways to control or cure them."

How translational research works

What does translational research look like in action?

It might start with the basic discovery of genetic mutations for a certain cancer type. That's what happened when a research team began looking at gastrointestinal stromal tumors (GIST), a group of tumors that Dr. von Mehren treats. Translational studies used those findings to see if a targeted drug could help patients with those mutations live longer—and it worked.

"Patients went from living an average of one year without the drug to five years with it," Dr. von Mehern said. "It transformed their treatment."

Translational research can also go from the clinic back to the laboratory. When physicians noticed that a certain lung cancer drug only seemed to benefit some patients, translational studies sought to find out why.

"Working backwards, researchers identified specific mutations in some receptors, and patients who had those mutations had dramatic responses to the drug," Dr. von Mehren explained.

Translational research at Fox Chase

Coming to a comprehensive cancer center like Fox Chase means you'll be treated by physicians who specialize in this groundbreaking type of research. And that can give you more access to cutting-edge knowledge and care, including new therapies and more translational clinical trials.

Dr. von Mehren is currently developing a study looking at combination therapies for gastrointestinal stromal tumors to overcome drug resistance found in clinical studies. "We're trying to identify a specific pathway and use an inhibitor to block that pathway," she said.

Other Fox Chase researchers are looking for specific biomarkers in genitourinary cancers that affect how patients respond to chemotherapy. New translational studies for other cancer types, too, are always underway.  

All of this adds up to more treatment options for patients.

"Our mission isn't just to provide excellent care, but also to see if we can help develop the next therapies that will benefit those with cancer," Dr. von Mehren said.

Take a look at how some of our physicians and patients describe the impact that translational research can have on cancer treatment.