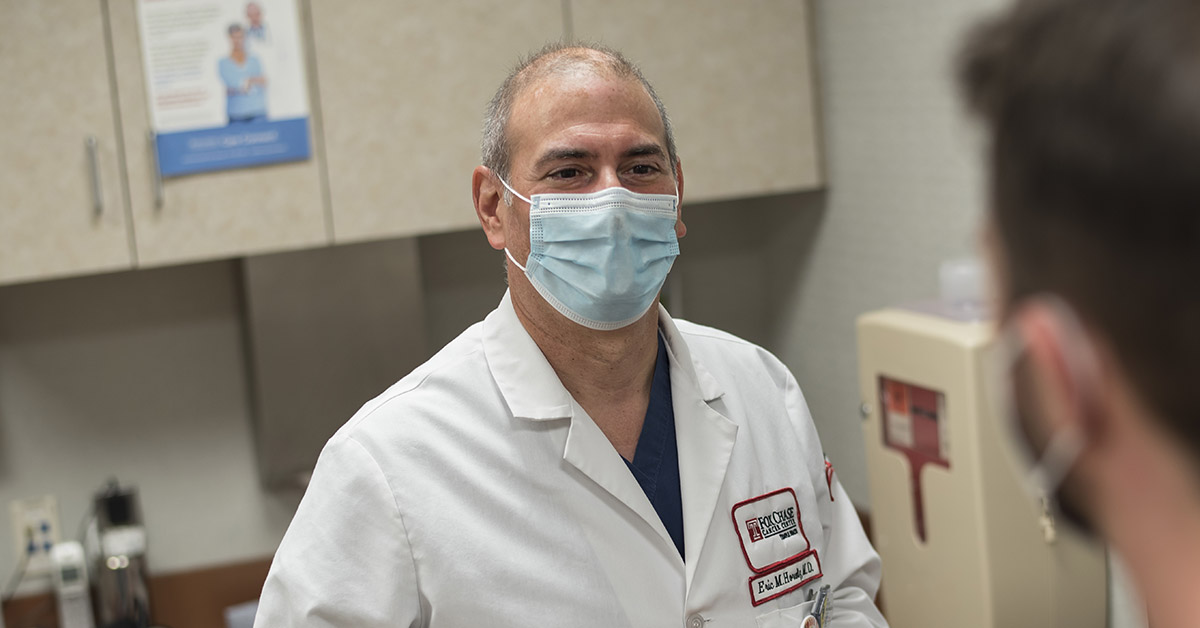 VIEW ALL POSTS
Brachytherapy: A Highly Targeted and Effective Option for Treating Prostate Cancer
Prostate cancer is the second most common cancer in American men, with about 250,000 new cases diagnosed each year. It starts when cells inside the prostate gland, which is located below the bladder and in front of the rectum, begin to grow out of control.

While prostate cancer affects around 1 in 8 men during their lifetime, the good news is that there are effective treatment options, including a treatment called brachytherapy.

What is brachytherapy?

Brachytherapy is a form of internal radiation therapy where the radiation is placed directly into the tumor to target cancer cells. The radiation, which is in the form of a small pellet or "seed," is placed inside the body using a needle and catheter near or within the cancer.

Two types of brachytherapy are used to treat prostate cancer:

Permanent, or low dose rate (LDR), brachytherapy involves placing small radioactive pellets or "seeds" inside the prostate. The seeds emit a specific amount of radiation over a period of months and then lose their radioactivity.

Temporary, or high dose rate (HDR), brachytherapy involves placing a certain number of hollow needles throughout the prostate, and then a single small radioactive source attached to the end of a wire moves in and out of the needles for different amounts of time, creating a specific amount of radiation around the entire prostate. HDR prostate brachytherapy has been found to be highly effective in treating the prostate cancer with substantially fewer side effects compared to the seed implant and therefore, it is the only form of brachytherapy used at Fox Chase. Depending upon the size of the cancer, the HDR treatment is done by itself twice over two weeks or once combined with external beam radiation therapy.

"The HDR brachytherapy procedure itself takes two to two and a half hours, but the radiation time is actually 10 minutes," explained Eric Horwitz, M.D., FABS, FASTRO, a radiation oncologist at Fox Chase Cancer Center. "What's so good about an HDR implant is you give a very big dose of radiation to a really small area and then the radiation is removed, so there's a lot less exposure to the surrounding bladder and rectum and therefore fewer side effects."

What are the pros and cons of brachytherapy?

Brachytherapy is highly effective at treating prostate cancer. But its main benefit is that it limits radiation exposure to the surrounding areas. "The normal structures around the prostate (the bladder and rectum) get close to no radiation, which is really dramatic, and that's why people tolerate these treatments so well," Horwitz said.

By targeting the exact area where the implants are placed, radiation is given in high doses directly to the prostate with little or no side effects. This is different than external beam radiation, where many prostate cancer patients can experience more side effects due to the radiation exposure to other close-by organs in the pelvis. Men tolerate brachytherapy extremely well.

Who is eligible for brachytherapy?

Brachytherapy is widely used to treat men with all different stages of prostate cancer. Brachytherapy alone (monotherapy) is used for men with early-stage and some intermediate risk prostate cancers and in combination with intensity modulated radiation therapy (IMRT) for men with larger prostate cancers. All men should be evaluated to see if it is a good treatment option for them. However, it may not be ideal for men who already have significant urinary issues such as frequency, urgency, or incomplete emptying, since those may be exacerbated by brachytherapy treatments. For patients with larger prostate glands, it can also be harder to accurately place the radiation.

According to Horwitz, there are some instances where traditional, noninvasive radiation therapies may be preferable.

"The brachytherapy implant is a small surgical procedure, but it does involve anesthesia," he said. "So for people who have a cardiac history, it may not be as safe for them. In addition, people using blood thinners may want to opt for a less invasive treatment.

"But if a person is relatively healthy and it's safe for them to have anesthesia, then they can do either."

Where you get treated matters

Like all radiation therapies, brachytherapy is best administered by medical professionals who specialize in the treatment.

Fox Chase was the first to perform HDR prostate implants in the eastern United States and has one of the largest and most experienced brachytherapy programs in the region.

"At Fox Chase, we have our own brachytherapy operating room in the radiation oncology department," Horwitz said. "The physicians, the physicists, the nurses, the anesthesiologists—all of us do this all the time, so we're very good at it."

Learn more about brachytherapy treatment at Fox Chase Cancer Center.

You can also request an appointment with a Fox Chase medical professional online. Or you can call 888-369-2427.