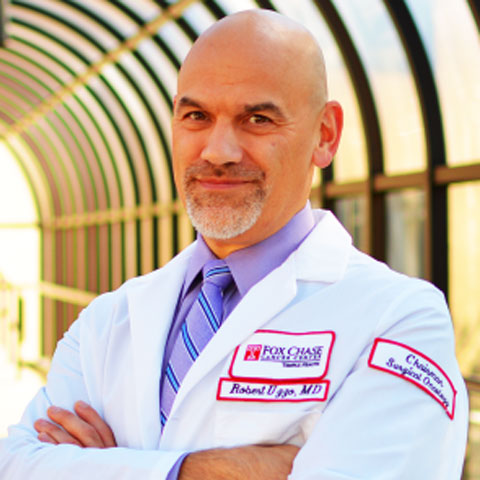 VIEW ALL POSTS
Dr. Uzzo Named 4th Annual Wilet Whitmore Visiting Professor at MSKCC
On May 23, 2016, Memorial Sloan Kettering Cancer Center (MSKCC) invited Robert G. Uzzo, MD, FACS, chair, surgical oncology at Fox Chase, as the 4th Annual Willet F. Whitmore Visiting Professor to present at the final Department of Surgery Grand Rounds of the academic year. His presentations were entitled Managing Cancer Risk: In the Footsteps of Bayes, On the Shoulders of Giants, In Memorial of Mentors and Adrenal Cortical Carcinoma and Progresslessness.

The lecture series is named in memory of Willet Whitmore, the founding father of modern day Urologic Oncology, and Chairman at MSKCC for over 30 years. Dr. Whitmore passed away in 1995 (New York Times obituary).

Willet F. Whitmore, Jr. (1949)

Dr. Uzzo graduated summa cum laude from Union College and attended Cornell University Medical College.  He completed general surgical training followed by urologic surgical training at New York Hospital - Cornell Medical Center and Memorial Sloan-Kettering Cancer Center. He was an American Foundation for Urological Diseases Scholar in Urological Oncology and completed both Oncological and Renal Transplantation Fellowships at the Cleveland Clinic.

Dr. Uzzo is currently the Deputy Chief Clinical Officer; Director of Surgical Services, Fox Chase Cancer Center/Jeanes Hospital; Chairman of the Department of Surgical Oncology, Fox Chase Cancer Center; and the G. Willing "Wing" Pepper Professor of Urological Oncology at Fox Chase Cancer Center/Temple University. He is also the Chair of the Fox Chase/Einstein Urologic Institute.  He maintains an active, funded laboratory investigating kidney and prostate cancer.  Dr. Uzzo's clinical interests include minimally invasive urological oncology and renal malignancies. He has authored over 300 peer-reviewed articles in urologic oncology.