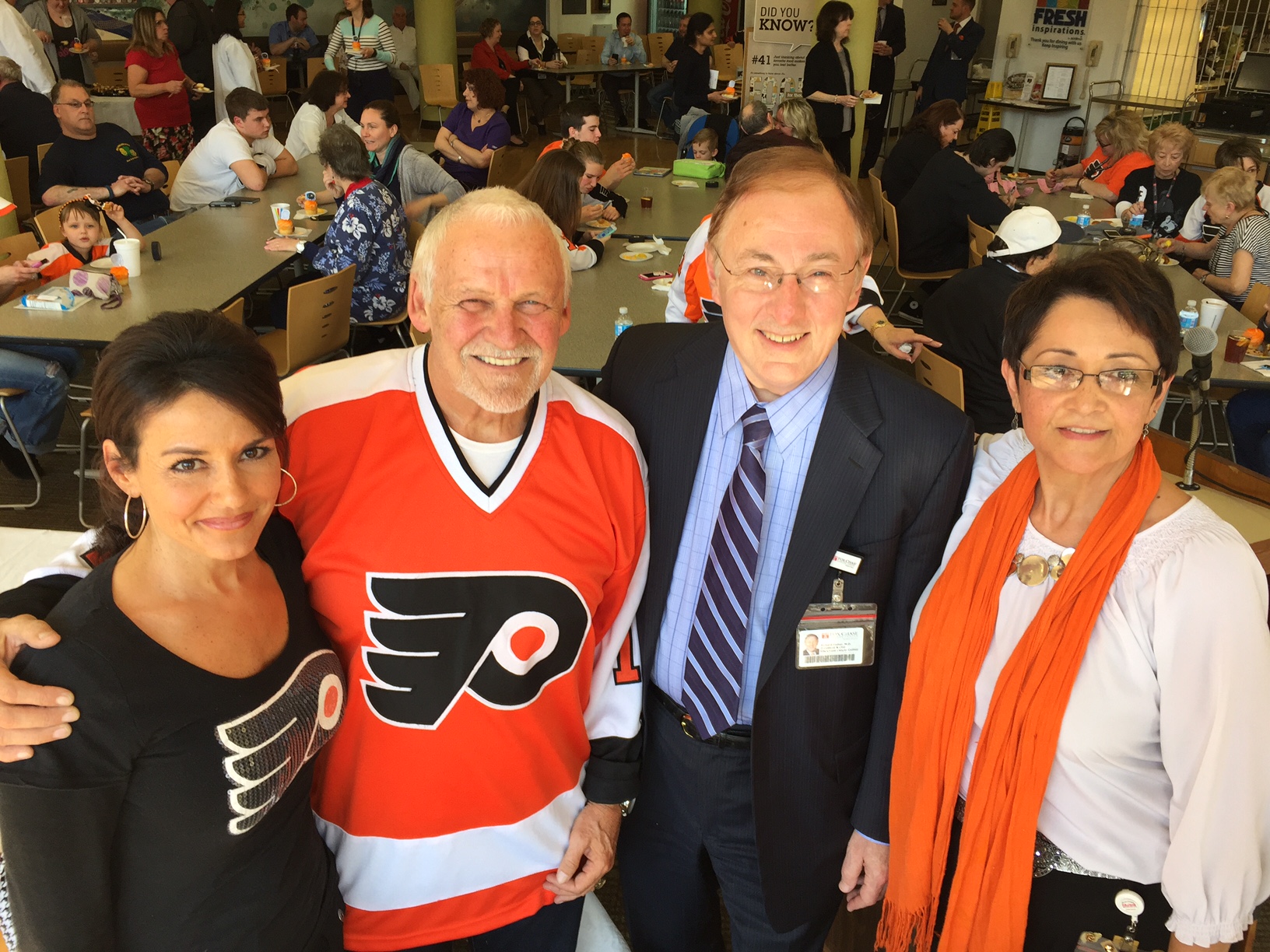 VIEW ALL POSTS
Fox Chase Cancer Center Special Tea with NHL Hall-of-Famer Bernie Parent
Friends of the Hospital of Fox Chase Cancer Center, a Chapter of the Board of Associates of Fox Chase, hosted a Special Tea to present their newest lifetime member – Bernie Parent.

Bernie Parent, infamous Philadelphia Flyers Goalie, Stanley Cup MVP 1974 and 1975, and 1984 Hall of Fame inductee, visited Fox Chase as the guest of honor at a Special Tea held on Wednesday, March 23, 2016.

Parent fielded questions from the audience and greeted a long line of fans to sign memorabilia. The event raffled off an autographed hockey goalie mask and hockey stick. In addition to the raffle, fans had the opportunity to purchase selfies with Parent and autographed Flyers hockey pucks.

Fox Chase Friends' President, Linda Hammell, explained the importance of Parent's support. "Our Chapter works tirelessly to raise money to support patient comfort items all year. With Bernie Parent's participation, we are able to build and expand our community. We are truly grateful for his support."

Parent's autographed hockey goalie mask and stick brought in $2,200. In total, over $4,000 was raised for the Friends Chapter, whose funding provides patient comfort and care items.

Entering its 50th year, Friends have raised over $4 million for patient care through its fundraising efforts.  Employees and volunteers can support Friends through annual membership renewal.  Friends secure additional funding through the Karen's Korner gift shop, daily vendors and a holiday craft show.

More information about Friends of the Hospital and other member organizations is available at https://www.foxchase.org/giving/events/board-associates.