"My children will be able to look back, and when they have a tough time, they'll remember their mom did it."

‐Patti Rose
In October 2012, my husband, Michael, and I were enjoying parenthood, busy raising seven active children, ranging in age from two to 18. Most women begin annual mammography at the age of 40, but I was 36 and never had a mammogram. After I detected a marble-sized lump in my breast, I scheduled my first mammogram and ultrasound, which was followed by a biopsy. Within five days, I learned I had breast cancer.
My biggest fear when I received the news was not being there for my children—my baby was two at the time. It was scary. When you find out you're sick, you're facing the idea of maybe not coming out the other end OK and you have to put so many things into perspective.
My husband and I lived in Huntingdon Valley, PA, at the time and knew right where I would go for treatment: Fox Chase Cancer Center. We're so fortunate it was right around the corner. My husband works in construction and had worked on several projects for Fox Chase. For him, it was surreal walking down the halls of Fox Chase with me as a patient.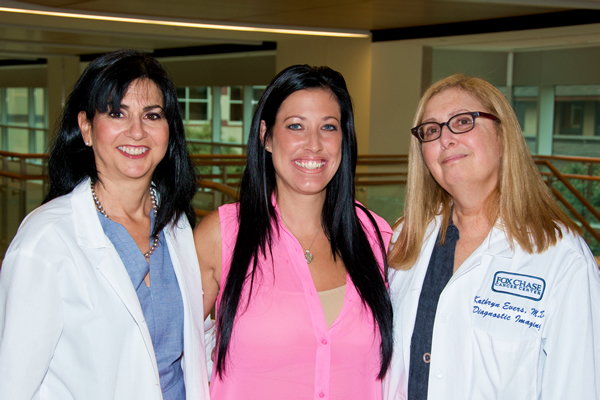 Michael and I met with Dr. Richard Bleicher, a breast surgeon at Fox Chase. After considering my age, genetic risk for cancer, general health, and lifestyle, he advised I undergo a lumpectomy of the right breast with a sentinel node biopsy. I had the procedure on October 18, 2012. Fox Chase pathologists confirmed a diagnosis of medullary breast cancer, Stage 1C, grade 3 with micrometastasis on the same side.
It figured I would get a rare cancer—as my husband likes to point out, I always stand out from the crowd! At the age of 36 with no family history of breast cancer, to find out that I had cancer—and then for it to be triple-negative and a rare type of breast cancer—I was just dumbfounded. I know anybody can get sick, but you never think it's going to be you.
Because of my rare diagnosis, a multidisciplinary team of doctors (radiation, medical, and surgical oncology) known as the "tumor board" was brought together to review my case. These specialists, whom I like to call "the meeting of the minds," collaborate and develop a tailored treatment plan for each patient. After the tumor board evaluated my case, my medical oncologist and radiation oncologist, Dr. Penny Anderson, suggested I begin a course of radiation therapy and chemotherapy to reduce my risk for recurrence. My medical oncologist was no nonsense, but she was also compassionate. After one appointment, I was tearing up and she came back into the room and gave me the biggest hug. I needed it at that moment. She promised me I would be OK and that she would do whatever she could to get me through treatment.
I'll never forget my first chemotherapy session. I was so afraid the treatment would change me, and I wouldn't be able to take care of the kids and be such a hands-on mom because I was going to be so sick. The tumor board had decided on a more aggressive chemotherapy regimen for 14 days straight for six months. I was sitting in the waiting room and my hands were shaking; I just could not calm my nerves. I told my nurse it was my first time, and she really talked me through it. Another Fox Chase employee even came out to talk to me and reassure me that everything was going to be OK. Being taken care of in that way was just as important to me as being cancer free. I needed to know I wasn't just a number. The nurses all knew how many children I had; they always stopped and chatted with me, and they remembered things from conversations we had had before.
My chemotherapy regimen made me very sick. I felt like I had the flu times 10. I was nauseous and tired and had aches and pains. A couple of treatments in, I kept telling my husband I just couldn't do it anymore. And he kept saying, "One more. You can do one more." It was mind over matter. I had to make myself feel like I was in control even though I technically wasn't. I tried to do things as normal as possible with the kids. I always would do their homework with them, even if I was feeling really overwhelmed and sick.
I didn't want the kids to be scared, and I didn't feel that it was fair that my toddlers should know the word 'cancer' or see me being sick. It made me angry. But they were so resilient. I tried to make light of the situation. If I had to have a good cry, it would happen during the day when the kids were at school. But it was hard to hide a lot of how I felt physically. I could do it mentally, but physically, they saw me lying in bed all weekend. They would see me vomiting. Ultimately, I think the kids were OK with it because I was OK with it. I tried not to focus on it. You have to take things in stride, and you need to stay positive to get through it.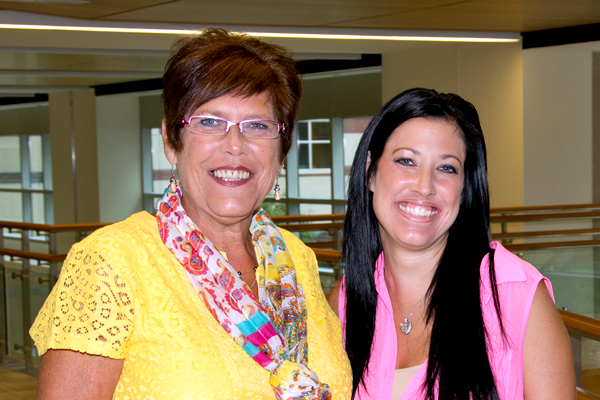 Fox Chase helped me to be positive. If I didn't have that connection with doctors and nurses and even the security guard that I would talk to every time I was there, I think I would have felt more afraid. Knowing all those people were praying for me, thinking of me, and trying to get me through it made me feel like I could overcome it. Any hospital could have given me that chemo regimen, given me surgery, or done radiation, but it was the way that they treated me; it was the way they made me believe I was going to be OK that helped me to be OK.
In May 2014, I marked the end of chemotherapy by ringing the bell in the department! Some of the nurses even came in on their day off to cheer me on with my family and all my doctors! Someone walked by and asked who the famous person was. The truth is, I felt like a celebrity.
At Fox Chase, I also underwent genetic testing, and although I did not carry the BRCA1 or BRCA2 gene mutation that increases the risk for ovarian or breast cancer, I met with gynecologic surgeon Dr. Gina Mantia-Smaldone to discuss my options. My CA125 marker for ovarian cancer, detected through a blood test, was on the rise. Dr. Mantia-Smaldone was extremely thorough, and she recommended I undergo a prophylactic oophorectomy (surgery to remove my ovaries). With seven children, Michael and I were not planning to have more kids, so on October 18, 2013, Dr. Mantia-Smaldone performed the surgery using minimally-invasive techniques.
The date October 18 now has personal significance for me. On October 18, 2012, I had my lumpectomy. On October 18, 2013, I had an oophorectomy, and on October 18, 2014, I attended the Susan G. Komen Pink Thai Ball to honor my doctor. It's also my mom's birthday.
Today, I get all my screening tests at Fox Chase, including mammograms, DXA bone density scans, and a colonoscopy. Because of my age at diagnosis, I'm a big believer in breast self-exams. If I had waited for my first mammogram at the age of 40, it would have been too late. I tell everyone to stay in tune to your body. It's sad that fear keeps people from getting screened. When cancer is found early, it is most treatable. Thankfully, my cancer was found early, and I can continue to be here for my children, Anastasia, Brittany, Mikey, Sophia, Sean, Declan, and Finn, who now range in age from six to 22.
I'm still involved with Fox Chase. I've done new employee orientation speeches and participated in an ad for Fox Chase in Philadelphia magazine. I'm also involved with the Breathing Room Foundation, which is based in Jenkintown, PA. The year I was undergoing treatment, the Breathing Room Foundation helped my family. So now, the kids and I, on holidays or whenever they have events, try to raise awareness and deliver holiday meals, Christmas presents, turkeys, and Easter packages. I try to keep the kids busy with volunteer work because when I was so sick, we received help from all these people who didn't know us and took the time out to help us. I want them to learn the importance of giving back.
We also take more trips now and try to do things that we maybe would have put on hold at some point. Now we live for the moment and just do it. Cancer gives you a new outlook on life. You appreciate things you may not have taken the time to notice before.
When I was sick, I was angry, and I wanted to be myself precancer. But now, I wouldn't change a thing. I don't wish that I didn't have cancer. It's made me a better person today, and I know it happened for a reason. My children will be able to look back, and when they have a tough time, they'll remember their mom did it. Even though it wasn't easy to go through, I'm glad I'm here to talk about it, and I'm glad I had such a great hospital to get me to that point.
Jenn Ryan speaks to Patti Rose. Hear the More FM (WBEB) radio spot.