"A lot of people say that I am a miracle, but I don't think so. A miracle is when there is no intervention and someone is cured. My healthcare team at Fox Chase had a lot to do with me getting better."

‐Monsignor Joseph A. Tracy
When I was diagnosed with pancreatic cancer at 46 years old, my goal was just to make it to 50. Even with that short-term goal, I knew the odds were not in my favor.
That was 15 years ago. I've made it well past my original goal, and my Fox Chase care team played a huge role in making that possible.
Diagnosing the Problem
Almost 30 years ago, at the age of 33, I made the decision to become a Catholic priest. At the time of my diagnosis, I had been serving the most vulnerable and at-risk members of the community as part of the Archdiocese of Philadelphia's Catholic Social Services.
My health had always been good, but one night while I was out to dinner with my dad, I noticed some symptoms of what turned out to be jaundice.
I called my primary care doctor, and he recommended that I go get a CT scan. It was late August at the time, and I couldn't get an appointment until November. My doctor said that kind of wait would be too long, so he helped me get a scan sooner. It was a good thing he did that, because it led to my diagnosis of stage II/III pancreatic cancer.
One week later, I was referred to Dr. John Hoffman, a surgical oncologist at Fox Chase Cancer Center and a team of other physicians (including a radiation oncologist and a medical oncologist).
An Intense Procedure
My care team was very honest about the severity of my cancer. I started a regimen of radiation and chemotherapy to try to shrink my tumor before I had surgery. I needed a Whipple procedure, which is an operation involving the removal of the head of the pancreas, the first part of the small intestine, the gallbladder, and the bile duct.
After my surgery, I stayed in the intensive care unit for a while afterwards. Also, within the first year after the surgery, I was in the hospital on and off for more than 200 days.
My mom was deceased, but my dad and some faithful friends often came for visits. What I did not expect was a new daily visitor—Dr. Hoffman. He came to see and evaluate me every day—even on Sundays! He is a tremendous guy and an outstanding physician.
The nursing staff at Fox Chase was also so helpful and kind. I can be proud and fastidious, so it was difficult for me to give up control. But I couldn't do anything for myself during my recovery. The nurses there always helped me and treated me with dignity. They were fantastic.
Life as a Survivor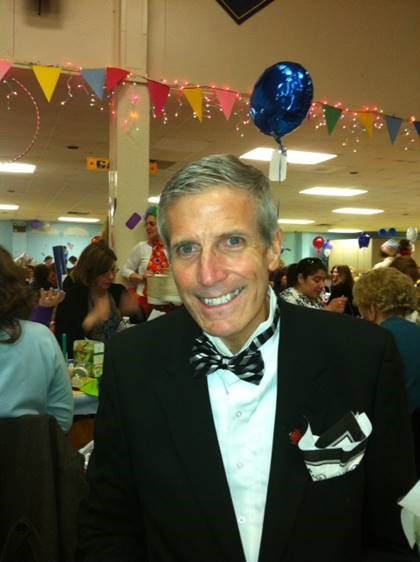 When I was discharged for the final time, I returned to the house where I lived while serving as a "backup" assistant to Cardinal Justin Rigali (who was the Archbishop of Philadelphia at the time). There were some religious sisters there who helped with the house and worked for the cardinal. They were also very helpful to me as I recovered. I offered to go and live at a nursing home for the archdiocese's priests, but Cardinal Rigali was very kind and insisted I stay.
After the surgery, I went through several rounds of radiation, but they often made me feel worse. Eventually, I asked my doctors if I could stop. They were confident they had done a good job removing the tumor, so they left the decision up to me.
Three years after my surgery, I asked Cardinal Rigali if I could transition to an assignment as a pastor. Although I was doing important work for Catholic Social Services, I wanted to try leading a parish in prayer, service, and sacramental ministry. Thankfully, I was named pastor at Saint Stanislaus Church in Lansdale, Pennsylvania, where I worked for more than 11 happy years.
Although I am a long-term survivor of pancreatic cancer, I still have some limitations from my disease and its treatments. I still visit Fox Chase for stent changes, checkups, and management of some of my long-term side effects. Dr. Hoffman has retired, so I now see Dr. Sanjay S. Reddy, a surgical oncologist who was present for my Whipple procedure when he was a fellow.
I currently serve as a parochial vicar at Our Lady of Good Counsel Church in Southampton, Pennsylvania. I have good days and bad days like everyone else.
A lot of people say that I am a miracle, but I don't think so. A miracle is when there is no intervention and someone is cured. My healthcare team at Fox Chase had a lot to do with me getting better. I also had a lot of faithful prayers.
I call all the time I've lived past age 50 my "bonus time." I have a sign on one of my walls that says, "Every day is a gift." That means more to me now than it ever could have before.