"I'm still getting used to my new normal."

‐Katrice Graham
Before I was diagnosed with Stage II estrogen receptor-positive (ER+) breast cancer, I lived a pretty well-rounded life. As an active daughter, wife, and mom, I ran two local girls' groups and worked as an administrative assistant for the Norristown Police Athletic League (PAL).
But, after my diagnosis, my life changed dramatically. I'm still getting used to my new normal.
A Confusing Diagnosis
My cancer journey began when I found a small lump in one of my breasts. I immediately called my primary care doctor, but she wasn't alarmed. Still, I knew the lump wasn't normal.
About 30 days later, on New Year's Eve, I saw another specialist. I got a mammogram and, on the same day, received a call to schedule an additional ultrasound and biopsy—they had found a mass in my breast and armpit that was spreading towards my lymph nodes. I was diagnosed with breast cancer, but later received a letter from the facility stating that I didn't have cancer. Needless to say, I was confused and worried. So, I decided to go to Fox Chase for another opinion.
A Second Opinion
At my first appointment at Fox Chase, I was able to meet my entire cancer care team. From day one, I formed a close and personal relationship with each of my doctors. Dr. Daly danced with me seven days after my surgery, and Dr. Weiss and I took pictures of us smiling together. Each of the doctors on my team made me feel like I was the only patient they had.
My treatment consisted of eight rounds of chemotherapy and radiation treatments. I also had surgery to remove as much of the mass as possible.
I was grateful to have such a supportive team of doctors by my side because chemotherapy is no joke. I was extremely sick throughout this stage of treatment, but my doctors did everything they could to make the process easier.
Ringing the Bell
Throughout my treatment at Fox Chase, I loved hearing others ringing the bell. At one point, I didn't think I would ever be able to ring the bell because I was so sick from the chemotherapy. However, each time I went to a chemo session, I would tell my mother: "Four more rounds and that will be us."
When my day finally arrived, we had a whole party and I brought cupcakes to celebrate with my Fox Chase family. I also had a fundraising party that raised $5,000 for cancer research. I was so grateful to beat cancer and have more time with my family.
Ringing the bell was important to me for many reasons. My aunt was diagnosed with pancreatic cancer just after I began treatment at Fox Chase and, unfortunately, she passed away from her illness. When I rang the bell at Fox Chase, I was ringing it for her, too.
A New Normal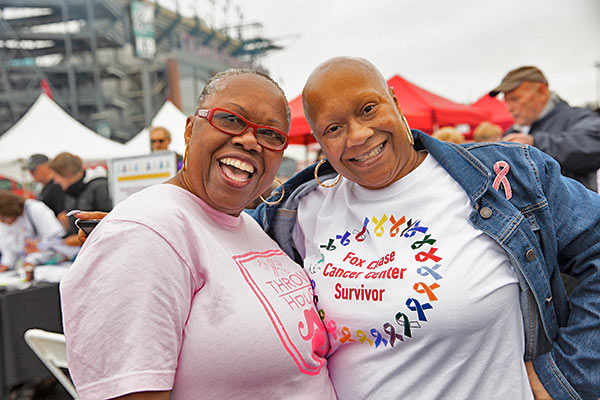 I'm still getting used to my new normal. Although I'm now cancer free, my body isn't physically ready to return to full-time work; but I know that when it's time, I'll be able to go back. In the meantime, I enjoy being active in my family's lives.
Fox Chase is truly a phenomenal place, and it was my home away from home while I was being treated for cancer. I still return to the Fox Chase campus for exciting events (like the annual Tree of Life ceremony), and I find myself looking forward to seeing everyone that was a part of my care.
Learn more about breast cancer treatment at Fox Chase Cancer Center.