"Two major life-changing surgeries within three months! I feel like I got an answered prayer."

‐Angela Shammo
I was a first grade teacher for six years before becoming a reading specialist for kids with learning disabilities. After having four children of my own, I decided to be a stay-at-home mom and teach my children, along with my nieces and nephews.
I was with my youngest, who was 18 months at the time, at the mother's group I run at my church, when I received a heart-wrenching call from my doctor. Thankfully, I was surrounded by an extremely supportive group of women when I learned I had breast cancer.
Choosing Fox Chase
Breast cancer was not a significant part of my family history. So, at 40 years old, when I went for what was only my second routine mammogram in December of 2016, I did not think anything would be out of the ordinary.
I had my mammogram done at a local hospital and had to wait six weeks for a biopsy. After the staff notified me of my breast cancer through what I felt was an unfeeling phone call, I decided to come to Fox Chase Cancer Center. I did not want to be treated in such an impersonal way, like a number.
I was not unfamiliar with Fox Chase. My mother-in-law worked here for 25 years and I have two other family members who are currently employees. When my husband and I were just dating, we would go to pick up his mother to take her to lunch. So when I wanted a more personalized experience, I knew Fox Chase was where I needed to be.
Full Diagnosis
At Fox Chase, my breast surgeon, Dr. Marcia Boraas, spent over an hour talking to me and drawing pictures to really explain my cancer diagnosis to me in detail. I was told I had Stage 1 invasive breast cancer. My MRI at another hospital was interpreted as a malignant lymph node, but doctors at Fox Chase determined that it was just two lymph nodes stuck together. Both of them were benign.
My breast surgeon was retiring soon, but she would be able to perform my double mastectomy before then. She offered to have me see a breast reconstruction surgeon too. I expected it to be on another day, or even week, but she said one could see me in 10 minutes.
After meeting with the reconstructive surgeon, my surgery was planned for March 2017. I would have a double mastectomy with immediate DIEP flap reconstruction. This surgery involved a tummy tuck procedure in which tissue was removed from my lower abdomen and used to reconstruct my breasts. The combined surgery was 12 hours with an 8- to 12-week recovery period.
I have a scar from hip to hip from that surgery. I was grateful that I had enough belly fat for the reconstruction. I wanted to look like me and implants were just not for me. During my recovery I slept in an electric recliner and experienced very little discomfort.
Treated Like Family
After the surgery, I met with Dr. Angela Jain, a medical oncologist who sent the tumor out for an oncotype test to determine the recurrence rate of the cancer. The test showed that the chance of recurrence was one point over low recurrence.
Dr. Jain said if I were her sister, she would tell me no chemo. She was so down to earth and personal. Dr. Jain truly cared about me and my health and well-being. After getting the advice of my doctors, I decided to opt out of chemotherapy and begin a 5- to 10-year course of tamoxifen, the oldest and most-prescribed selective estrogen receptor modulator.
Strong Support System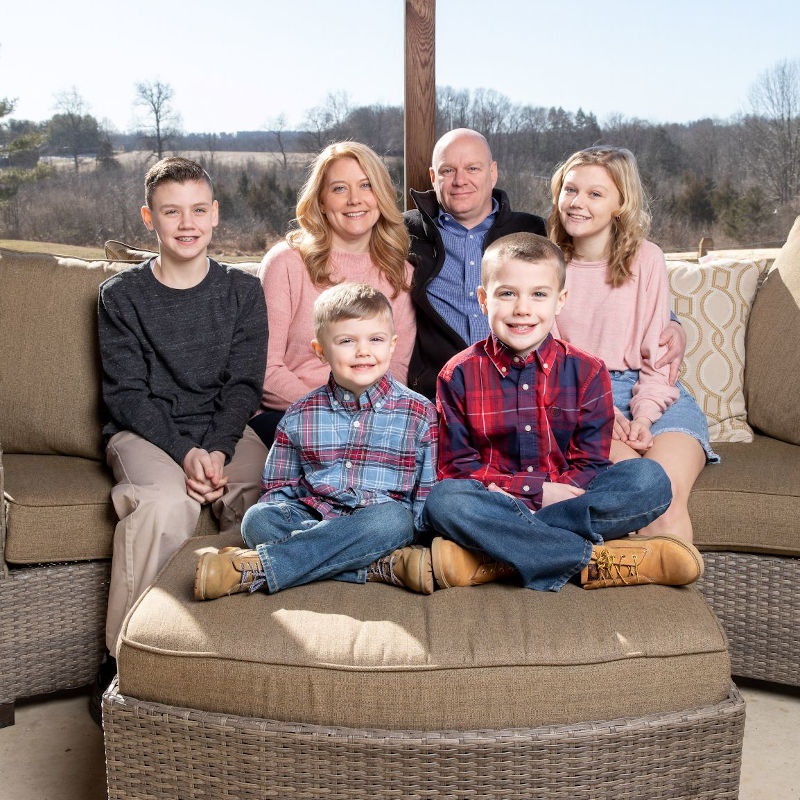 After I received my diagnosis, I started a rosary group at the Nativity of Our Lord parish to pray for the sick. The church is also where I help run the Saint Gianna Beretta Molla shrine and a monthly mother's prayer group. I consider those at my church an extension of my own family. Several families from church, as well as my children's school, delivered over 50 meals to me while I was going through recovery.

My husband of almost 20 years juggled everything to take me to doctor appointments and take care of our children. He would still take the kids to their different activities to keep their lives as normal as possible. I had the best support from my family and my church family.
Genetic Mutation
After my surgery, I had genetic testing done with the help of Dr. Mary B. Daly, director of the Risk Assessment Program, and genetic counselor Michelle Savage. They discovered that I was positive for the BRCA2 mutation, which means my children have a 50 percent chance of being positive for BRCA2 as well.
Due to my BRCA2 mutation and the fact that my tumor was one hundred percent estrogen-receptor positive, I made the decision to have prophylactic surgery.
So in June 2017, gynecologic oncologist Dr. Gina Mantia-Smaldone removed my uterus, cervix, ovaries, and fallopian tubes.
Recovering from my double mastectomy and the reconstructive surgery went smoothly. However, recovering from my prophylactic surgery was more challenging.
I was immediately thrown into menopause, and the first two weeks were mentally and physically draining. Once again I was sleeping in my electric recliner.
Answered Prayer
After those first two weeks, however, I was back to my normal, happy self.
I come back to Fox Chase every six months to see my oncologist, gynecologic oncologist, and breast surgeon. I used to cry if I had the stomach bug, but I did this. Two major life-changing surgeries within three months! I feel like I got an answered prayer.
Learn more about breast cancer and the Risk Assessment Program at Fox Chase Cancer Center.