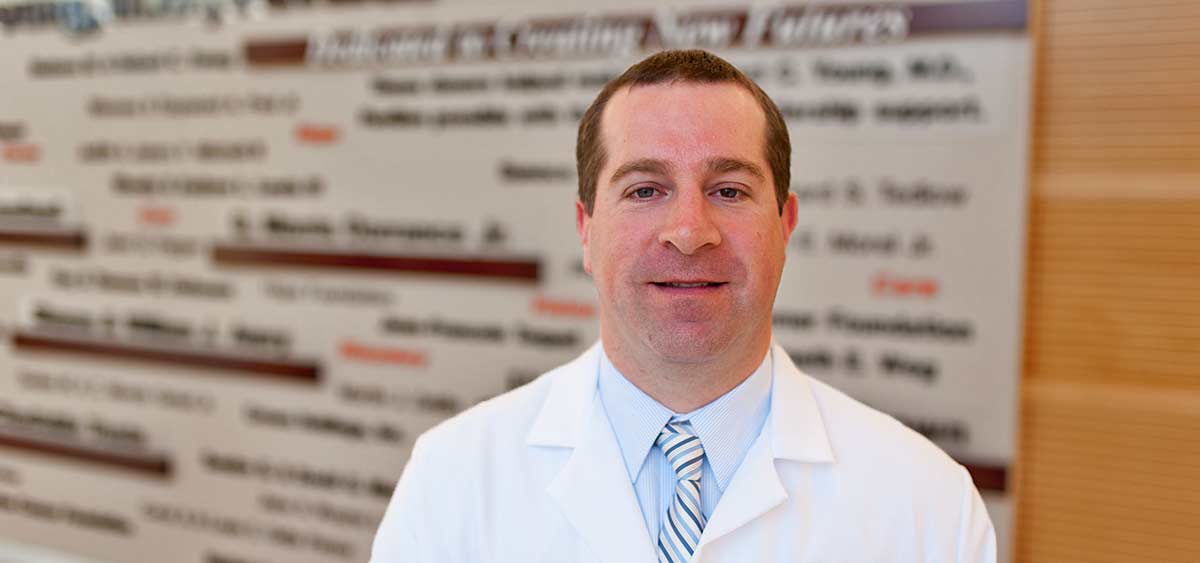 PHILADELPHIA (May 20, 2020)—Researchers at Fox Chase Cancer Center presented data on their observations of marked increases in burnout since 2015 among physician assistants in oncology.
Eric D. Tetzlaff, MHS, PA-C, DFAAPA, a physician assistant in the Department of Hematology/Oncology and lead author on the study, presented his data as part of the virtual scientific program of the 2020 American Society of Clinical Oncology (ASCO) Annual Meeting. Tetzlaff worked with researchers from Fox Chase and other institutions on the project.
"In our prior national study of burnout in the United States for oncology physician assistants, it was shown that despite high satisfaction with career and specialty choice, burnout was high," said Tetzlaff.
Burnout is a syndrome characterized by high levels of emotional exhaustion, depersonalization, and/or a low sense of personal accomplishment due to prolonged or excessive workplace stress. According to the study, the rate of burnout for physician assistants in oncology is nearly 50 percent.
A national survey of oncology physician assistants was conducted in 2019 using the same methods used during their 2015 research. The new survey examined several factors, including personal and professional characteristics, collaborative practice, team structure, organizational context, and burnout.
Burnout was assessed with the Maslach Burnout Inventory, a psychological assessment tool that measures personal accomplishment, emotional exhaustion, and depersonalization.
According to the 2019 survey, 48.7 percent of oncology physician assistants reported burnout, as opposed to 34.8 percent in 2015. In 2019, 43.6 percent of respondents reported a high level of emotional exhaustion, compared with 30.4 percent in 2015. Also in 2019, 22.2 percent said they felt a high level of depersonalization as compared with 17.6 percent in 2015. "At this time, it is not clear what factors influenced the increase in burnout," Tetzlaff said.
"We used the areas of work life survey to assess organizational context. The tool evaluates six areas of the work environment that have been identified as relevant risk factors in a person's relationship with the workplace and that are potential sources of work engagement/burnout. One of the areas it examines is workload."
If an individual's score is high on the workload scale, this indicates a good fit between the respondent and the workplace. A low score indicates a perceived incongruence, or mismatch, between the person and their job for each subscale, said Tetzlaff. He added that physician assistants who reported a mismatch in workload had higher rates of burnout in 2019.
Still, the mismatch could not be easily explained by the number of patients a physician assistant was seeing per week, he said. Tetzlaff added that the researchers found there was no difference in the number of patients seen on average per week by physician assistants with or without burnout.
"This is not surprising, because productivity and value of physician assistants in oncology goes beyond a simple metric such as patient volume or relative value units, which is an attempt to standardize patient encounters into numerical units that represent the productivity of a provider," said Tetzlaff.
He noted the important association between work environment and burnout, suggesting that having a physician assistant in an administrative leadership role may help increase work engagement and reduce the mismatch between the physician assistant role and their expectations.
"Further exploration of the factors that influence burnout in oncology physician assistants is needed prior to developing interventions and programs to decrease burnout in this at-risk population," said Tetzlaff.