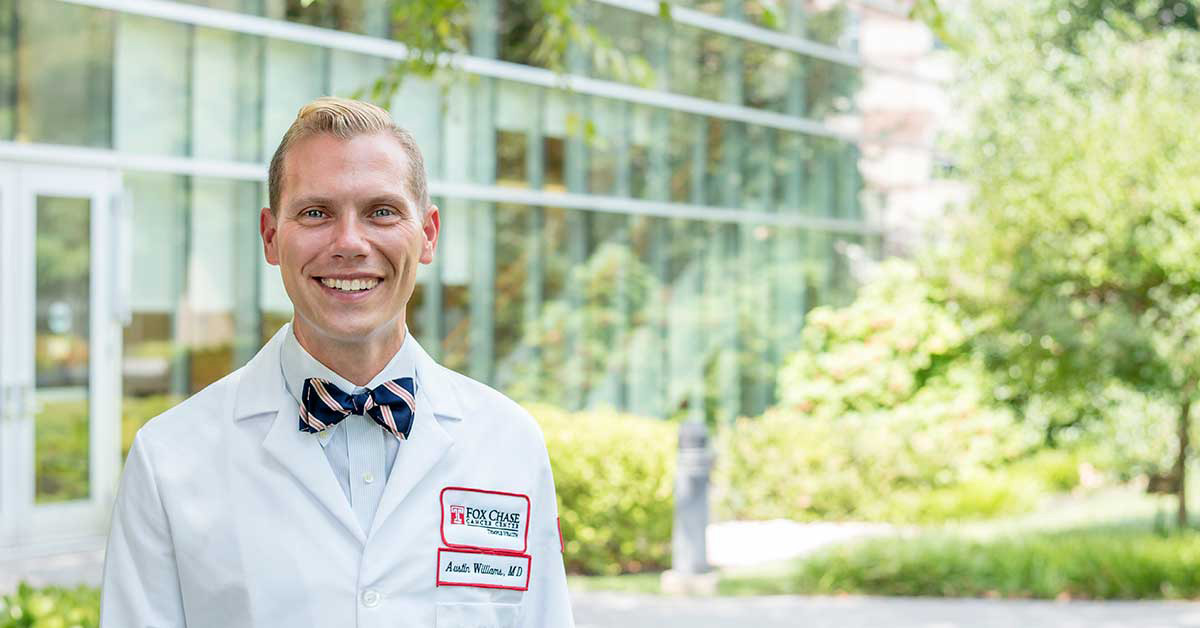 PHILADELPHIA (August 9, 2022)—Fox Chase Cancer Center is pleased to announce the hiring of Austin D. Williams, MD, MSEd, as a surgeon in the Breast Cancer Program and an assistant professor in the Department of Surgical Oncology.
Williams earned his undergraduate degree in biochemistry and molecular biology from Franklin & Marshall College and holds a master's of science in education from the University of Pennsylvania. He received his medical degree from Drexel University College of Medicine in 2013.
Prior to joining Fox Chase, Williams was a breast surgery oncology fellow at Memorial Sloan Kettering Cancer Center in New York. He also completed a general surgery residency at Lankenau Medical Center and served as administrative chief resident. In addition, he completed a postdoctoral research fellowship at the University of Pennsylvania, where he focused on breast surgical oncology.
Over the course of his career, Williams has achieved multiple honors, including the Outstanding Scientific Presentation Award from the American Society of Breast Surgeons and the Owen H. Wangasteen Excellence in Research Award from the American College of Surgeons. In addition to presenting his research nationally and internationally, Williams has published nearly 40 peer-reviewed articles, multiple book chapters, and a book titled Surgery Morning Report: Beyond the Pearls, released in 2019.
Williams has extensive leadership experience with various scientific and medical organizations. He has served as a chair of the Philadelphia Chapter of the American College of Surgeons' Resident Subcommittee and is a member of the Society of Surgical Oncology Fellows and Young Attendings Subcommittee. He also sits on the Franklin & Marshall College Alumni Association's Board of Directors.
Williams will begin his tenure at Fox Chase on September 1.