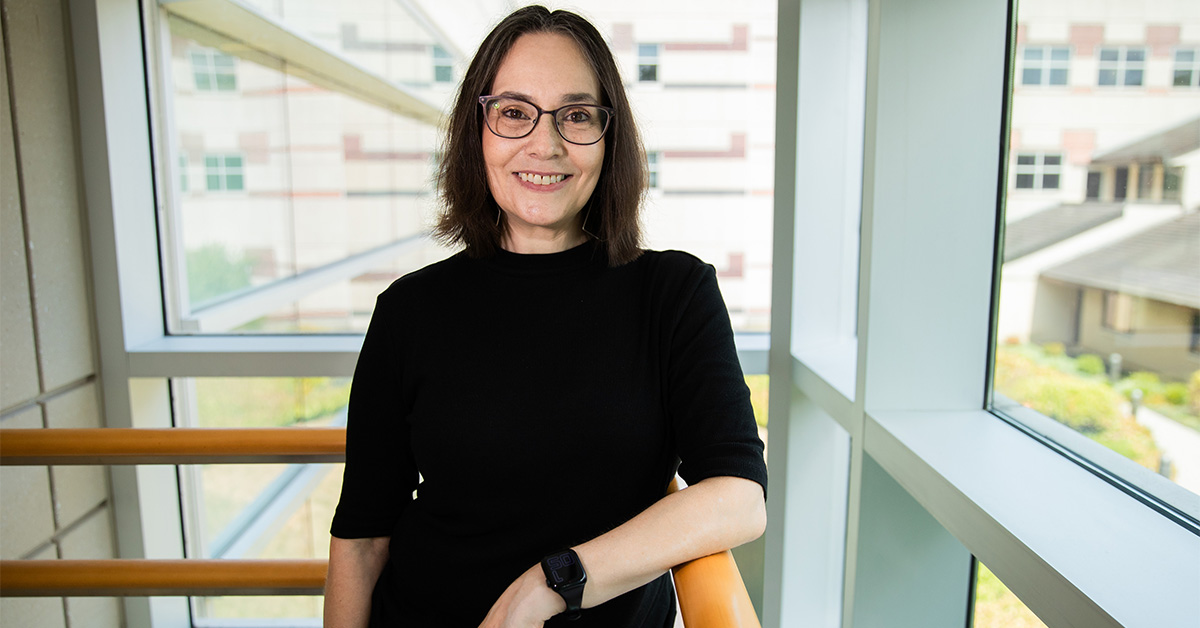 PHILADELPHIA (November 13, 2023) — Edna "Eti" Cukierman, PhD, Co-Director of the Marvin & Concetta Greenberg Pancreatic Cancer Institute and Co-Leader of the Cancer Signaling and Microenvironment Research Program at Fox Chase Cancer Center, was recently awarded the American Cancer Society's (ACS) Wilmott Family Professorship in Pancreatic Cancer.
"I can't express how happy, humbled, and honored I feel to receive this professorship," said Cukierman. "A big part of the ACS's mission is to support groundbreaking research that positively impacts cancer patients and their families. I look forward to continuing that mission in this new role and encouraging trainees to think out of the box and profoundly change the way we think about pancreatic cancer. The goal is to hopefully come up with novel ways to prevent, intercept, and/or treat this devastating disease."
ACS professorships recognize individuals who have made pivotal contributions that have changed cancer research and oncology care, as well as those who have a proven track record of mentorship and leadership in the cancer research community. They are considered the most prestigious ACS research awards. Cukierman is the first Fox Chase faculty member to receive an ACS professorship.
The professorship was made possible through a $2.25 million legacy gift from ACS supporters Timothy Wilmott and his wife, Nancy Barna, MD, in 2022. The gift bestows $400,000 in funding to one researcher every five years.
"Nancy and I are proud to partner with the ACS to ensure that the brightest minds and best ideas in pancreatic cancer research are funded and that we are all one step closer to a cure," said Wilmott.
Support from the Wilmott gift funds researchers to help them lead the way to finding more effective ways to prevent, detect, and treat pancreatic cancer, which is currently the 10th most commonly diagnosed cancer in the U.S. in men and women combined and the third-leading cause of cancer-related deaths.
"We must develop innovative strategies for prevention and early detection to increase survivorship in pancreatic cancer. We are deeply grateful to the Wilmott family for their generous support and commitment to advancing pancreatic cancer research on behalf of cancer patients and their families," said Karen Knudsen, MBA, PhD, CEO of the ACS.
With the support of this professorship, Cukierman will work to address unmet medical needs of pancreatic cancer patients while also closing educational gaps for under-represented trainees and supporting individuals who would otherwise not have the opportunity to conduct high-level research.
Additionally, her work seeks to assure that these individuals will be given the educational and technological tools needed to conduct hypothesis-generating research without restrictions. "The ACS-Wilmott Family supported trainees and pancreatic cancer research are enormously deserving of such an endeavor," said Cukierman.
Her work at Fox Chase focuses on pancreatic cancer, specifically the fibrous scar-like tissue cells that make up most of the tumor microenvironment of the pancreas and influence how tumors emerge and progress. The tumor microenvironment comprises noncancerous cells and a plethora of secreted and fibrous molecules, blood vessels, nerve infiltrates, and other components that surround tumor cells.
Her research has been published in many prestigious journals, including Cancer Discovery, Cell, and Science. She has also received a number of accolades from various research groups over the course of her career.
She is an active member of multiple professional organizations, including the American Association for Cancer Research, the American Gastroenterological Association, and the American Society of Cell Biology. She also serves as a scientific editor on several journals, including Matrix Biology, as well as the senior editor in tumor biology on Cancer Research Communications.