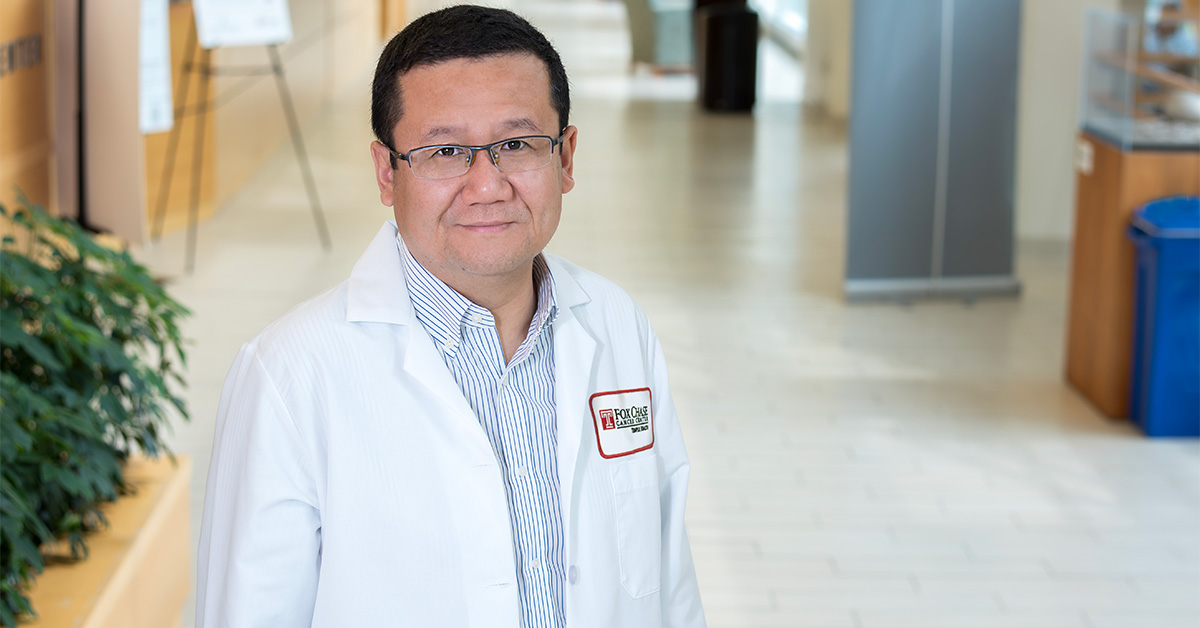 PHILADELPHIA (August 7, 2023)—Fox Chase Cancer Center is pleased to announce the hiring of Yu "Sunny" Liu, PhD, as an assistant professor in the Nuclear Dynamics and Cancer research program and the Cancer Epigenetics Institute (CEI).
Fox Chase's CEI is a national hub for epigenetics study and collaboration focused on mechanisms promoting cancer and therapeutic resistance. Its mission is to facilitate academic-to-industry and academic-to-academic partnerships with the goal of promoting discovery in cancer epigenetics.
Liu's research will center around the folding and regulation of the genome in three-dimensional (3D) spaces and how misfolding of the genome can lead to cancer. His team's long-term objective is to combine epigenetics, 3D genomics, and artificial intelligence algorithms to enhance cancer diagnostics and develop more effective therapies for the benefit of patients.
Before joining Fox Chase, Liu worked as a postdoctoral researcher at the University of Massachusetts Chan Medical School, where he investigated the molecular mechanisms of genome folding and developed innovative methods for capturing chromatin.
Liu obtained his undergraduate degree from Xiamen University in China and a Master's of Science in biochemistry from Queen's University in Canada. He went on to earn his doctoral degree in molecular genetics from the University of Toronto, where his research focused on transcriptome dynamics and plasticity in development, disease, and evolution.
After completing his doctoral studies, Liu pursued a brief postdoctoral research position at the Lunenfeld-Tanenbaum Research Institute in Toronto from 2014 to 2015. During this time, he developed an innovative approach for analyzing the whole transcriptome of archival tumor samples, which can improve the diagnosis of bladder cancer. He also investigated the role of cancer-associated enhancer RNAs.
Over the course of his career, Liu has authored multiple peer-reviewed articles in a number of scientific journals, including Nature Cell Biology, Nature Genetics, Nature Medicine, Nature Structural & Molecular Biology, Nature, Cell Stem Cell, and PLoS Genetics.
Liu began his tenure at Fox Chase on August 1.