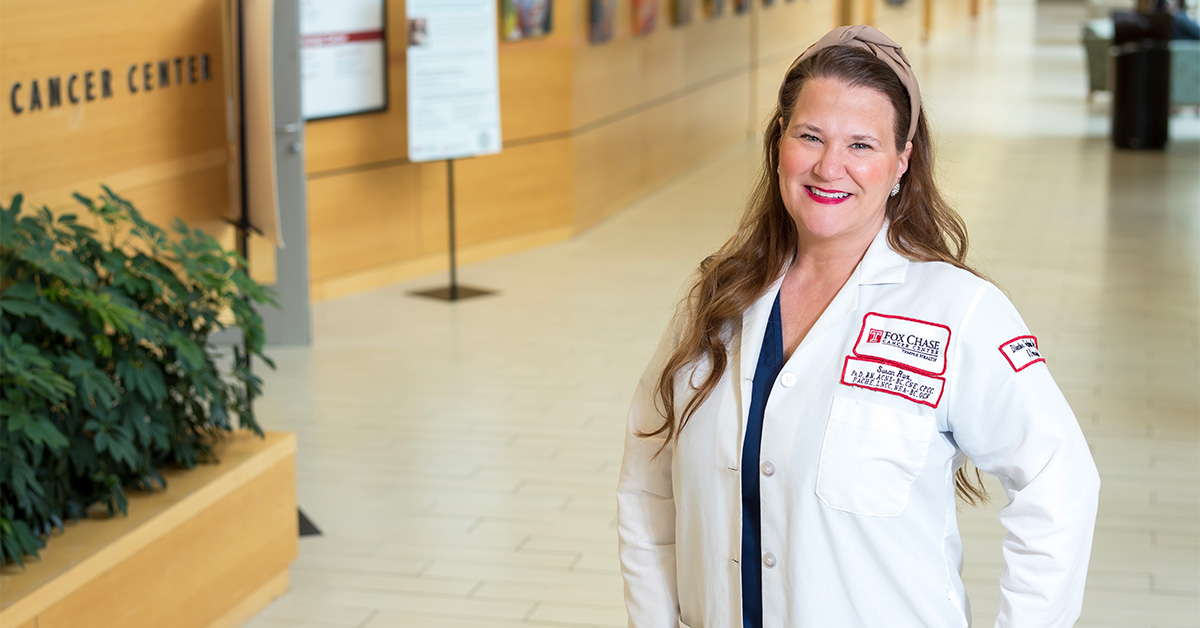 PHILADELPHIA (June 29, 2023)—A team of nurse navigators at Fox Chase Cancer Center recently published a paper describing significant contributions they made to the patient access redesign at Fox Chase, an initiative that enhanced both the experience of patients and the professional satisfaction of the nurse navigators.
"Nurse navigators work hand in glove with the physicians, social workers, therapists, and other staff to make sure that any transition or handoff from one care provider to the next is comprehensive, smooth, and efficient for the patient and for their care team," said Susan Rux, PhD, RN, ACNS-BC, CNE, Associate Vice President of Nursing Education & Professional Development/Innovation at Temple Health.
"They're in a key position to map out what patients are telling us, how the workflows are functioning, and where improvements can be made," added Rux.
The patient access redesign project arose from the identification of internal inefficiencies that were interfering with the ability of patients to schedule appointments and receive timely care. Fox Chase's nurse navigators are crucial to this project because they facilitate patients' entry to and journey through treatment. Rux likens the role of a nurse navigator to a car's GPS: They help patients navigate the cancer care journey by reviewing what to expect, what will come next, and how to prepare.
As part of the redesign project, five nurse navigators across multiple areas formed a departmental committee to identify strategies for enhancing their value to patients. During their meetings, they discovered that some nurse navigators were performing administrative work that was decreasing their professional satisfaction. They believed that tasks such as scheduling patient appointments were detracting from the time they could be spending applying their advanced expertise as registered nurses.
To tackle this issue, the committee standardized the documentation process during new patient interviews. This standardization not only increased the accuracy of patient records and facilitated continuity of care — important improvements in their own right within the larger patient access redesign — but it also helped the nurses better assess health disparities and barriers that a patient might face when trying to receive care. In turn, the nurse navigators were in a better position to help patients overcome these challenges.
"If the patients are feeling satisfied and happy about the process, that will transcend into the nurse navigation team feeling like they've done a really good job and were there to support the patients in this meaningful way," said Rux, who co-authored the paper with other committee members.
To assess whether the process adjustments were affecting professional satisfaction, a survey was distributed to the nurse navigation team. The results showed that between October 2021 —before the changes were implemented — and April 2022 — after the changes were implemented — the nurse navigators' satisfaction with working at the top of their license increased. "However, we still need to keep our foot on the gas pedal," Rux said.
"The department realizes there's more work that needs to be accomplished. It is about staying really close to the people and processes, doing the necessary follow-ups with the team, and letting them know where we are in terms of progress. We want to make sure that any progress is being acknowledged, and we want to motivate and keep the momentum with that."
The paper, "Nurse Navigators as the Drivers to an Enhanced Patient Referral Process," was published in the Journal of Oncology Navigation and Survivorship (JONS).