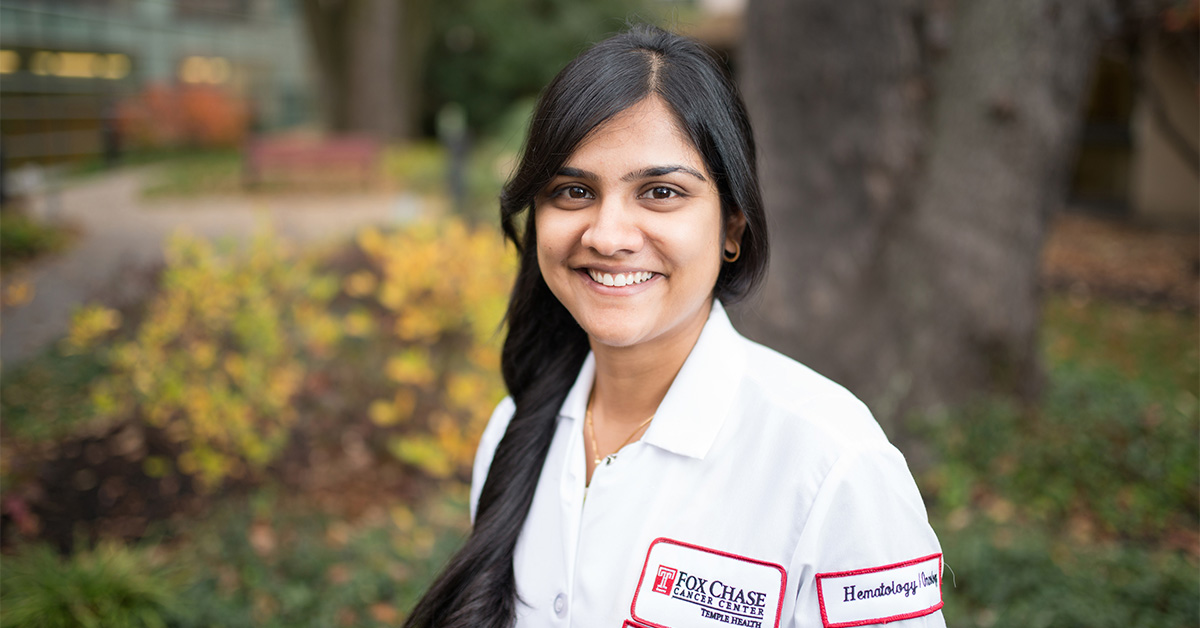 PHILADELPHIA (June 1, 2023) — Researchers at Fox Chase Cancer Center have utilized banked computed tomography (CT) to evaluate alternate response criteria for early prediction of outcomes in rare pancreatic neuroendocrine tumors (NETs).
"This trial showed that utilization of existing National Clinical Trials Network resources to do secondary research is feasible and very important in rare cancers like pancreatic NETs," said Namrata "Neena" Vijayvergia, MD, assistant chief of Gastrointestinal Medical Oncology and associate professor in the Department of Hematology/Oncology at Fox Chase.
She recently presented the results of a study, which was conducted with researchers from Fox Chase and other institutions, comparing these new alternate response criteria with response as measured by Response Evaluation Criteria in Solid Tumors (RECIST) 1.1 at the 2023 ASCO Annual Meeting in Chicago.
"Pancreatic NETs are rare and patients often present to our center from near and far," Vijayvergia said. "Because patients' imaging scans are conducted at a variety of sites, the clinical interpretation of these scans can be challenging and make it difficult to determine if treatments are working, thus complicating treatment decisions."
Vijayvergia and colleagues decided to utilize banked images from ECOG-ACRIN E2211, a large National Clinical Trials Network study of pancreatic NETs, and see if these images could be repurposed to study novel response criteria.
Sixty-seven patients with pancreatic NETs had their CT images repurposed for the study. First, three radiologists assessed the images using RECIST 1.1, which is known to have limitations when evaluating the effects of certain targeted agents in slow-growing pancreatic NETs.
The inter-reader agreement on the imaging studies was classified as "fair," with only five of the nine cases considered to have progressive disease matching between the first radiologist review and the second radiologist review.
Next, Vijayvergia and colleagues evaluated if Choi response criteria had a better correlation with progression-free survival than RECIST 1.1.
"Choi criteria tends to use changes in the density of the tumor, and changes in density can be reflective of response to treatment," Vijayvergia said. "Choi criteria is currently used to evaluate response in gastrointestinal stromal tumors but not in pancreatic NETs."
Indeed, the Choi response criteria showed improved prediction of progression-free survival compared with RECIST 1.1 and was able to differentiate between patients who had a response and those who had stable disease at the first interval scan in terms of progression-free survival.
"From a clinical standpoint, this is important because it helps point to early response to treatment," Vijayvergia said.
For example, if a patient is on a new therapy and experiencing side effects, a marker of early response would help to identify that the patient is more likely to have a long-term benefit if they remain on that therapy. In contrast, a clinician could also see a lack of response and make the decision to switch therapies or enroll a patient in a clinical trial.
"These findings need further validation in a second set, with the goal in the future to have a better marker of response than RECIST 1.1, which we know is not adequate," Vijayvergia said.