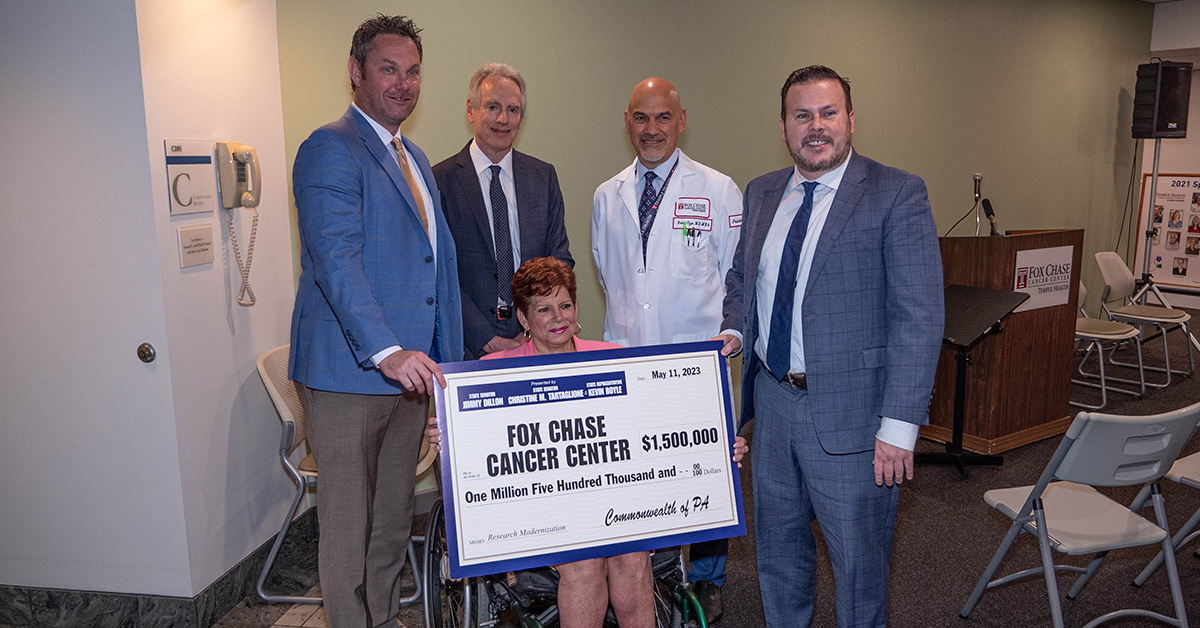 PHILADELPHIA (May 11, 2023)—Fox Chase Cancer Center and Temple Health welcomed State Representative Kevin Boyle and State Senators Jimmy Dillon and Christine Tartaglione to the Fox Chase campus today to thank them for their support in securing $1.5 million in funding for the modernization of Fox Chase research facilities.
"This funding is a crucial part of our mission as a National Cancer Institute-designated comprehensive cancer center, because facilities like this conduct cutting-edge cancer research," said Jonathan Chernoff, MD, PhD, Cancer Center Director. "With help from our friends in the House and Senate, we will be able to work more effectively due to the modernization of our research facilities."
Fox Chase received the funding as part of the Redevelopment Assistance Capital Program. This program, administered by the Office of the Budget, aims to further support community and economic development throughout Pennsylvania.
"Philadelphia has long been known as a premier education and medical city. The funding of this grant will help support a great Philadelphia institution and will enable it to continue to be a leader in its field," said Tartaglione.
"I'm proud we're investing in cutting edge cancer research at Fox Chase," Dillon said. "Working together, I know this is only the beginning of what we can accomplish for Northeast Philly."
With this funding, the Fox Chase laboratory facility will be transformed into a cancer model production and analysis hub. It will also renovate the central laboratory facility by overhauling the air handling controls and replacing the lighting systems.
"This project should do a lot of good for our community here in Northeast Philly," Boyle said. "I am proud to have helped secure these grants and look forward to seeing this project realized."