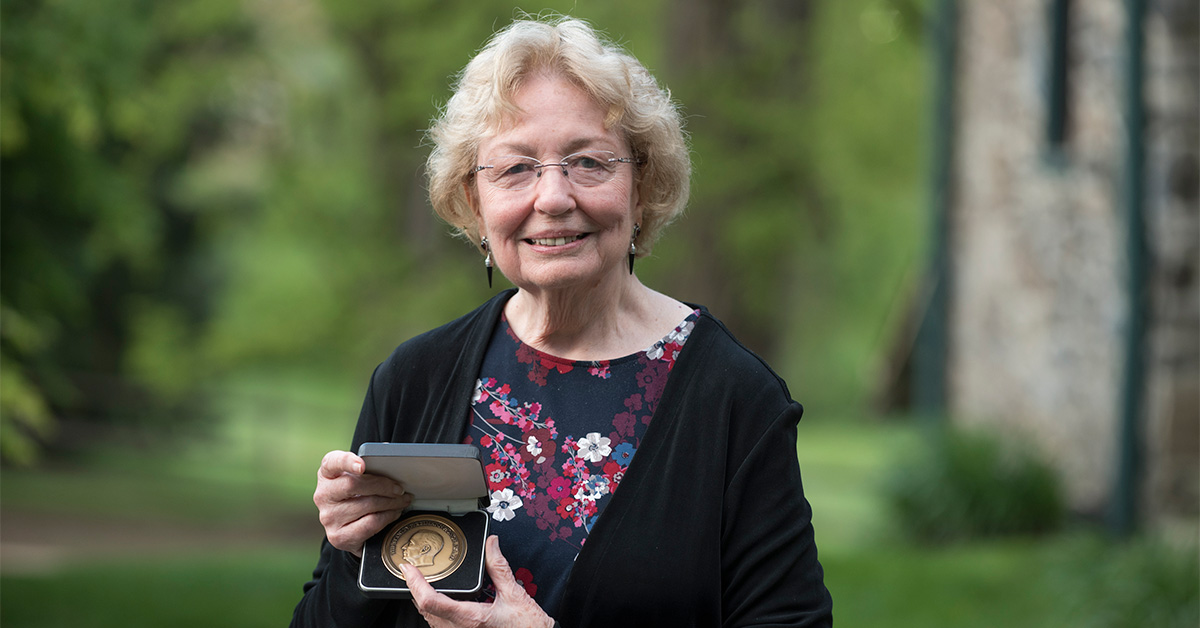 PHILADELPHIA (May 4, 2023)—In a ceremony honoring faculty today at Fox Chase Cancer Center, Anna Marie Skalka, PhD, Senior Advisor to the President and Professor Emerita, was recognized with the Stanley P. Reimann Honor Award, the center's highest distinction.
In addition to this new honor, Skalka is an elected member of the American Academy of Arts and Sciences and was awarded the 2018 Sigma Xi William Procter Prize for Scientific Achievement and Communications. She has authored over 240 scientific papers as well as the book Discovering Retroviruses: Beacons in the Biosphere. She is also the co-author of Principles of Virology, the leading virology textbook for undergraduate and graduate students studying how viruses reproduce and cause disease.
"In light of her long and distinguished career at Fox Chase and elsewhere, Ann is most deserving of this great honor," said Cancer Center Director Jonathan Chernoff, MD, PhD, who bestowed the award on Skalka. "Her body of work highlights the storied history that Fox Chase has in scientific research and education."
Stanley P. Reimann, MD, for whom the award is named, was the founder of the Institute for Cancer Research, which merged with the American Oncologic Hospital in 1974 to form Fox Chase Cancer Center.
Reimann fulfilled a personal dream when he founded the Institute for Cancer Research to create an institution dedicated to studying the functions of normal cells in order to determine what goes wrong when cells become cancerous. Because his aspirations led to numerous milestones in advancing understanding of cancer, the award named in his honor is given to recipients whose efforts are similarly directed.
Over the years, Fox Chase has bestowed the Reimann Award to humanitarians, advocates for public health, philanthropists, researchers, and business professionals. Despite their varied backgrounds and chosen professions, all had one thing in common: a desire to understand, prevent, treat, and eradicate cancer. Skalka now joins a list of 16 individuals since 1974 to receive the award.
Skalka began her illustrious career with a high school summer job in the billing department at the pharmaceutical company Pfizer in Williamsburg, Brooklyn, where her father worked manufacturing penicillin. The following summer, Skalka began assisting in a research laboratory there, an experience that helped shape her entire career.
After receiving her undergraduate degree in biology from Adelphi College in New York, and her doctorate in microbiology from New York University Medical School, she soon became internationally known for her contributions to understanding how viruses replicate and insert their genetic material into their host's genome.
Skalka first worked as a researcher at Cold Spring Harbor Laboratory in New York from 1964 to 1969 before being invited to be part of a new basic research institution, the Roche Institute of Molecular Biology, funded by the pharmaceutical company Hoffmann-LaRoche. At the Institute she established and chaired the first Department of Molecular Oncology.
Skalka was recruited to Fox Chase in 1987 as director of the Institute for Cancer Research, which was the basic research arm of the center at that time. In addition, a group of scientists from the Roche Institute came with her and helped her set up her laboratory at Fox Chase. The overarching goals of her laboratory have been to uncover new information of fundamental importance to both virus and cell biology, and to identify new targets for therapies to treat disease.
In addition to serving as Senior Vice President for Basic Science at Fox Chase from 1987 until 2008, Skalka is also the former William Wikoff Smith Chair in Cancer Research. In her many roles at Fox Chase, she has promoted and supported the work of established research faculty, recruited outstanding new faculty members, and supported their development of independent research programs.