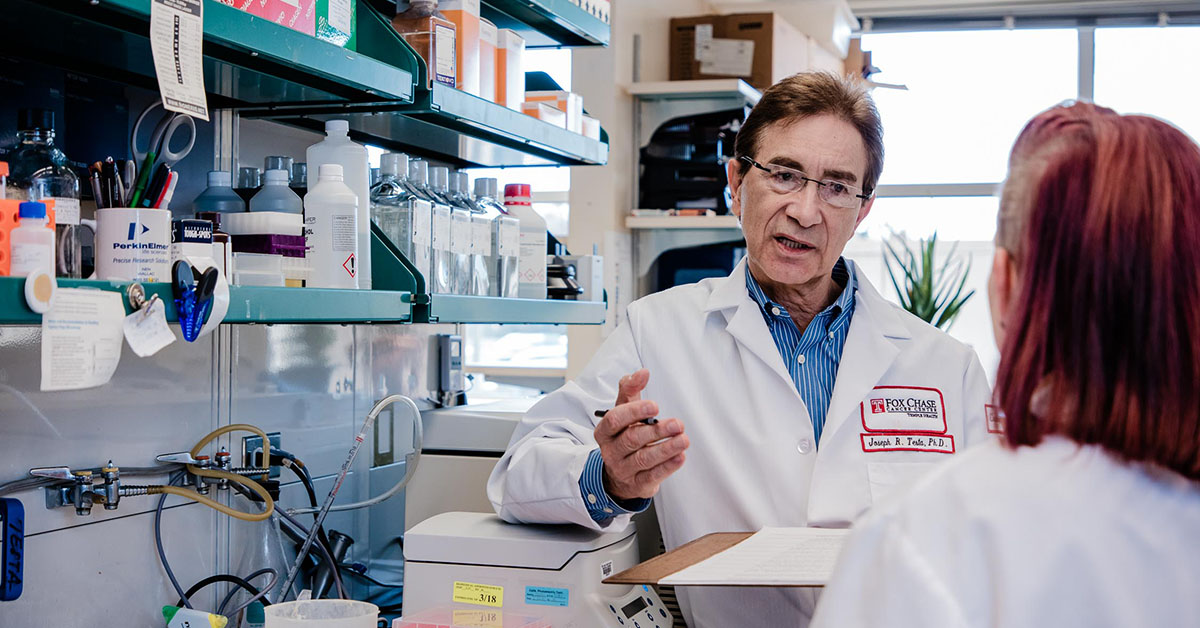 PHILADELPHIA (February 2, 2023)—Protective clothing and other safeguards for those who work with asbestos have significantly reduced deaths from mesothelioma over the past decades. But what if it was also possible to protect people at high risk from the inside out? That's the goal of a recent study at Fox Chase Cancer Center looking at a new drug candidate intended to delay or prevent the onset of mesothelioma, a rare form of cancer, after asbestos exposure.
The study found that SC144, a compound that blocks key inflammation pathways, delayed tumor formation in mice exposed to asbestos. The study also found that SC144, alongside two existing anti-inflammatory drugs, prolonged survival. It's a promising finding, as newer generations of the compound have already been shown to be more potent.
"We're really excited about this," said lead author Joseph Testa, PhD, FACMG, a professor in the Cancer Prevention and Control research program and chief of Genomic Medicine at Fox Chase. He said the findings support further research into SC144 and similar molecules.
"Our hope is that eventually we will find a version of this drug that prevents or slows tumor development to the point that the person will die of something else before they would ever die of mesothelioma," said Testa, who conducted the study with colleagues at Fox Chase and other centers.
Malignant mesothelioma is an incurable cancer of the mesothelial lining that surrounds the internal organs. Around 80% of cases occur in the chest; of these, asbestos exposure is the most common cause. However, there is often a long delay, often decades, between the time of exposure and the development of cancer.
Inflammatory cytokines play an important role in triggering that eventual tumor growth. It's these pathways that are targeted by SC144 and similar drugs.
For the study, scientists treated asbestos-exposed mice with three types of medication: anakinra, an anti-inflammatory drug used to treat gout; sulindac, a nonsteroidal anti-inflammatory drug used in patients with a hereditary form of colon cancer; and SC144.
"We're trying to inhibit the inflammatory phase of the disease, with the goal of preventing people who are exposed to asbestos over long periods of time from developing mesothelioma," Testa said.
A key criterion for the drug is safety, as patients would need to take it over their lifetime. Testa noted that SC144 seemed to have fewer side effects than earlier versions of the compound.
The study is part of a larger field of research called chemoprevention, which involves developing and using medications not just to treat diseases, but to prevent them. In addition to construction workers who handle asbestos, exposure has historically been a problem for people in the military, where it is used as a fire retardant. Some developing countries lack protection or regulation for asbestos use. And in some parts of the world, people are exposed to naturally occurring asbestos in the landscape around them.
Testa hopes to continue collaborating with the molecule's developer, Nouri Neamati, PhD, of the University of Michigan, to test newer generations of the drug.
"Our hope is to try these different versions to see which one works best and which one has the greatest efficacy, resulting in the lowest incidence of tumors, and maybe even prevent the formation of tumors altogether," he said.
The study, "Inflammation as a Chemoprevention Target in Asbestos-Induced Malignant Mesothelioma," was published in Carcinogenesis.