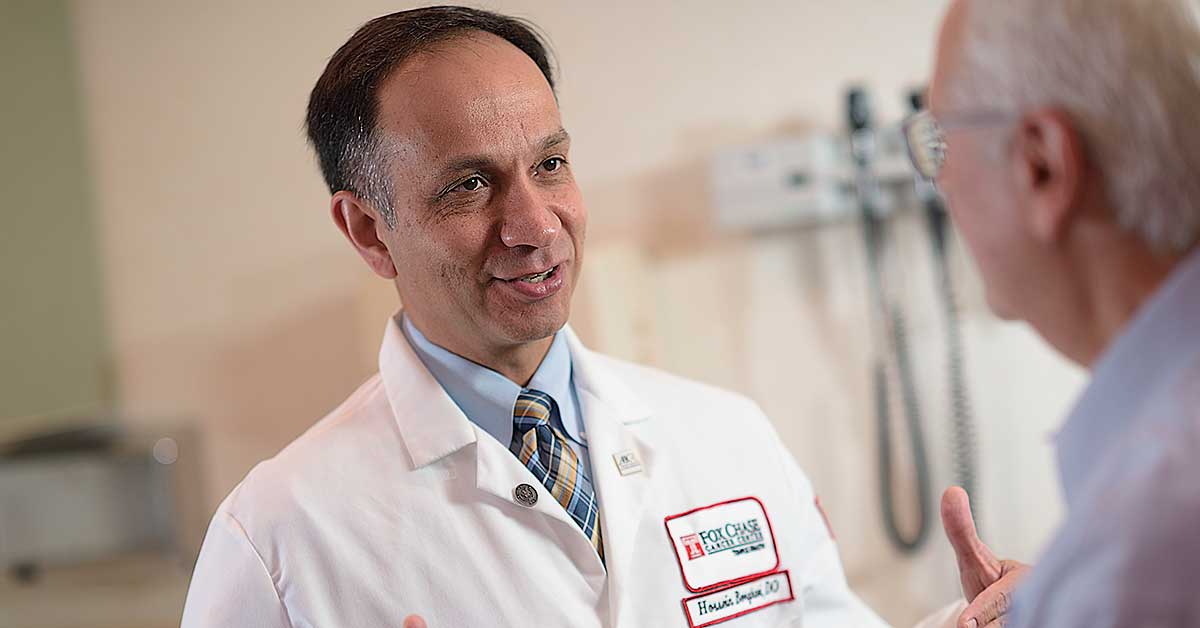 PHILADELPHIA (August 8, 2022)—Patients with metastatic small cell lung cancer (SCLC) have limited options for treatment, with few drugs available for patients who have already completed frontline chemotherapy and immunotherapy. Now a global multi-institutional study that included researchers from Fox Chase Cancer Center has shown that the investigational drug tarlatamab is a promising new potential treatment for SCLC.
The phase 1 clinical human trial found that tarlatamab was reasonably effective and had manageable levels of toxicity. Among patients who responded to the drug, the treatment had good durability.
"Finding treatments that are effective in metastatic small cell lung cancer has been challenging, just because this is a very, very aggressive disease," said Hossein Borghaei, DO, MS, chief of Thoracic Medical Oncology and a professor in the Department of Hematology/Oncology at Fox Chase. "So this drug, if successful, would address a significant unmet need."
Researchers previously shared data from the study at other medical meetings, and their update, "Phase 1 Updated Exploration and First Expansion Data for DLL3-Targeted T-Cell Engager Tarlatamab in Small Cell Lung Cancer," was presented at the World Conference on Lung Cancer in Vienna, Austria.
Tarlatamab brings a unique approach to treating SCLC because it's a bispecific drug called a BiTE molecule. That means it has two arms that bind to two different targets. One end of the molecule is designed to grab hold of a marker that appears on the tumor cells, while the other is designed to grip a component of immune cells.
"By bringing the immune cells and tumor cells in close proximity, the drug is able to activate the immune system at the site of the cancer," Borghaei said.
A total of 106 patients were enrolled in the trial. Participants received the drug intravenously every two weeks, with patients whose tumors improved receiving step dosing. Twenty-four patients saw a confirmed response, including two with a complete response. The median duration of response was 13 months.
The drug also showed some toxicity, and 92% of patients experienced side effects. Some patients experienced cytokine release syndrome (CRS), an inflammatory syndrome caused by an aggressive immune response. CRS was generally grade 1. Treatment-related grade 2 CRS occurred in 12 patients (11.8%) and grade 3 in one patient (1%). Some patients also experienced neurologic events.
Follow-up studies are planned, with investigators currently meeting to discuss next steps.