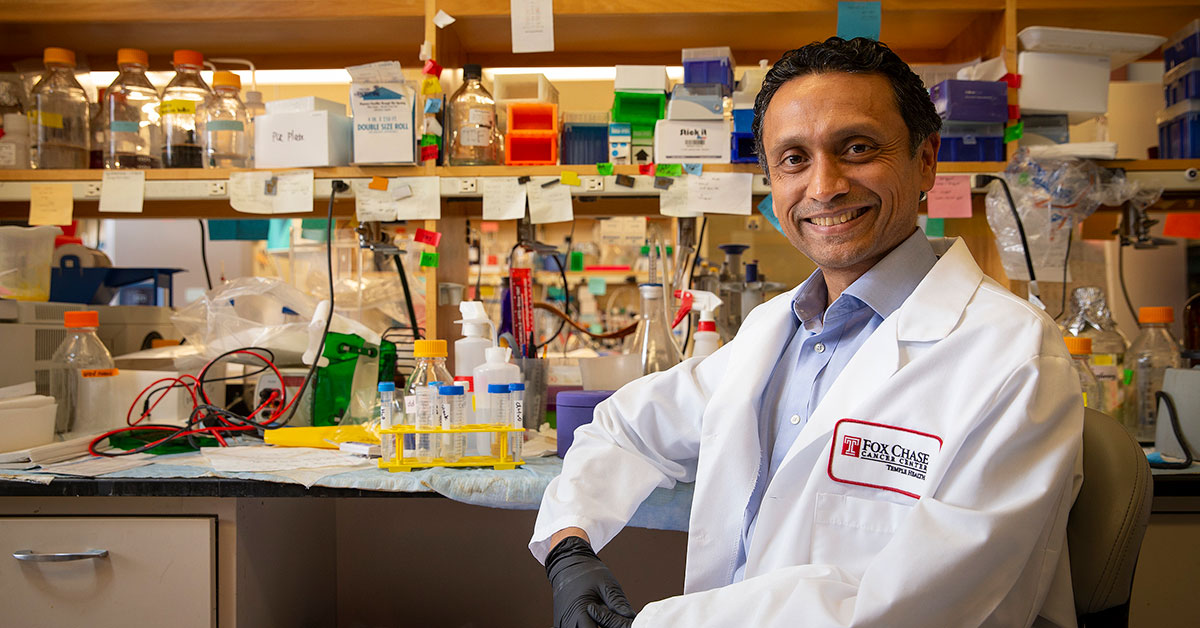 PHILADELPHIA (May 26, 2022)—In a study published in the prestigious journal Nature, Fox Chase Cancer Center researchers have shown that a drug candidate may help re-initiate immune responses by mimicking influenza virus infections in patients whose cancer is unresponsive to immunotherapy.
Immunotherapy, which harnesses the power of the body's immune system to attack cancer cells, has great potential for patients who do not respond to other treatments. But the number of patients who are successfully treated with immunotherapy is small. This is because many tumors are immunologically silent, or "cold," meaning they have adapted characteristics which trick the immune system into ignoring them as a threat.
Siddharth Balachandran, PhD, a co-leader of the Blood Cell Development and Function research program at Fox Chase, was a lead author on the study. Balachandran and colleagues were able to identify a particular compound called CBL0137 that can trigger necroptosis, a highly inflammatory form of cell death within tumors, and turn these "cold" tumors "hot."
"We know that influenza viruses trigger very potent immune responses in infected cells. The entire immune system rushes to the site of infection and quickly eradicates the infected cells.  We thought, 'What if we could find a way to mimic a virus infection within a tumor that was otherwise cold?' That way, the body's own immune system could fight the tumor as if it were virally infected tissue," said Balachandran, who conducted the research with an international team of researchers.
The researchers found that by administering CBL0137 directly into the tumor, an antiviral response is induced within the tumor mass and the immune system is alerted to its presence. In mouse models of melanoma, this compound induced necroptosis in cancer-associated fibroblasts and reversed unresponsiveness to immune-checkpoint blockade therapies.
"This is an important study for patients who have failed first-line immunotherapy, because combining a 'virus mimetic' immune adjuvant with immunotherapy offers the opportunity to rekindle an immune response and make immunotherapy effective in otherwise unresponsive patients," Balachandran said.
"This compound is already in clinical trials as a standard chemotherapeutic, so researchers know it's safe and have a solid understanding of its dosing. That's a pretty big deal, because there's typically a multi-year gap between discovering a compound and using it in patients. In this case, we can bypass that wait and get the compound directly into patients for combinatorial use with immunotherapy," Balachandran added.
Clinicians at Fox Chase will be conducting a phase 1 clinical trial beginning later this year in which the compound will be used alongside immunotherapy drugs for testing in immune-relapsed melanoma.
The title of the study is "ADAR1 Masks the Cancer Immunotherapeutic Promise of ZBP1-Driven Necroptosis."