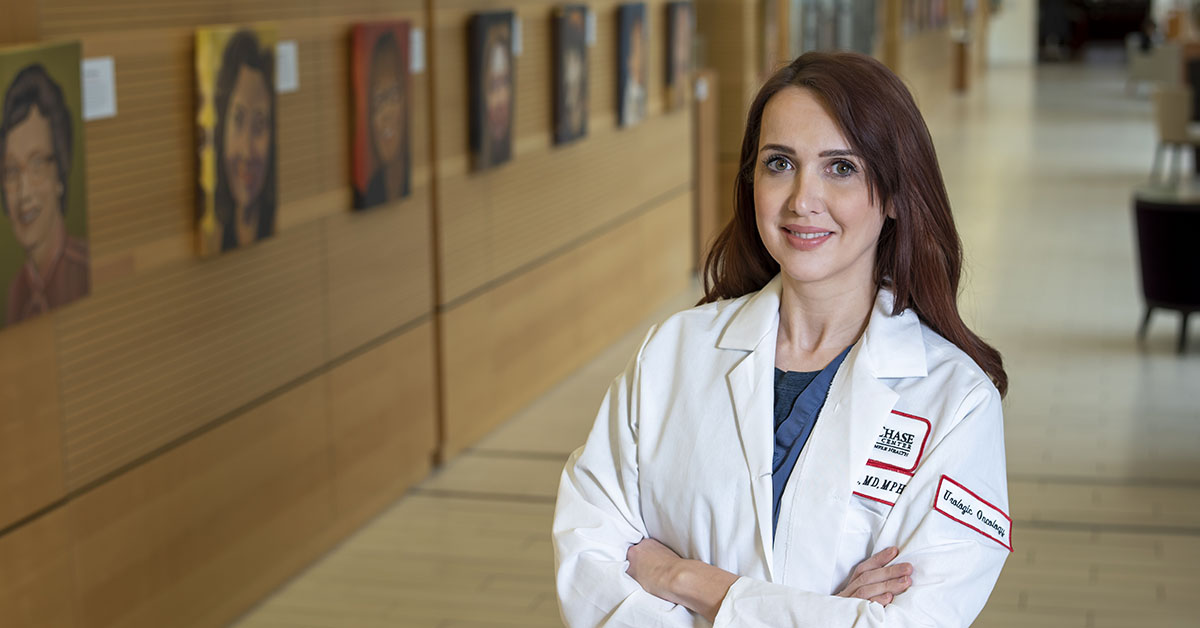 PHILADELPHIA (May 25, 2022)—Laura Bukavina, MD, MPH, a Urologic Oncology Fellow at Fox Chase Cancer Center, has been awarded a 2022 Urology Care Foundation Research Scholar Award, which supports future research leaders and ensures they receive the necessary training and guidance for a successful research career. The Urology Care Foundation is the official foundation of the American Urological Association (AUA).
Bukavina will receive a one-year award for $40,000 to investigate tumor infiltrating lymphocytes using an immunoscore prediction model. The research will be conducted under the mentorship of Philip Abbosh, MD, PhD, an assistant professor in the Molecular Therapeutics research program at Fox Chase.
"We are incredibly proud of Dr. Bukavina and are very excited to see that her promise as a translational urologic oncologist is being supported by the AUA and the Urology Care Foundations. The work that is being proposed in this grant has the potential to further our understanding of the management of bladder cancer and have a direct impact in the clinic," said Andres F. Correa, MD, director of the Urologic Oncology Fellowship and an assistant professor in the Division of Urology and Urologic Oncology at Fox Chase.
"The Urology Care Foundation is committed to improving urologic health by supporting research, patient education, and fostering humanitarian endeavors," said Harris M. Nagler, MD, the foundation's president. "When we support researchers we support individuals who will improve our ability to prevent, detect, and treat urologic diseases and thus improve urologic health for all."
Earlier this year, Bukavina received the American Society of Clinical Oncology (ASCO) Genitourinary Conquer Cancer Merit Award. She presented the winning abstract, which characterized the gut microbiome of bladder cancer patients, at the 2022 ASCO Genitourinary Cancers Symposium in February. Abbosh also mentored Bukavina for that project, in which they compared the microbiomes of patients with bladder cancer and a cancer-free control group by collecting and analyzing stool samples from both groups.
Bukavina's Research Scholar Award project will investigate the role of immune environment, particularly lymphocytes and macrophages, and define their role within immunotherapy response in bladder cancer. The investigators hope to take this a step further by utilizing artificial intelligence mapping for automated risk stratification of patients based on their immune infiltration prior to and during immunotherapy, she said. 
"The AUA and the Urology Care Foundation understand the importance of recruiting exceptional young investigators into urology research and fostering their career success," said Steven Kaplan, MD, chair of the AUA's Research Council. "We're proud of the 2022 awardees and know that their work will have a significant impact on the practice of urology and the lives of those affected by urologic diseases and conditions."