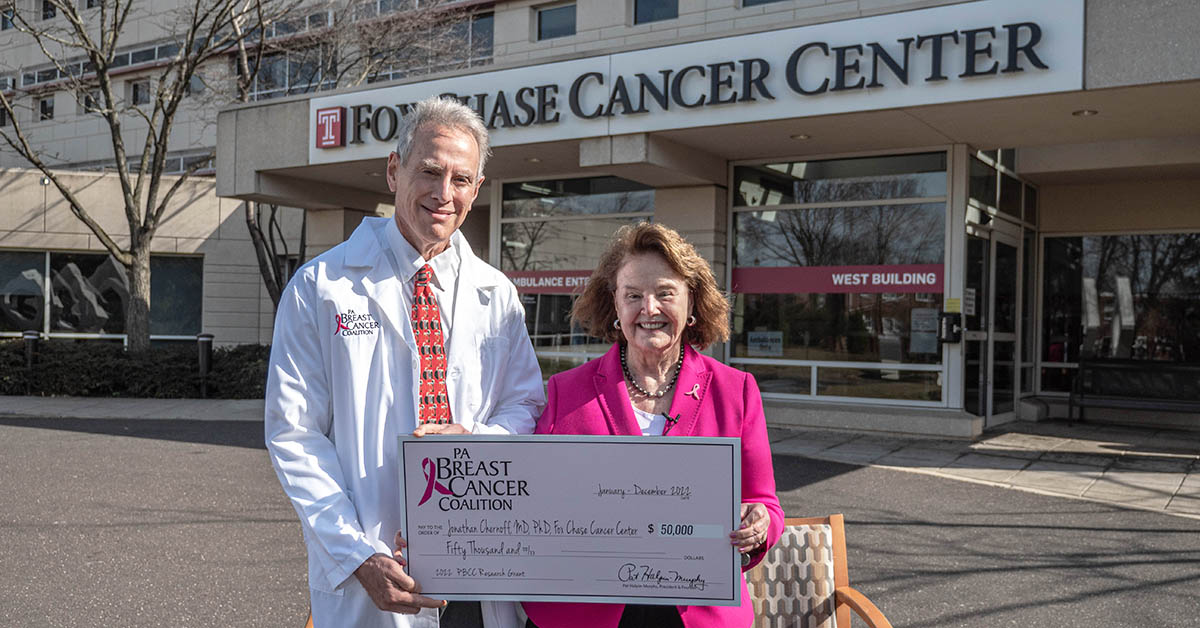 PHILADELPHIA (February 17, 2022)—Jonathan Chernoff, MD, PhD, Cancer Center Director at Fox Chase Cancer Center, was recently awarded a $50,000 grant from the Pennsylvania Breast Cancer Coalition.
This one-year grant will provide funding for Chernoff's research into two specific genes on chromosome 11 that become amplified in many breast cancer patients. "This grant will allow me to pursue promising preliminary data that points to new strategies for treating breast cancer. It could lead to new therapeutic approaches in a significant number of breast cancer patients," said Chernoff, who is also the Stanley P. Reimann Chair in Oncology Research at Fox Chase.
Chernoff's lab focuses on uncovering the roles of protein phosphorylation in governing two fundamental aspects of cancer biology—cell proliferation and cell movement. 
"Studying genetics is vitally important to the future of targeted therapies for breast cancer, and the Pennsylvania Breast Cancer Coalition (PBCC) is proud to contribute to Dr. Chernoff's outstanding research at Fox Chase," said PBCC President and Founder Pat Halpin-Murphy. "It is our hope that, with the help of this $50,000 grant, Dr. Chernoff's lab is able to gather data that will one day lead to new treatments for breast cancer. Congratulations, Dr. Chernoff, and thank you for your commitment to our goal of finding a cure now… so our daughters don't have to."
Founded in 1933, the Pennsylvania Breast Cancer Coalition has contributed over $4.3 million to breast cancer researchers in Pennsylvania. In addition to providing funding for researchers, the Pennsylvania Breast Cancer Coalition works to support the enactment of legislation that can help save women's lives. They also provide resources and information by sending thousands of free "Friends Like Me" care packages to newly diagnosed women. Their mission as a group is to help find a cure for breast cancer so that future generations will not face a similar diagnosis.