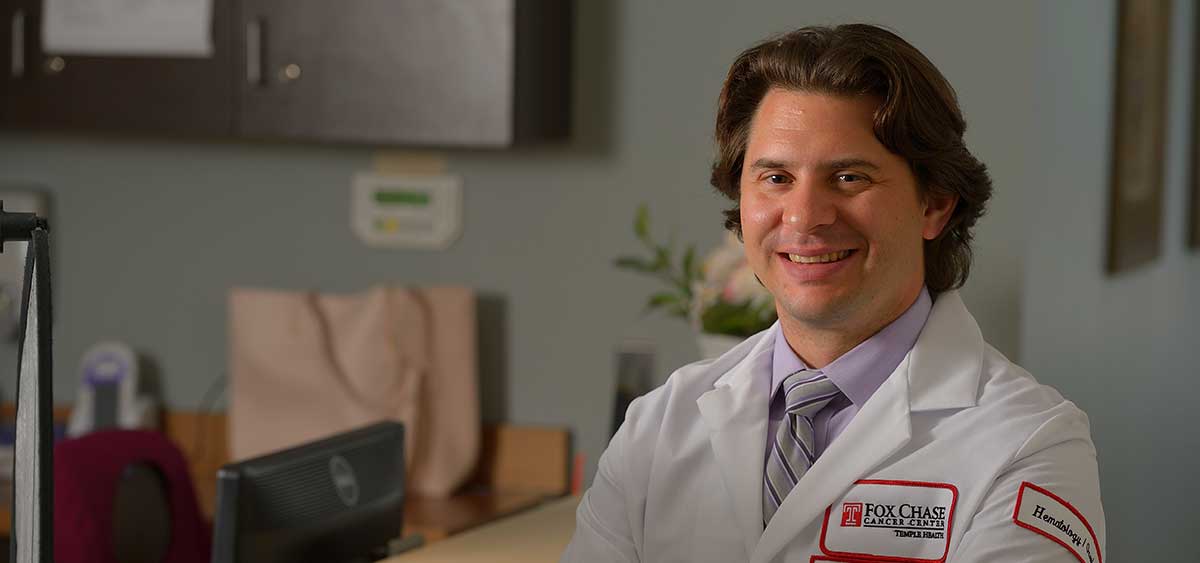 PHILADELPHIA (February 14, 2022)—Data from researchers at Fox Chase Cancer Center indicates that advanced kidney cancer patients treated with a combination of nivolumab and axitinib experienced similar therapeutic benefits to those patients treated with other drug combinations with similar safety profiles. The new research was presented at the 2022 ASCO Genitourinary Cancers Symposium in San Francisco, which is being held February 17-19.
Currently, the established standard of care for patients with metastatic renal cell carcinoma includes treatment with an immunotherapy drug combined with either another immunotherapy drug or an oral drug called a tyrosine kinase inhibitor (TKI).
 "We performed a phase I/II study to investigate the safety and efficacy of combining the tyrosine kinase inhibitor axitinib with the immune checkpoint inhibitor agent nivolumab," said Matthew Zibelman, MD, lead author on the study and an associate professor in the Department of Hematology/Oncology at Fox Chase. Zibelman conducted the study with several colleagues at Fox Chase and at four other sites.
The data was released at an oral presentation, "A Phase I/II Study of Nivolumab and Axitinib in Patients With Advanced Renal Cell Carcinoma."
"What we have shown is that the response rates are as good if not better than what have been reported in any of the other studies. There are four different drug combinations similar to the combination of axitinib and nivolumab that have been previously studied and they have all shown similar efficacy and side effects across patients," said Zibelman.
"I think the main takeaway is that an oral TKI drug and an immunotherapy drug is probably the best option for most patients with kidney cancer, almost no matter what combination you get," he added.
For the study, researchers accrued 44 patients who had received no previous treatment for advanced renal cell carcinoma. Twenty-nine patients experienced a significant adverse event during treatment, the most common of which was hypertension. Fourteen percent discontinued the study due to treatment-related toxicity.
According to study results, overall survival at 12 months was 86.7% and 29 patients (69.1%) had a complete or partial response. Adverse event data was similar to published data for other immune checkpoint inhibitors and TKI combinations.
"I think it's an important point to make that axitinib is a safe drug that pairs well with immunotherapy based on the reported side effects and excellent response rates," said Zibelman.