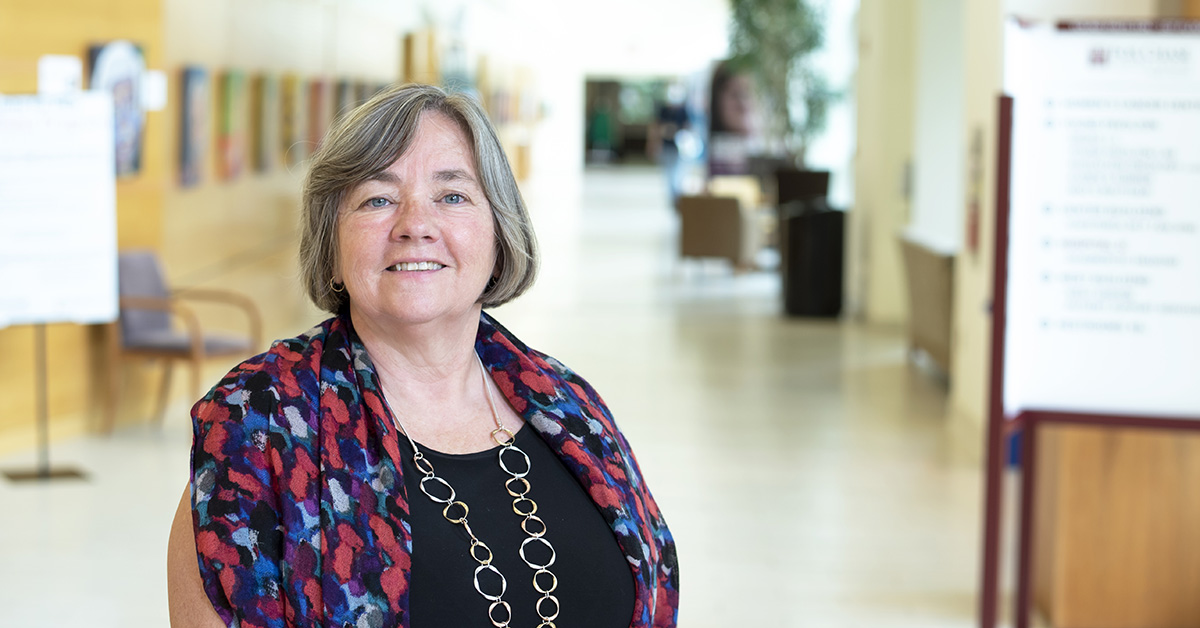 PHILADELPHIA (February 3, 2022)—Linda Fleisher, PhD, MPH, associate research professor in the Cancer Prevention and Control research program at Fox Chase Cancer Center, was recently recognized with the Lillie D. Shockney Lifetime Achievement Award from the Academy of Oncology Nurse & Patient Navigators (AONN+).
"This is an award that is given after looking at the span of someone's career in supporting patient navigation," said Fleisher. "I didn't know I had been nominated, so it was quite a wonderful surprise to me."
Patient navigators act as intermediaries between patients and their clinical care team across the cancer continuum, from accessing cancer screening to survivorship. They assist patients through the treatment process by assessing their needs, connecting them to resources, and providing information that allows them to make informed decisions.
The award is among several given annually by the academy. It recognizes an AONN+ member who has contributed significantly to the field of oncology navigation and the academy. Individuals are nominated by their peers for exemplifying the group's mission and vision within the organization and the community.
"Since the inception of AONN+, Linda has been a strategic leader with a powerful voice and an advocate for patient navigation," said Sharon Gentry, MSN, RN, HON-ONN-CG, AOCN, CBCN, Program Director at AONN+. "She exemplified the mission and vision of the Academy within the organization by serving as a member of the Leadership Council to consistently set strategic priorities, organizational planning, and evaluation of programs to lead AONN+ forward in the future. "With her vast experience, she is actively involved in the Technology and Innovation Committee, CAPE lung project, podcasts, and Facebook Live," Gentry added. Gentry said that Fleisher was also an "analytical voice" in discussions about the critical need for a complete cancer team while transitioning out of the COVID-19 pandemic.
Although she does not work specifically as a patient navigator, Fleisher has been heavily involved in the field of patient navigation for many years. She has served on the AONN+ Leadership Council since its inception and has provided support for a variety of AONN+ projects including co-chairing the Technology & Innovation Committee.
In her role at Fox Chase, she led a state-funded patient navigation demonstration project, co-founded a statewide navigation network, initiated Fox Chase's screening navigation efforts, and has participated in other navigation-related research. Her research focuses on the intersection of implementation science, health disparities, health communication interventions, digital health, and innovation. Her team is currently working on multiple research and quality improvement initiatives focused on the integration of evidence-based digital health tools into community and clinical practice.
Fleisher is also the founding director of the Community Outreach and Patient Resource Education Center at Fox Chase, which is one of the first multimedia patient education programs at a comprehensive cancer center. In addition, she served as the project director and principal investigator for the National Cancer Institute's Cancer Information Service for more than 15 years, assisting callers with their questions regarding cancer care, risk, prevention, survivorship, and more.
"I really was honored and surprised in receiving this award, especially since this is the premier organization for patient navigation. They have been pivotal in moving this field forward and having being nominated by my colleagues is quite an honor which really means a lot to me," Fleisher said.