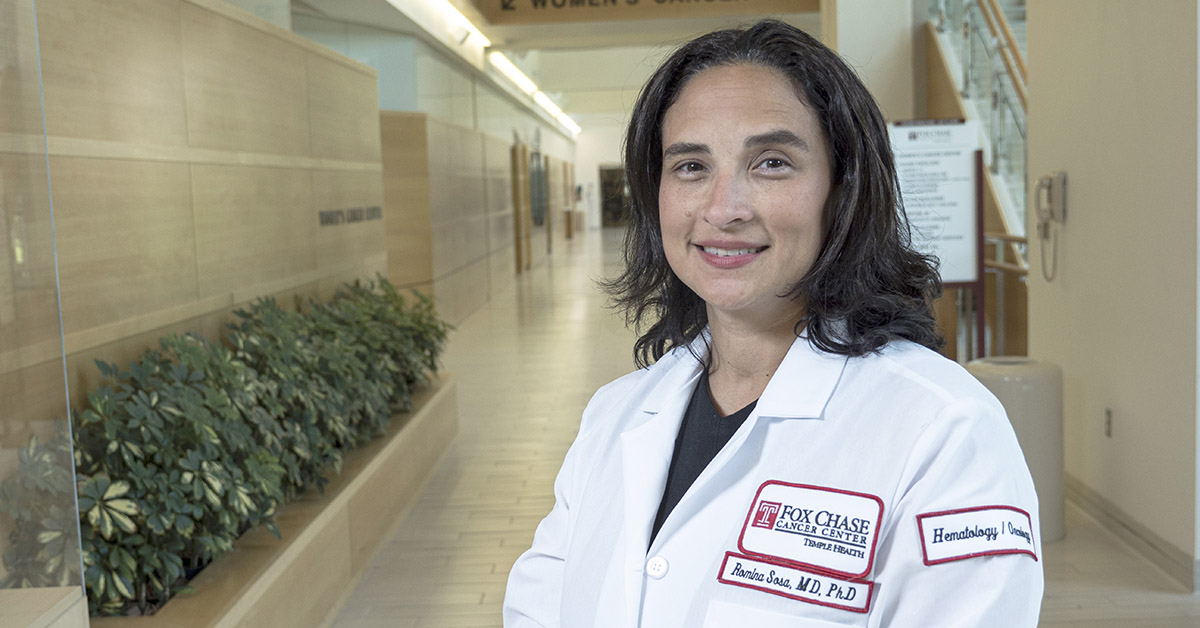 PHILADELPHIA (January 31, 2022)—Iberia Romina Sosa, MD, PhD, an associate professor at Fox Chase Cancer Center, was recently appointed the new chief of the Division of Hematology in the Department of Hematology/Oncology.
"I feel truly privileged to have been offered this role and to have the opportunity to work with such a talented group of faculty and staff in our hematology section," said Sosa.
"This appointment is a testimony to the skills that Dr. Sosa has and the hard work that she has put in over the last several years at Fox Chase. Dr. Sosa has been a leader in both our clinical and research efforts in benign and malignant hematology," said Martin J. Edelman, MD, chair of the Department of Hematology/Oncology.
As a physician, Sosa's treatment focus is on consultative hematology, specifically myeloproliferative disorders, bleeding/thrombosis, and bone marrow failure. As chief of the Division of Hematology, Sosa's focus will be on making sure that the division is meeting the clinical needs of the cancer center and contributing to the advancement of research and innovation.
"I look forward to growing our research portfolio by bringing exciting new studies that will meet the evolving clinical needs of our patients, as well as innovating new projects with our research colleagues in the cancer center," said Sosa.
The Division of Hematology covers many different diseases including benign, myeloid, and lymphoid processes. Sosa said that a need for the division's services continues to increase both within the Temple University Health System, which Fox Chase is part of, and neighboring private practice communities. "I hope to continue to recruit talented faculty to meet the growing clinical need and to continue to deliver excellent care to our patients."
Sosa is an associate member of the American Society of Clinical Oncology, the American Society of Hematology, and the Hemostasis and Thrombosis Research Society.