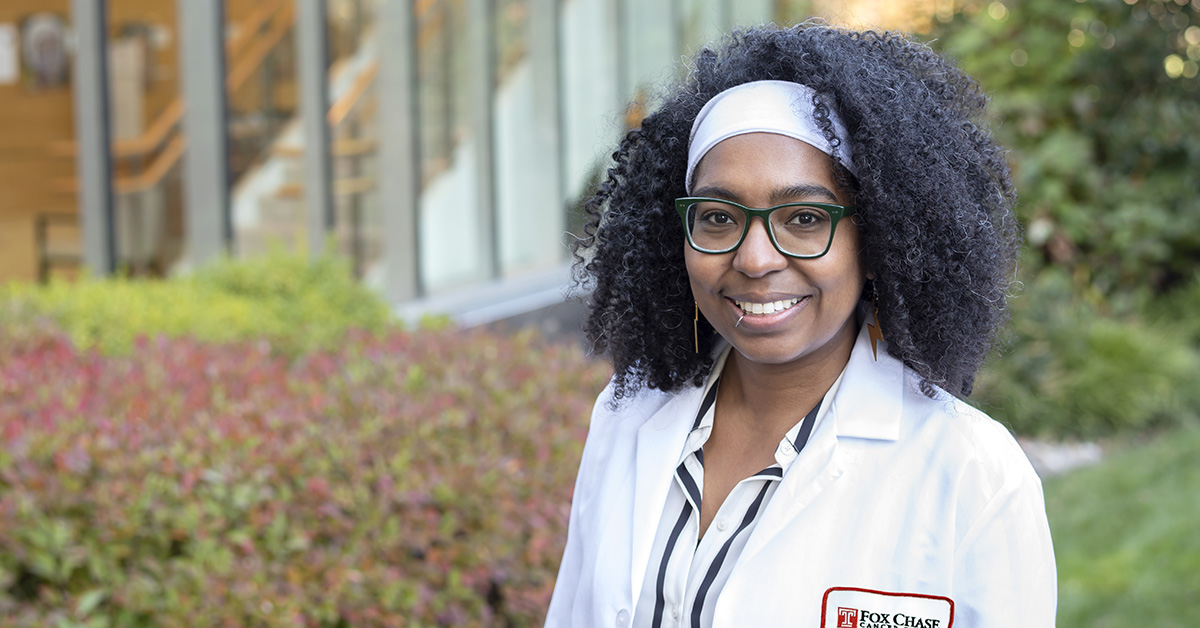 PHILADELPHIA (November 22, 2021)—Jaye Gardiner, PhD, a postdoctoral researcher at Fox Chase Cancer Center, has received an inaugural Black in Cancer postdoctoral fellowship, which is funded by Emerald Foundation Inc. Gardiner will receive $75,000 annually for three years, money that will fund her research into pancreatic ductal adenocarcinoma (PDAC).  
"I'm honored to be involved in this inaugural award for researchers in my field and am very excited to start this research with the Black in Cancer and Emerald Foundation," said Gardiner, who conducts her research in the lab of Edna "Eti" Cukierman, PhD, who is co-director of the Marvin and Concetta Greenberg Pancreatic Cancer Institute at Fox Chase. The grants are designed to support future new Black principal investigators; the funding will increase to $100,000 a year when Gardiner reaches that milestone.
She will use the money to continue her research into the tumor microenvironment (TME), also known as desmoplasia, which consists of the cells in the immediate vicinity of cancer cells. Gardiner said the TME plays a key role in the growth of tumors in PDAC. It does this in part by maintaining an immunosuppressive environment that allows tumors to grow.
In her research, Gardiner will study TME cells extracted from PDAC patients to selectively harness any of the cell's tumor suppressive functions and use them as a therapeutic strategy. The five-year survival rate for PDAC patients is only10% and it is projected to become the second leading cause of cancer-related deaths by 2026, so research such as Gardiner's is needed to develop more effective treatment options and tools for early detection.
In 2019, Gardiner received a grant from the American Cancer Society to support her research, and in 2018 she won the Science Communication Prize from the Mindlin Foundation.
She was also selected by the American Association for the Advancement of Science as an IF/THEN Ambassador, an initiative that seeks to further women in science, technology, engineering, and math (STEM) by empowering current innovators and inspiring the next generation of pioneers. Gardiner is also cofounder of JKX Comics, which creates comics about science and scientists.
Black in Cancer seeks to strengthen the network of Black researchers in the cancer space while highlighting Black excellence in cancer research and medicine. The goals of this award are to advance innovative strategies that will lead to preventions, treatments, or cures for cancers of all types, promote research into disparities in cancer outcomes in the Black community, and increase Black representation in the cancer research community.
Emerald Foundation Inc. is a private biomedical research foundation that invests in research projects in the fields of oncology, neurodegenerative diseases, autoimmune disorders, heritable congenital diseases, and other conditions that are incompletely understood and have been resistant to treatment.