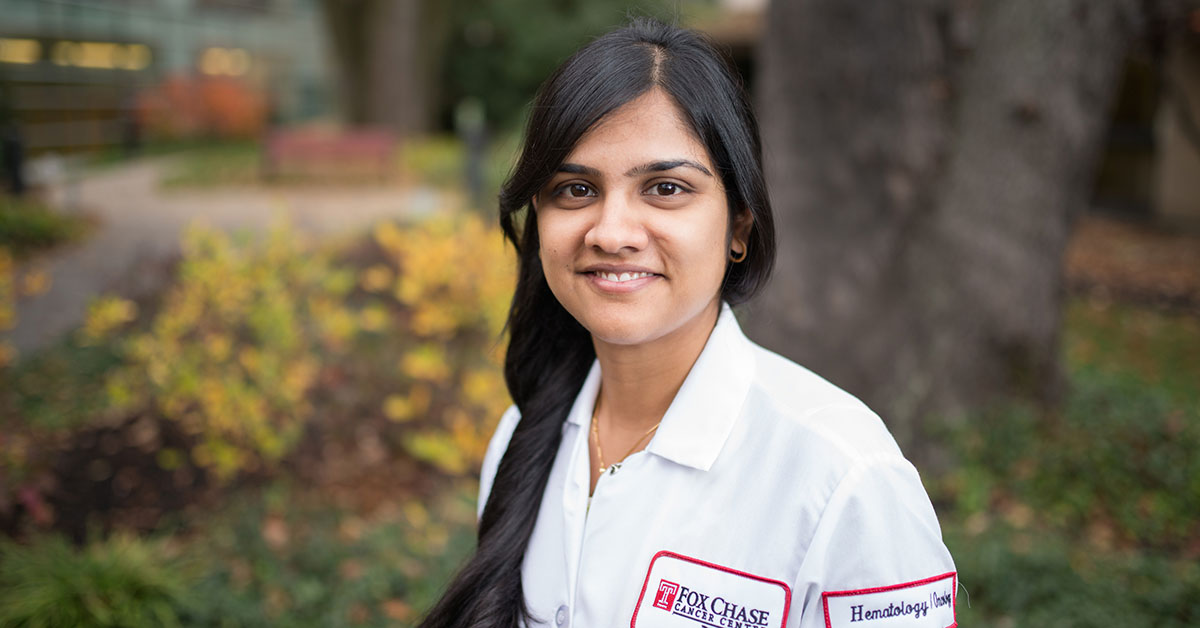 PHILADELPHIA (December 7, 2020)—Namrata (Neena) Vijayvergia, MD, assistant chief of gastrointestinal medical oncology at Fox Chase Cancer Center, was recently named a 2020 recipient of the 40 Under 40 in Cancer Award.
"I am honored to be included in a group of such talented peers, and I'm grateful to my mentors as well as my patients," said Vijayvergia, who is also an assistant professor in the Department of Hematology/Oncology.
The 40 Under 40 in Cancer Award is an initiative to identify and recognize the contributions being made in cancer by emerging leaders. Finalists and awardees were nominated by colleagues and selected by a panel of reviewers from a range of roles in oncology.
"The award makes me even more motivated to continue my efforts to improve care for my patients," Vijayvergia said.
The award is sponsored by The Lynx Group, Upstream Partners, Swim Across America, and the National Community Oncology Dispensing Association.
Vijayvergia said she has a passion for treating neuroendocrine and colorectal malignancies, as well research interest in developing new treatment paradigms for these cancers. She has been a faculty member at Fox Chase since 2015. She said her mission is to advance patient-centric care with a focus on personalized medicine, patient-reported outcomes, and digital health technologies. She added that her approach is goal-oriented and data-driven.
Vijayvergia is actively involved in clinical as well as other research studies using federal, foundation, and industry grant support. She has led teams in the gastrointestinal program and as the medical director for medical oncology for the Fox Chase Partners program, as well as at the Temple University Hospital - Jeanes Campus hematology/oncology consult service.
She has also gained regional and national recognition in her field with multiple peer-reviewed papers, collaborative work, and representation on committees.
Vijayvergia completed her fellowship in hematology/oncology at Fox Chase, where she served as chief fellow. She completed her residency in internal medicine at Temple University Hospital, where she served as chief resident.