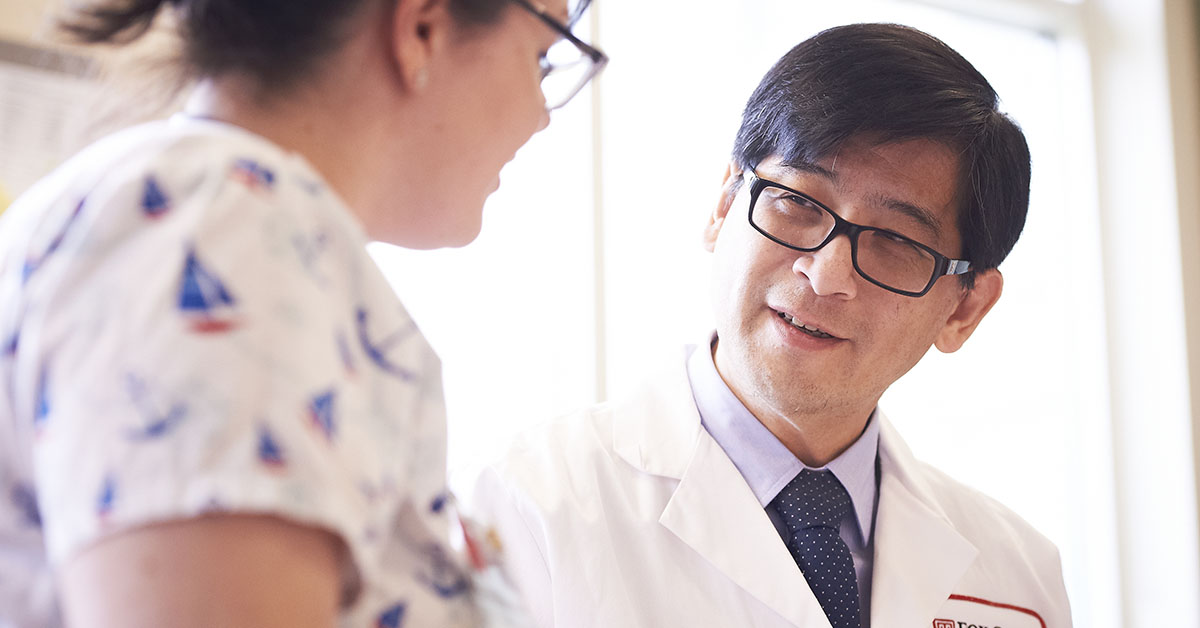 PHILADELPHIA (November 17, 2020)—Patients with mantle cell lymphoma treated at Fox Chase Cancer Center will now have access to treatment with brexucabtagene autoleucel, also known as Tecartus, the first cell-based gene therapy approved by the Food and Drug Administration (FDA).
Tecartus, a chimeric antigen receptor (CAR) T-cell therapy, was approved for adults with mantle cell lymphoma who have not responded to or who have relapsed following other kinds of treatment. Fox Chase is a certified treatment center for the therapy.
With CAR T therapy, patients' T cells are collected and genetically modified to include a new gene that facilitates the targeting and killing of lymphoma cells. These modified T cells are then infused back into the patient.
"This is probably one of the most promising therapies for patients with mantle cell lymphoma, including those with a type of disease called P53-mutated mantle cell lymphoma," said Henry Chi Hang Fung, MD, FACP, FRCPE, chair of the Department of Bone Marrow Transplant and Cellular Therapies at Fox Chase.
Fung was an investigator on the clinical trial that led to the FDA's approval of Tecartus. The ZUMA-2 trial looked at the safety and efficacy of the therapy in patients with relapsed or refractory mantle cell lymphoma and found that 87% of participants responded to a single infusion of the therapy. All signs of cancer disappeared—a complete response—in 62% of patients.
"A complete response rate of greater than 60% with Tecartus is even better than responses seen with first-line treatment after the initial diagnosis," Fung said. "It is a very effective treatment."
Mantle cell lymphoma is an uncommon lymphoma occurring in cells originating in the mantle zone of the lymph node. These lymphomas comprise only a small percentage of cases of non-Hodgkin lymphoma diagnosed each year, Fung said.
Patients diagnosed with the disease will typically undergo initial treatment with chemotherapy or a stem cell transplant. However, even with transplant the disease will recur. In recent years, several Bruton's tyrosine kinase (BTK) inhibitors—acalabrutinib, ibrutinib, and tozanubrutinib—have been approved for patients with mantle cell lymphoma who have received at least one prior line of therapy.
"When patients failed these treatments, even after having durable responses, we had nothing to offer them," Fung said. "The responses we are seeing with Tecartus are like nothing we have seen in the history of mantle cell lymphoma."
Fox Chase also provides FDA-approved CAR T therapy for relapsed or refractory large B-cell lymphoma in adults and refractory B-cell precursor acute lymphoblastic leukemia in young adults up to 25 years old.
The effectiveness of cellular immunotherapy against other hematologic malignancies is also being explored. At Fox Chase, a variety of clinical trials are focused on multiple myeloma, follicular lymphoma, and chronic lymphocytic leukemia.