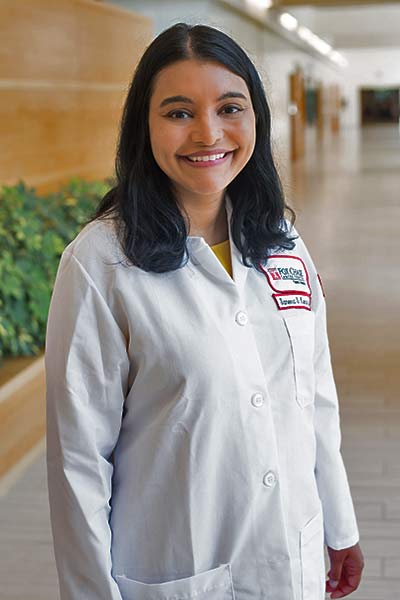 PHILADELPHIA (July 1, 2020)—Researchers at Fox Chase Cancer Center were part of a national team that published a paper identifying best practices for facilities to protect vulnerable cancer patients during the COVID-19 pandemic.
"We're dealing with lung cancer and our lung cancer patients may be more at risk for severe disease due to COVID-19. A lot of the management we do puts them at greater risk after that," said Sameera Kumar, MD, one of the authors on the paper and an assistant professor in the Department of Radiation Oncology at Fox Chase. "So this paper really addresses some strategies for how to manage those patients." Martin J. Edelman, MD, chair of the Department of Hematology/Oncology, was one of the paper's co-authors.
Kumar said one example of this is when lung cancer patients undergo chemotherapy. After receiving treatment, patients have decreased immunity, and patients receiving radiation therapy have to come in for treatment daily.
"Every single day is another exposure," said Kumar. "In some cases with stage III lung cancer, we'll do chemoradiation and immunotherapy or chemoradiation and surgery. With surgery, that's a lot of risk to both the patient and the providers. Recent data shows that surgical outcomes in patients who have COVID, even if they're asymptomatic, are much worse."
The paper provides advice from multiple disciplines, including surgical, medical, and radiation oncology. According to the authors, the overarching goals of the suggested processes are to reduce the number of visits to a healthcare facility, reduce the risk of exposure to severe acute respiratory syndrome and coronavirus, reduce the immunocompromising effects of lung cancer therapies, and provide effective oncologic therapy.
"This paper includes strategies like giving sequential chemotherapy and then radiation. We would do hypofractionated radiation, so instead of coming in for six weeks, you're only coming in for three weeks. By doing it sequentially with chemotherapy and then radiation, we're not combining the immune-suppressive effects of chemotherapy and the frequent visits of radiation at the same time," said Kumar.  
The paper was a collaborative effort among several facilities across the country as healthcare centers anticipated the approaching climax of the COVID-19 pandemic.
"These are strategies that you can use if your resources are limited and you feel your patients are at risk. It's a guide for what to do if, for example, another situation like New York happens, if it gets really bad and the rates of infection significantly increase. Otherwise, the standard of care is appropriate as well," said Kumar.
The paper, "Alternative Multidisciplinary Management Options for Locally Advanced NSCLC During the Coronavirus Disease 2019 Global Pandemic," was published in the Journal of Thoracic Oncology.