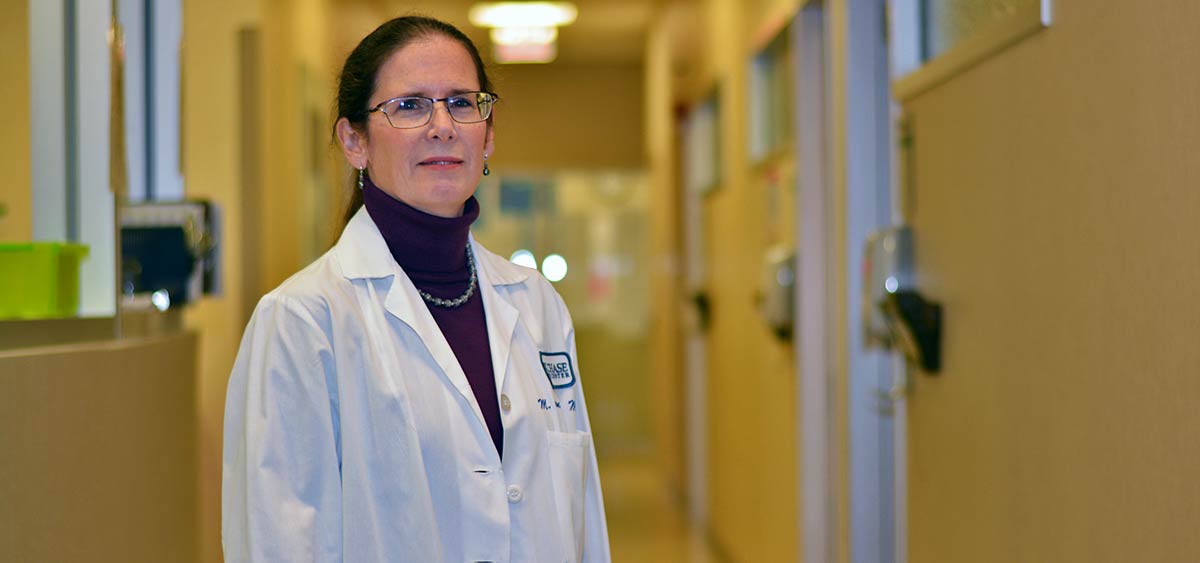 PHILADELPHIA (February 3, 2020) – Although insulin-like growth factor receptor-1 (IGF-R1) is a biomarker for wild-type gastrointestinal stromal tumors (GIST), these mutations do not appear to be driving the disease, according to the results of a study from researchers at Fox Chase Cancer Center.
"Eighty-five percent of GIST are identified as having mutations in one of two genes: KIT or PDGFRA," said Margaret von Mehren, MD, chief of the Sarcoma Program at Fox Chase. "Historically, when talking about any GIST tumors that did not have those mutations we called them 'wild-type.'"
The paper, "Linsitinib (OSI-906) For the Treatment of Adult and Pediatric Wild Type Gastrointestinal Stromal Tumors, a SARC Phase II Study," was published in Clinical Cancer Research, a journal of the American Association for Cancer Research.
These wild-type tumors are less responsive to traditional GIST treatments and are associated with poor response rates and shorter progression-free survival compared with GIST tumors with targetable mutations.
However, as more is learned about the biology of GIST, earlier research conducted at Fox Chase has shown that many of these wild-type tumors had elevated levels of IGF-1R expression and lacked protein expression of the Kreb's cycle enzyme succinate dehydrogenase B subunit, labeled SDH-deficiency.
The researchers hypothesized that targeting IGF-1R might inhibit tumor growth. To test this theory, they conducted a Phase II study of linsitinib, an oral drug targeting IGF-1R, in 20 patients with wild-type GIST and SDH deficiency.
The majority of patients included in the study had SDH-deficient disease. There were also three patients who did not have SDH-deficient disease, but who may have had some other unknown mutations.
Results showed that although IGF-R1 is a marker for these wild-type tumors, its expression does not appear to be driving the tumor. At nine months, there was a clinical benefit rate of 40 percent and a progression-free survival of 52 percent. No patient had disease response.  
Despite these negative results, von Mehren said there is one important take-home message for GIST researchers. "There were four institutions who participated in this trial, enrolling 20 patients in less than six months, showing that these types of studies can be accomplished in a relatively short period of time."
However, conducting research in wild-type GIST remains a challenge, von Mehren added. Currently, there are no cell lines for these tumors, making modeling them in the lab difficult.
This work was funded in part by NCI R21CA150381, P30 CA006927, the GIST Cancer Research Fund, and SARC.