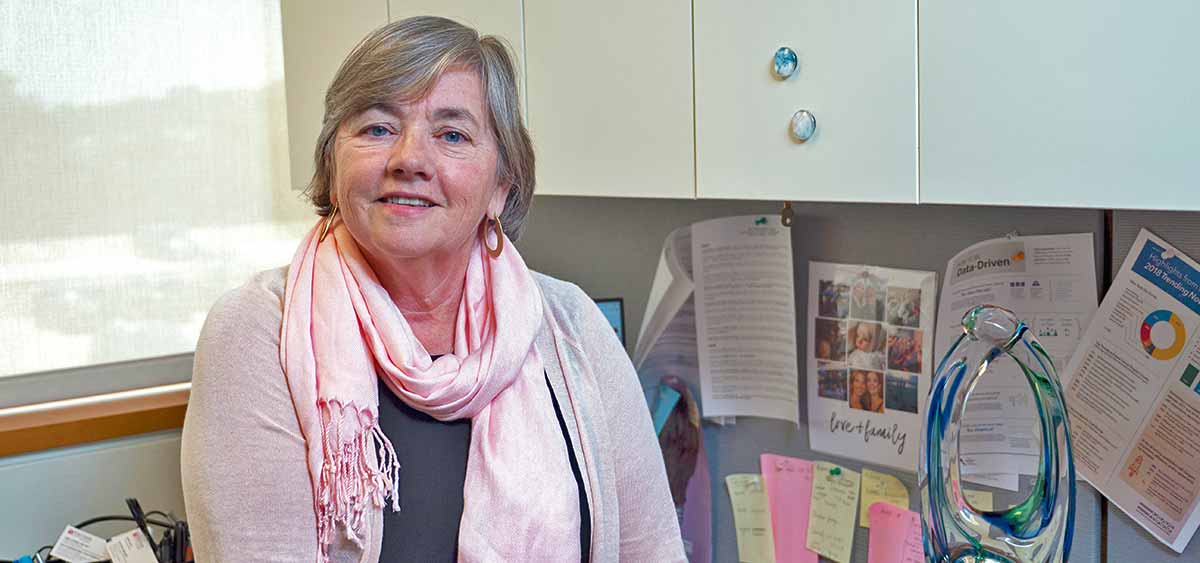 PHILADELPHIA (November 20, 2019) – A researcher at Fox Chase Cancer Center, in collaboration with her colleague at Temple University, has developed an interactive Web tool that is designed to improve informed decision making for clinical trial participation among cancer patients, including those who are often underrepresented in research.
"There are a lot of misconceptions surrounding clinical trials, one of which is that they are often a last-resort option for cancer treatment. It is one of the issues we would like to address and have patients understand it can be an option in early parts of their therapy," said Linda Fleisher, PhD, MPH, associate research professor at Fox Chase in the Cancer Prevention and Control Program.
One of the goals of the research is to help answer questions that people often don't ask about clinical trials, said Fleisher, who is also a codirector of the Geographic Management of Cancer Health Disparities Program, which was designed by the National Cancer Institute.
Fleisher's colleague, Sarah Bass, PhD, MPH, associate professor and director of the Risk Communication Laboratory at Temple University's College of Public Health, served as a coprincipal investigator.
With their experience working in the fields of public health and science communication and a growing body of other research, Fleisher and Bass felt it was important to address the disparity in the rates of clinical trial participation among patients in underserved, predominantly African American communities.
Their study was designed to explore the underlying causes of this difference between those who had participated and those who had not, as well as develop an easily accessible tool that would share patient-driven information regarding clinical trials with individuals considering their cancer treatment options.  
Over the course of two years and through extensive, in-depth interviews with, and surveys of, African American cancer patients, Fleisher and Bass were able to gain a more holistic understanding of the common concerns of cancer patients regarding clinical trials. They found that many of those who did not participate in clinical trials had not been informed, or felt they were not given enough information, about the availability of clinical trials or what that process entailed.
Those findings helped the researchers develop an interactive Web tool called mychoice to provide a resource for cancer patients to help them address their concerns and improve their discussion with their provider about clinical trials. With this new tool, patients can watch video interviews of real cancer patients who have made decisions about participating in clinical trials.  In addition, the participants can select from a wide range of questions that Fleisher hopes they will use in discussions with their healthcare providers.
The researchers believe that providing patient information via mychoice, including patient-physician discussion topics, made patients more positive about the possibility of participating in clinical trials. They are currently evaluating mychoice in a randomized, controlled trial and hope that the tool will empower patients to be proactive in their treatment protocols and feel comfortable discussing their concerns with healthcare providers.
"There are a lot of health-based apps out there. We wanted to provide one with the backing of scientific rigor and user-centered design to ensure ease of use and accuracy, and that is one of the main reasons we did this study," Fleisher said. It is their wish that more people will approach their treatments with more confidence in themselves and their decisions, as well as improve the patient-physician dialogue about available therapies.
The study, "Using Theory and User-Centered Design in Digital Health: The Development of the mychoice Communication Tool to Prepare Patients and Improve Informed Decision Making Regarding Clinical Trial Participation" was published in Psycho-Oncology. The study was funded by a grant from Merck.