PHILADELPHIA (April 9, 2019) – Tomoki Makino, MD, PhD, an assistant professor of gastrointestinal surgery at Osaka University in Japan, spent the first week of April learning about the American surgical system as a visiting surgeon at Fox Chase Cancer Center. Makino came to Fox Chase on a travel fellowship via the International Career Development Exchange, a program of the Society of Surgical Oncology (SSO).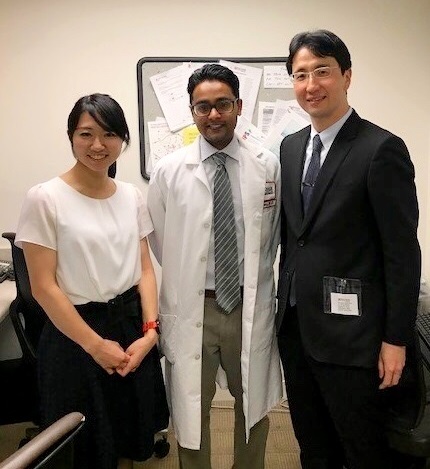 "Hosting Dr. Makino for the week was a great honor for our cancer center, and for me individually," said Sanjay Reddy, MD, FACS, an attending surgeon at Fox Chase. "I was grateful for the opportunity to show him our practice and hospital, and to compare oncologic surgery here and in Japan."
During five days immersed with Reddy through his surgeries, rounds, and clinical work, Makino observed several complex surgeries, and met with the thoracic and gastrointestinal surgical teams to learn about their approaches. This is the first time the SSO has selected Fox Chase as the host institution for the international exchange program.