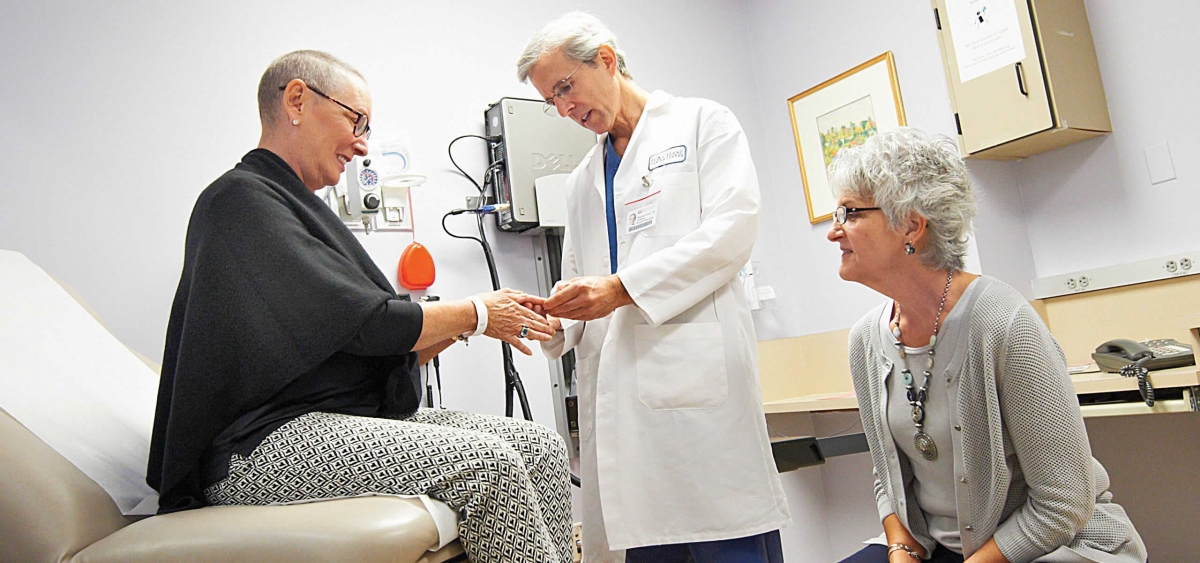 PHILADELPHIA (February 2, 2016) – While its overall incidence has decreased in recent years, ovarian cancer causes more deaths than any other cancer of the female reproductive system, ranking fifth in cancer deaths among women. In February, Fox Chase Cancer Center—Temple Health seeks to educate women on the risk factors and signs of ovarian cancer. According to the Centers for Disease Control and Prevention, each year in the United States, about 20,000 women get ovarian cancer and about 14,500 die from it.
Factors that Increase Risk
Age
Women at any age are at risk for ovarian cancer, but older women are more likely than younger women to get the disease. According to the American Cancer Society, nearly half of women diagnosed with ovarian cancer are 63 years or older, and most ovarian cancers develop after menopause.
Family History
"Women have an increased risk of ovarian cancer if their mother, sister, or daughter has or has had the disease," said Stephen Rubin, MD, Chief of Gynecologic Oncology at Fox Chase Cancer Center. "A woman's risk increases with the more relatives she has with ovarian cancer. Increased risk can also come from the father's side."
Hereditary Patterns
Mutations in the BRCA genes increase ovarian cancer risk. Families with hereditary patterns of colon or uterine cancer may also have an increased risk.
Few Pregnancies or Never Being Pregnant
Few pregnancies or never being pregnant is linked to ovarian cancer because of the total number of times a woman ovulates. "It is therefore logical that a woman's risk for ovarian cancer decreases with each full-term pregnancy. Breastfeeding may further decrease risk," Rubin said. Some studies suggest that women who breastfeed for a year or more may have a modestly reduced risk of ovarian cancer.
Total Number of Menstrual Cycles
A greater number of menstrual cycles over the course of a woman's life, including starting periods at a very young age and/or going through menopause late, lead to an increased risk of ovarian cancer.
Estrogen Therapy and Hormone Therapy
Some studies suggest that women who take estrogen (without progesterone) for 10 or more years have an increased risk of developing ovarian cancer. The increased risk is less certain for those taking both estrogen and progesterone.
Obesity
According to the ACS, it appears that obese women (with a body mass index of at least 30) have a higher risk of developing ovarian cancer.
Signs of Ovarian Cancer
Signs of ovarian cancer may include one or more of the following:
Vaginal bleeding/discharge from your vagina that is not normal for you
Abdominal swelling or bloating
Pelvic pressure or abdominal pain
Difficulty eating or feeling full quickly
A change in bathroom habits, such as having to pass urine very badly or very often, constipation, or diarrhea
"Often times, these symptoms of ovarian cancer get overlooked because there may be other explanations for these signs, but therein lies the danger," Rubin said. "I encourage every woman to really get to know her body, and if she experiences any of these symptoms daily or for more than a couple of weeks, see a doctor right away. The earlier ovarian cancer is found, the more effective treatment can be."
Sources:
http://www.cancer.org/cancer/ovariancancer/detailedguide/ovarian-cancer-key-statistics
http://www.cdc.gov/cancer/ovarian/basic_info/index.htm
http://www.cdc.gov/cancer/ovarian/basic_info/risk_factors.htm
https://www.foxchase.org/cancer-care-services/prevention-screening/risk-assessment/inherited-cancer/ovarian-cancer-inherited
http://www.cdc.gov/cancer/ovarian/basic_info/prevention.htm