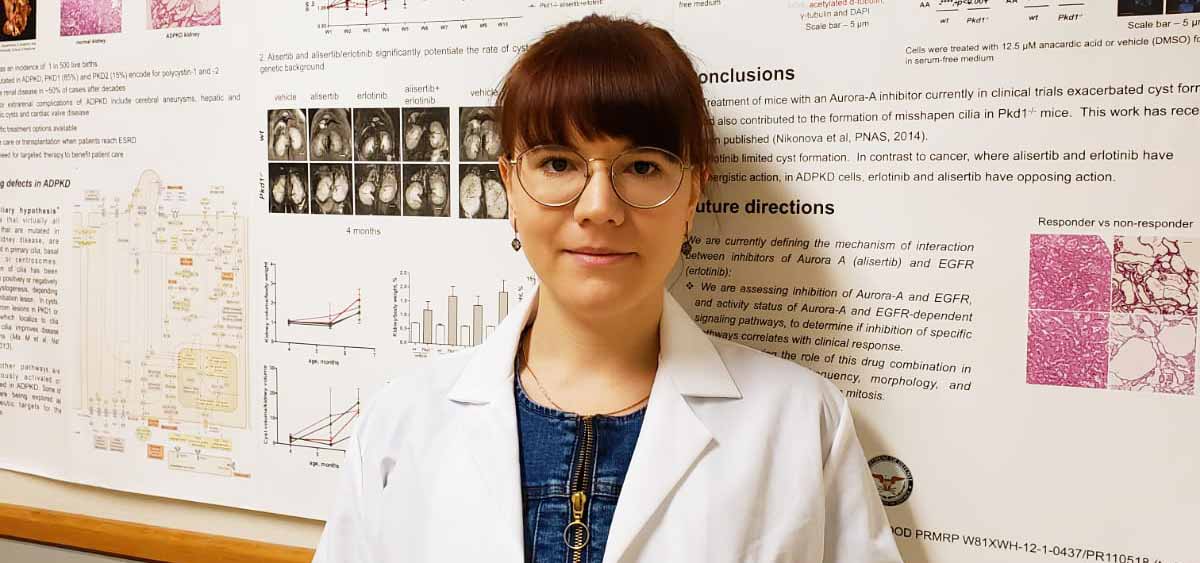 PHILADELPHIA (April 2, 2019) – Some of the most common drugs used to target cancer cells may also have unintended effects on cells throughout the entire body by affecting a signaling "antenna" that cells use to send and receive information, according to new research from scientists at Fox Chase Cancer Center.
"One of the fascinating things about tumors is that they communicate with other kinds of surrounding cells in the body, exchanging different signals to support each other," said lead author Anna A. Kiseleva, PhD candidate, of the Molecular Therapeutics Program at Fox Chase, and the Kazan Federal University, Kazan, Russian Federation. "To receive the signals and process them, the cells require a 'transmitter', one of which is the primary cilium."
The cilium is a small organelle that sticks out of the cell surface and displays a receptor for certain types of cell signals. In certain cancer types, such as medulloblastoma or basal cell carcinoma, cilia are retained; in others, such as pancreatic ductal adenocarcinoma, cilia are lost in the cancer cells.
For example, one of the signals that requires cilia is a protein called Sonic Hedgehog (SHH). Tumor cells produce it and transmit it to cilia on nearby stromal cells, changing the profile of those stromal cells, which then send signals back to the tumor, making it more aggressive.
According to Kiseleva, it is theorized that by removing the cilia from the cell surface – called ciliary disassembly -- cross-talk signaling could be disrupted, affecting tumor growth.
Kiseleva, together with Erica A. Golemis, PhD, a deputy chief science officer at Fox Chase and leader of the Molecular Therapeutics Program, recently conducted a study to identify drugs that either prevented or induced ciliary disassembly.
The paper, titled, "Unexpected activities in regulating ciliation contribute to off-target effects of targeted drugs" was published in April in Clinical Cancer Research, a journal of the American Association for Cancer Research.
"The cilia, or 'antennae', are not there during all cell cycles; cells going through G2 phase or mitosis pull in cilia because their components are needed to complete mitosis," Golemis said.
A large number of promising anti-cancer drugs have been developed to target components of the cell cycle, she said.
"The question we were asking was, if these drugs were developed to regulate cell cycles based on controlling cell cycle targets, do they have a chance of influencing presence of cilia by driving cells into different phases?" Golemis said. "Theoretically, then you could give a patient a drug with a target that is a cell cycle protein and the drug would remove a platform for what you would think would be a completely unrelated target in the stroma by controlling whether or not the cell has a cilium."
Key signals affecting tumor growth via ciliary receptors include SHH and platelet-derived growth factor (PDGF). In this study, the researchers identified several commonly used drugs that influence tumor growth by inhibiting proteins such as Aurora-A (AURKA), epidermal growth factor receptor (EGFR), and a component of the innate immune signaling pathway called interleukin-1 receptor-associated kinase 4 (IRAK4). They showed these drugs also affect cilia and signaling by SHH and PDGF.
They found that sunitinib and sorafenib induced loss of ciliation through activation of AURKA; whereas, erlotinib and an IRAK1/4 inhibitor caused resistance to ciliary disassembly.
Looking at the targets of these drugs, Kiseleva and colleagues identified several genes known to influence ciliation – such as EGFR – and several genes not previously linked to the process. For example, although IRAK4 was never before associated with cilia, further analysis of its signaling pathway identified a subset of pathway members that were also required for regulation of ciliation. Future research will continue in-depth study of the IRAK4 pathway in the context of primary cilium to determine its potential as a novel drug target.
"For decades, people have been trying to screen drugs or evaluate targeted therapies with cancer cell lines in a monoculture system and, later, a lot of drugs did not work or had unexpected behaviors once they were introduced to an organism," Golemis said. "Our results highlight the importance of having tumor cells and stromal cells side by side in these experiments because of the specific signaling relevant to cilia that occurs."
This work received financial support from a NIH R01 DK108195 grant, a PA DOH CURE Award Number 4100077072, a William J. Avery Postdoctoral Fellowship from Fox Chase Cancer Center, by the Russian Government Program for Competitive Growth of Kazan Federal University, by NCI R50 CA 211479, by NIH GM083025, and by NIH Core Grant CA006927.