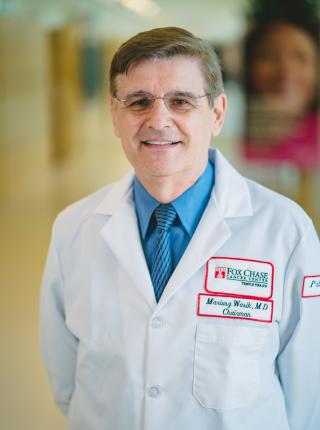 Research Program
Chair of Pathology
As chair of pathology and a key member of the Center's leadership team, Dr. Wasik's responsibilities include playing a prominent role in supporting Temple University Health System's cancer service line, faculty recruitment and retention, and strengthening the portfolio of molecular diagnostics and genomic testing within Fox Chase.
His research focuses primarily on aberrant cell signaling, the underlying genetic and epigenetic mechanisms in lymphomas, the development of new diagnostic and monitoring tools, and the identification of novel treatment approaches based on the unique biology of malignant cells.
A magna cum laude graduate of Wroclaw Medical University in his native Poland, Wasik completed a residency in anatomic pathology at the Mallory Institute of Pathology in Boston. In addition, he completed fellowships in basic immunology, tumor immunology, and hematopathology at Harvard Medical School/Boston University Medical Center, Harvard Medical School/Dana-Farber Cancer Institute, and Harvard Medical School/Beth Israel Hospital, respectively.
Wasik is a member of the Academy of Clinical Laboratory Physicians and Scientists, American Association for the Advancement of Science, American Society for Investigative Pathology, International Society for Cutaneous Lymphomas, and Society for Hematopathology. He frequently serves as a member and chair of various grant review panels for the National Institutes of Health and other funding organizations. He is an editorial board member for Archivum Immunologiae et Therapiae Experimentalis and the Journal of Clinical Pharmacology, and serves as a reviewer for a number of peer-reviewed medical journals, including The American Journal of Pathology, Blood, Nature Medicine, Cancer Research, Journal of Clinical Investigation, Oncogene, Lancet Oncology, and Science.
Educational Background
Fellow in Hematopathology, Department of  Pathology, Beth Israel Hospital and Harvard Medical  School, Boston, MA, 1991-93
Resident and Chief Resident in Anatomic Pathology Resident and Chief Resident in Anatomic Pathology, Mallory Institute of Pathology, Boston, MA, 1988-91
Fellow, Division of Tumor Immunology, Dana-Farber Cancer Institute and Department, Pathology, Harvard Medical School, Boston, MA, 1988
Fellow, Department of Pathology, Harvard Medical School, Boston, MA and Laboratory of  Immunology, Evans Department of Clinical Research, Boston University Medical Center, Boston, MA, 1985-87
Transitional year (internal medicine, surgery, pediatrics, obstetrics and gynecology), Wroclaw Medical Academy, Wroclaw, Poland, 1980
MD, Wroclaw Medical University, Wroclaw, Poland, 1979
People
Andrzej Ptasznik MD, PhD

W313
Research Interests
role of aberrant cell signaling in pathogenesis of T-cell lymphomas
oncogenic mutations in mantle cell lymphoma
mechanisms of cell transformation by oncogenic kinase ALK
Selected Publications
Werner MT, Zhao C, Zhang Q, Wasik MA: Nucleophosmin-Anaplastic Lymphoma Kinase (NPM-ALK): the ultimate oncogene and therapeutic target. Blood 129: 823-831, 2017. PubMed
Obstfeld A, N. Frey, K. Mansfield, S. Lacey, C. June, D. Porter, J. Melenhorst, M.A. Wasik: Cytokine release syndrome (CRS) associated with chimeric-antigen receptor (CAR) T-cell therapy; clinicopathological and molecular insights. Blood 130: 2569-2572, 2017. PubMed
Ruella M, Kenderian SS, Shestova O, Fraietta JA, Qayyum S, Zhang Q, Maus MV, Liu X, Nunez-Cruz S, Klichinsky M, Kawalekar OU, Milone M, Lacey SF, Mato A, Schuster SJ, Kalos M, June CH, Gill S, Wasik MA: The Addition of the BTK Inhibitor Ibrutinib to Anti-CD19 Chimeric Antigen Receptor T Cells (CART19) Improves Responses against Mantle Cell Lymphoma. Clin Cancer Res. 22: 2684-2696, 2016. PubMed
Zhang Q, Wang HY, Wei F, Liu X, Paterson JC, Roy D, Mihova D, Woetmann A, Ptasznik A, Odum N, Schuster SJ, Marafioti T, Riley JL, Wasik MA: Cutaneous T cell lymphoma expresses immunosuppressive CD80 (B7-1) cell surface protein in a STAT5-dependent manner. J Immunol. 192: 2913-2919, 2014. PubMed
Zhang Q, Wei F, Wang HY, Liu X, Roy D, Xiong QB, Jiang S, Medvec A, Danet-Desnoyers G, Watt C, Tomczak E, Kalos M, Riley JL, Wasik MA: The potent oncogene NPM-ALK mediates malignant transformation of normal human CD4(+) T lymphocytes. Am J Pathol. 183(6): 1971-1980, 2013.
Marzec M, Halasa K, Liu X, Wang HY, Cheng M, Baldwin D, Tobias JW, Schuster SJ, Woetmann A, Zhang Q, Turner SD, Odum N, Wasik MA: Malignant transformation of CD4+ T lymphocytes mediated by oncogenic kinase NPM/ALK recapitulates IL-2-induced cell signaling and gene expression reprogramming.   J Immunol. 191(12): 6200-6207, 2013.
Zhang Q, HY Wang, X Liu, G Bhutani, K Kantekure, M Wasik  : IL-2R common g chain is epigenetically silenced by nucleophosmin-anaplastic lymphoma kinase (NPM-ALK) and acts as a tumor suppressor by targeting NPM-ALK.     Proc. Natl. Acad. Sci. USA. 108: 11977-11982, 2011.
Zhang Q, Wang H, Kantekure K, Paterson J C, Liu X, Schaffer A, Paulos C, Milone MC, Odum N, Turner S, Marafioti T, Wasik M A: Oncogenic tyrosine kinase NPM-ALK induces expression of the growth-promoting receptor ICOS. Blood. 118: 3062-71, 2011.
El-Salem M, Raghunath Puthiyaveettil N, Marzec Michal, Liu Xiaobin, Kasprzycka Monika, Robertson Erle, Wasik Mariusz A: Activation of mTORC1 signaling pathway in AIDS-related lymphomas. Am. J. Pathol. 175: 817-24, 2009.
Zhang Q, HY Wang, G Bhutani, X Liu, M Paessler, JW Tobias, D Baldwin,  K Swaminathan, MC Milone, MA Wasik: Lack of TNFa expression protects anaplastic lymphoma kinase-positive T-cell lymphoma (ALK+ TCL) cells from apoptosis.  Proc. Natl. Acad. Sci. USA 106: 15843-15848, 2009
Marzec M, Halasa Krzysztof, Kasprzycka Monika, Wysocka Maria, Liu Xiaobin, Tobias John W, Baldwin Donald, Zhang Qian, Odum Niels, Rook Alain H, Wasik Mariusz A: Differential effects of interleukin-2 and interleukin-15 versus interleukin-21 on CD4+ cutaneous T-cell lymphoma cells. Cancer Res 68: 1083-91, 2008.
Kasprzycka M, Zhang Qian, Witkiewicz Agnieszka, Marzec Michal, Potoczek Magdalena, Liu Xiaobin, Wang Hong Yi, Milone Michael, Basu Samik, Mauger Joanne, Choi John K, Abrams J Todd, Hou J Steven, Rook Alain H, Vonderheid Eric, Woetmann Anders, Odum Niels, Wasik Mariusz A: Gamma c-signaling cytokines induce a regulatory T cell phenotype in malignant CD4+ T lymphocytes. J. Immunol. 181: 2506-12, 2008
Marzec M, Q Zhang, A Goradia, PN Raghunath, X Liu, M Paessler, HY Wang, M Wysocka, M Cheng, B Ruggeri, MA Wasik: Oncogenic kinase NPM/ALK induces through STAT3 expression of immunosuppressive protein CD274 (PD-LI, B7-H1). Proc. Natl. Acad. Sci. USA 105: 20852-20857, 2008.
Marzec M, X Liu, M Kasprzycka, A Witkiewicz, P Raghunath, M El-Salem, E Robertson,  N Odum,  MA Wasik. : IL-2- and IL-15-induced activation of the rapamycin-sensitive mTORC1 pathway in malignant CD4+ T lymphocytes. Blood 111: 2181-2189, 2008.
Zhang Q, HY Wang, X Liu, MA Wasik. : Stat5A is epigenetically silenced in the NPM/ALK-transformed T lymphocytes and acts in such cells as tumor suppressor by inhibiting expression of the NPM/ALK oncogene.  Nature Med. 13: 1341-1348, 2007.
The following ratings and reviews are based on verified feedback collected from independently administered patient experience surveys. The ratings and comments submitted by patients reflect their own views and opinions. Patient identities are withheld to ensure confidentiality and privacy. Learn more about our Patient Experience Ratings.
Ratings Breakdown
Loading ...
Patient comments
Loading ...