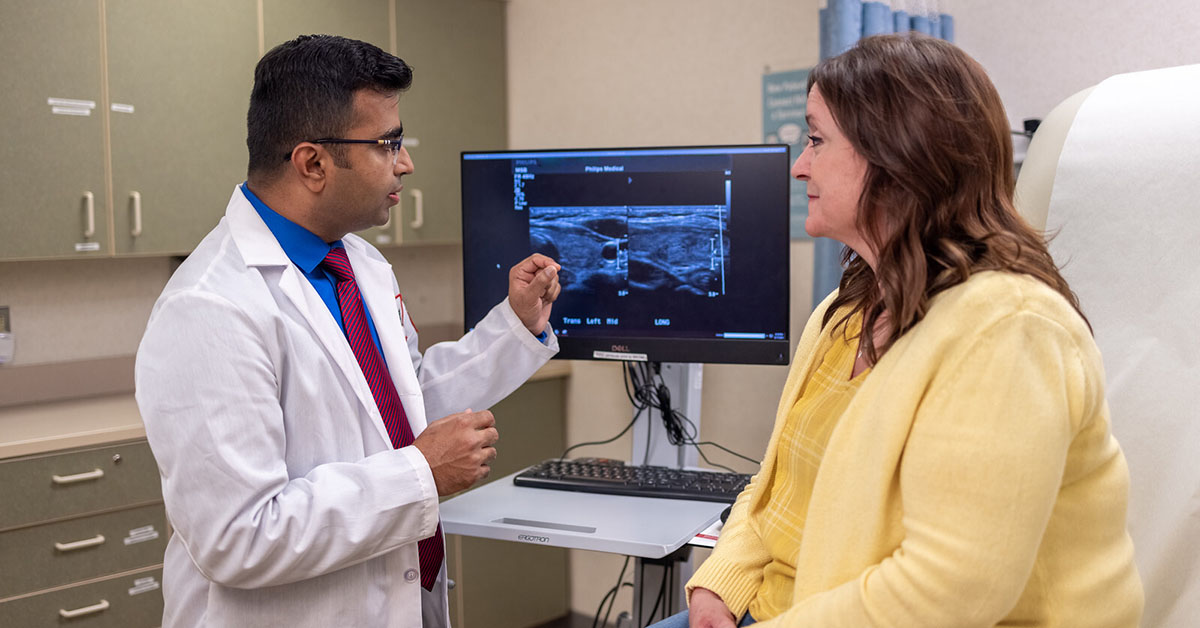 VIEW ALL POSTS
Why a Second Opinion Is Encouraged After a Thyroid Cancer Diagnosis
Thyroid cancer is one of the most rapidly growing cancers in the U.S., and the approach to treatment has changed in recent years. If you have been diagnosed with this cancer, getting a second opinion from a specialist can increase your chances for a successful outcome—and may help you avoid unnecessary therapies or procedures.

Second opinions are always worthwhile before starting cancer treatment. Having another expert review your case helps ensure your diagnosis is right. And it allows you to rest assured that you've explored all possible treatment options.  

Consulting another doctor is particularly valuable when it comes to thyroid cancer, since the latest guidelines recommend an individualized approach to treatment. While the standard protocol in the past was to fully remove a patient's cancerous thyroid gland, today many patients with smaller, lower-risk cancers may only need to have part of the gland removed. In addition, many patients can avoid radioactive iodine treatment for low-risk thyroid cancers.

That's important, since partial removal could mean fewer long-term side effects and less need for lifelong thyroid medications.

"With every cancer care, there's two options," explained Jeffrey Liu, MD, FACS, a surgical oncologist at Fox Chase Cancer Center. "You can overtreat or you can undertreat, and we're always trying to thread that needle right in the middle. For partial versus total thyroidectomy, we want to find the right operation, for the right cancer, for the right circumstances."

It takes a team

A multidisciplinary team that includes an experienced head and neck surgeon and an endocrinologist specializing in cancer—as well as specialized radiologists—can confirm the details of a thyroid cancer diagnosis and help a patient make the right treatment decision. "Sometimes the consideration to remove half a thyroid gland versus the total gland has to do with the risk of that cancer, the size, and other criteria like a patient's age," Liu said.

The team can also address whether a patient may need additional treatment after surgery, like radioactive iodine. "Having a conversation with the surgeon who understands the whole spectrum of cancer and not just, 'I'm here to take out your thyroid,' is really important," Liu said.

Whether full or partial removal of the thyroid gland turns out to be the right choice, a dedicated head and neck surgeon is the best physician for the job. Thyroid surgery can potentially affect the vocal cords or parathyroid glands and lead to long-term side effects. An expert who performs a high volume of thyroid surgeries can minimize these risks as much as possible, explained Pankaj Sharda, MD, FACP, FACE, ECNU, an endocrinologist at Fox Chase.

Getting a second opinion

It's worth coming to a major cancer center for your second opinion when diagnosed with thyroid cancer. Here at Fox Chase, you'll gain access to specialists who are up-to-date on the latest thyroid cancer treatment guidelines. Our multidisciplinary team will review your diagnosis to come up with a personalized treatment plan that offers the right amount of therapy while minimizing possible risks. You'll have peace of mind knowing you've made the best possible decision about your care—and that your cancer team has your individual interests at heart.

To schedule an appointment for a second opinion at Fox Chase, call 888-369-2427. Or, you can request an appointment online.