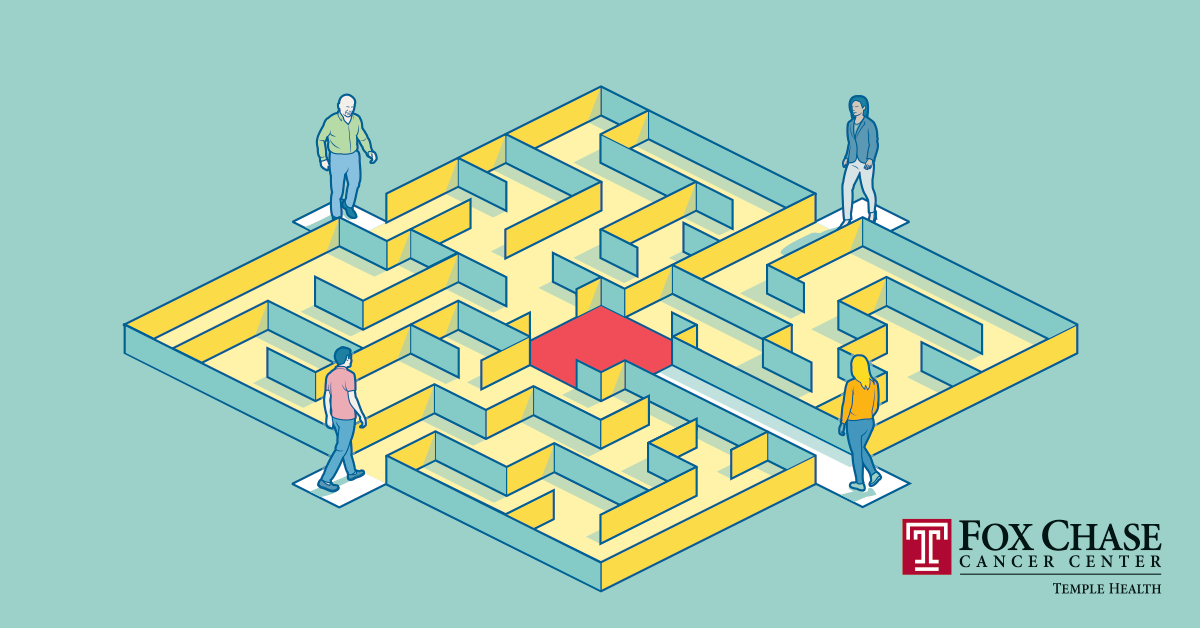 VIEW ALL POSTS
Where You Start Your Cancer Care Matters
A cancer diagnosis means lots of big decisions. One of the most important is where you choose to receive care.

Location and insurance can play a role. But studies have shown that beginning treatment at a facility that specializes in cancer can really payoff: Patients who start their care at a dedicated cancer center have better rates of survival.

The benefits of a cancer center

Getting treated at a hospital like Fox Chase Cancer Center has several advantages. One is that every person in the facility is focused on cancer care.

"Cancer care is not just a single episode of care," said Robert G. Uzzo, MD, FACS, chair of the Department of Surgical Oncology at Fox Chase. "Cancer care is a journey. And the journey requires a team."

At a facility dedicated to cancer care, you're more likely to be treated by highly experienced specialists. These are people whose entire careers are focused on the research and treatment of specific types of cancer. That means you'll likely have access to state-of-the-art technology, new therapies, and cutting-edge clinical trials.

A cancer center is also more likely to have clinicians with varied areas of expertise all under one roof, working together towards one goal. Each patient has a team that may include medical oncologists, surgical oncologists, radiologists, pathologists, genetic counselors, social workers, and more.

"We know patients do better when they have more options and access to more than one type of treatment," said Allison Aggon, DO, FASCO, a surgical oncologist at Fox Chase who specializes in breast cancer. "We have specialists in all different types of treatments. We all work together with the patient to decide the best course of treatment for them."

What to look for in a cancer center

Your doctor can help you find a dedicated cancer center that might be a good fit. He or she will base these recommendations on the type of cancer you have and the treatment you need.

The American Society of Clinical Oncology suggests considering these factors when you're choosing a cancer center:

How experienced is the center in treating the type of cancer you have? How effective have those treatments been?
Is the center in a convenient location? If it's far from home, is there a place you and your family can stay?
What support services does the center offer? Will you and your family have the support of social workers, dieticians, and other members of a health care team?
Does the center offer clinical trials?

Finding an accredited cancer center is also a good idea. The National Cancer Institute (NCI) Cancer Center Program recognizes more than 70 centers in the U.S. as being "designated" by the NCI. These centers provide cancer treatment for patients and/or conduct cancer research.

But, there's an even smaller group of only 49 centers designated as "comprehensive cancer centers" that have the added service of prevention services, community outreach and educational programs.

NCI has accredited Fox Chase as one of these a comprehensive cancer centers – the highest level of designation. When choosing where to receive cancer care, take a deep breath, ask around, do your research, and find a place that specializes in your specific type of cancer.

To make an appointment at Fox Chase, call 888-FOX-CHASE.

.