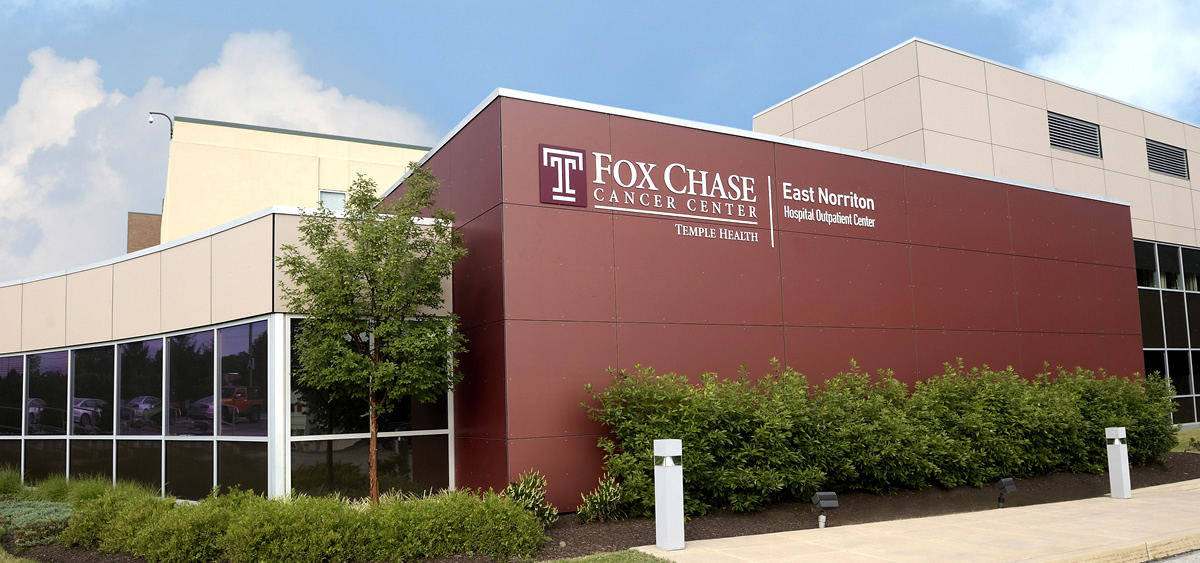 Surgical Consultations Now Available in Fox Chase's East Norriton Offices
Urologic oncology surgeons Marc C. Smaldone, MD, MSHP, FACS, and David Y.T. Chen, MD, FACS, now have office hours at Fox Chase Cancer Center's new Montgomery County location in East Norriton.

"Because one of us will be there each week, we can give patients our team's unique breadth of experience and knowledge of state-of-the-art treatment options through consultations that previously were only available at our Fox Chase Campus," says Chen.

"We look forward to seeing new and current patients at this convenient location," adds Smaldone. "Our mission at Fox Chase is to deliver world class oncologic care in the most compassionate and respectful way possible and this new location lets us provide these services to patients who are not close to our main campus."

Both doctors specialize in the surgical management of tumors of the kidney, bladder, prostate, adrenal, testis and other genitourinary organs. They have extensive experience in a variety of traditional and minimally invasive techniques, including laparoscopic, robotic surgery, and urologic cancer ablation.

"As part of the multi-disciplinary Genitourinary Cancer Patient Care Team, we work closely with our colleagues in medical and radiation oncology to develop a comprehensive treatment plan that offers the best chance for cure for each patient," Smaldone says. "Most importantly, we educate patients about their disease and their treatment options so they can make confident decisions."

In addition, Smaldone specializes in the following:

Minimally invasive organ preserving and reconstructive techniques to preserve function and quality of life, including nerve-sparing prostatectomy for patients with prostate cancer and partial nephrectomy for patients with kidney cancer.
Robotic and open cystectomies for bladder cancer and construction of continent urinary diversions whenever possible
Retroperitoneal lymph node dissection following chemotherapy in patients with testicular cancer
Cytoreductive nephrectomy and thrombectomy for patients with metastatic kidney cancer or tumors extending into the vena cava
Salvage surgery following radiation for patients with bladder or prostate cancer.

Chen's specialties include:

Laparoscopic and minimally invasive surgical techniques designed to reduce the pain, recovery time, and complications associated with traditional open surgery.
Nerve-sparing and organ-reconstructive surgery essential for preserving normal functions when treating prostate, testis, bladder and kidney cancer.
Cryoablation surgery for recurrent prostate cancer, which may delay the need for hormone therapy

"We both have extensive experience in handling any kind of urologic cancer, including some very esoteric or unusual problems related to cancers and rare cancers," adds Chen. "We also have the newest testing approaches such as Blue Light Cystoscopy with CysView for non-muscle invasive bladder cancer and ultrasound-guided transperineal prostate biopsies for assessment of prostate cancer, that give patients are more complete diagnostic picture of their diseases. We can offer the full resources of Fox Chase, at this new location."

Fox Chase's East Norriton offices are located on the campus of Suburban Community Hospital at 2701 Dekalb Pike, East Norriton, PA 19401. For appointments, call 888-FOX-CHASE (888-369-2427) and ask for Fox Chase East Norriton. Patients can also request an appointment online.