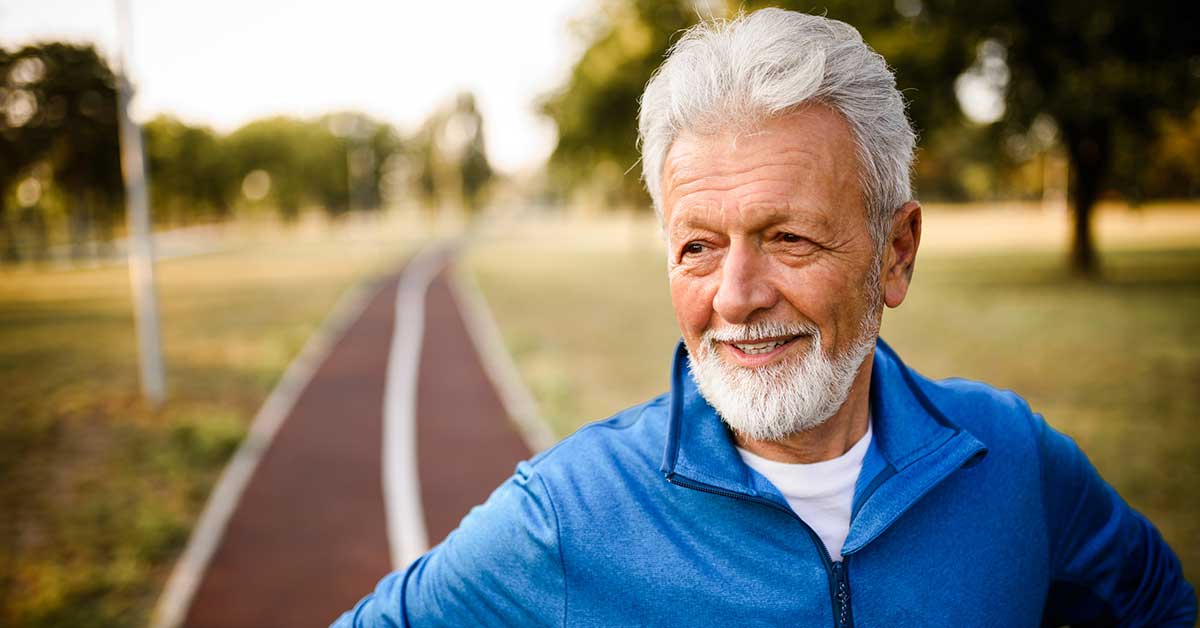 VIEW ALL POSTS
Prostate Cancer Survivors: This Blog Is For You
Urinary incontinence is a possible side effect of many cancer treatments. It's especially problematic for men who've had prostate cancer.

Although it may seem like a touchy topic, there's no room for embarrassment or shame if you're a prostate cancer survivor with a bladder control problem. There are solutions that can help you gain better control. One of them is physical therapy. The key: You need to speak up about what you're experiencing.

Defining the problem

There is a layer of muscles and tissues—known as the pelvic floor—that stretch like a sling across your pelvis. Their job is to support your pelvic organs—such as your bladder, bowel, small intestine, and rectum—so that the organs stay in place and function as they should.

The pelvic floor can be weakened or injured by many things, from lifestyle habits to surgery. When that happens, you may develop a pelvic floor disorder (PFD). Urinary incontinence—defined as an involuntary leakage of urine—is one type of PFD. Pelvic surgery (such as surgery to remove the prostate) and radiation treatments can both cause PFDs.

After prostate surgery, nearly all men will have some short-term urinary leakage. It should improve over time, and physical therapy can help.

What to expect from physical therapy

Talking about incontinence can be a struggle. But your physical therapist is a trained professional who has worked with lots of men who have the same problem.

"There are so many women who work in physical therapy," said Jeannie Kozempel, PT, DPT, MS, manager of Physical Medicine and Rehabilitation at Fox Chase Cancer Center. "If you're a middle-aged guy and you walk into a room with a young female therapist, you may think, 'How am I going to talk to her about this?' But we are accustomed to the conversation."

It's a dialogue that begins with an initial evaluation. Therapists often start with surveys, as many men have a hard time describing their symptoms. "Women know they have a pelvic floor—men not so much," Kozempel said. "Men have an even harder time coming up with the vocabulary to talk about their issues."

But knowing when the problem began and if you've tried anything to solve it is important.

Next comes a physical exam, looking at everything from posture to strength. This information helps therapists develop a personalized road map to better bladder control.

"The treatment plan really varies on what dysfunction the cancer patient has—how severe it is, how long they've had it," Kozempel said. "We're here to help you find a way to address your problem. We'll tell you ideally what you should do, but we'll work with you on whatever plan works for your life."

Treatment plans often include bladder training and pelvic floor muscle exercises, along with making dietary changes and tweaking behaviors such as posture. Also strongly recommended: staying active.

"We know how important physical activity is for most people," Kozempel said. "The same goes for cancer patients with pelvic floor issues. You need to aim for 150 minutes of moderate exercise per week. Your pelvic floor is only going to be as strong as the rest of you."

Getting started

The first step is getting a referral to physical therapy. This referral can come from your radiation oncologist, surgical oncologist, or even your family doctor.

Even if you've lived with incontinence for a while, it's never too late to seek physical therapy, Kozempel said.

"We can still help," she said.