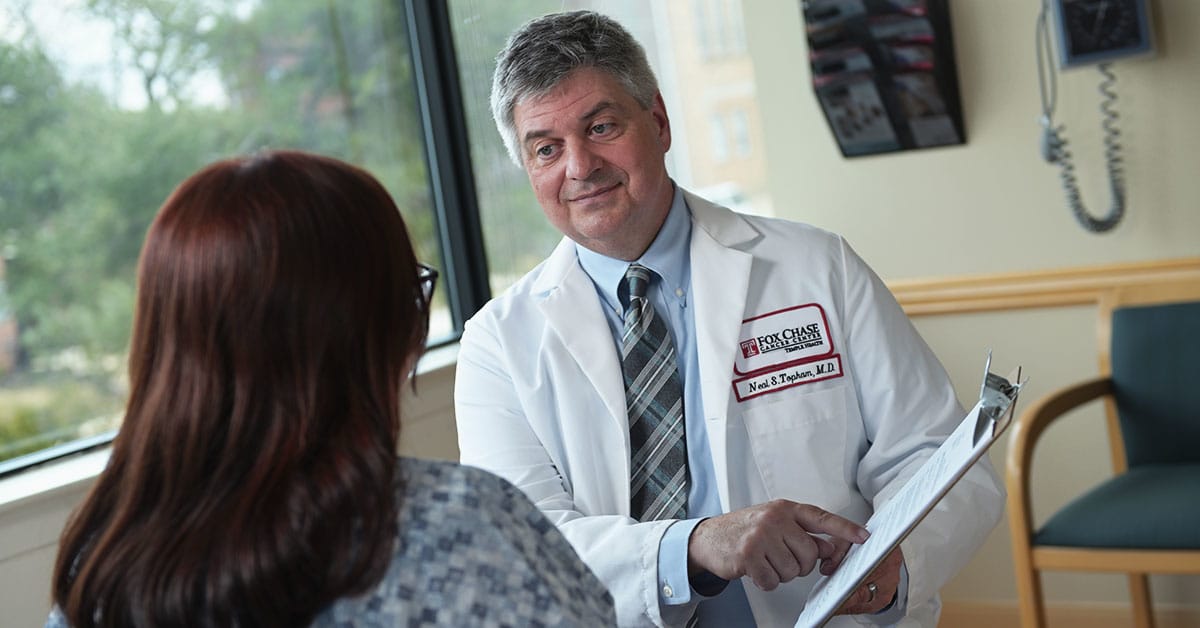 VIEW ALL POSTS
Breast Reconstruction After Mastectomy: Know Your Options
Updated: February 18, 2020

Returning to what feels normal is an important goal for patients during and after cancer treatment. And for many women who have a mastectomy, breast reconstruction is a vital step.

"Studies have shown that people who've had reconstruction tend to be happier and overcome their cancer diagnosis better," said Neal S. Topham, MD, FACS, Chief of Plastic and Reconstructive Surgery at Fox Chase Cancer Center.

If you are a woman considering breast reconstruction, it's important to understand that there are many options for this type of reconstructive surgery. And your plastic surgeon can help ensure you have made the best decision possible for your situation.

Types of breast reconstruction

Free flap procedures

Breasts can be rebuilt using implants or by using tissue from elsewhere in woman's body, in what are known as free flap procedures.

Two common free flap procedures are the muscle sparing TRAM flap and the DIEP flap. Both involve removing a piece of tissue—called a flap—containing skin, fat, blood vessels, and sometimes muscle from elsewhere in a woman's body to form a natural-looking breast.

Muscle sparing TRAM flap procedures take tissue, including a little muscle, from the abdomen. DIEP flap surgery uses tissue only from the abdominal wall, without the abdominal muscle.

"We can also take tissue from other places in the body like the thigh and the buttocks," Topham said. "We do that much less commonly because most people want a flatter stomach. And, for most people, that's where they have excess tissue."

Breast implants

For women who opt for a breast implant, they have a choice of one filled with either saline or silicone.

"Silicone has a better texture," Topham explained. "It's doughier, so it doesn't ripple as much. I think people are happier with them. The drawback is that it's harder to tell if the implant ruptures. Saline, when it ruptures, deflates like a water balloon. Silicone doesn't leak out like that, it doesn't collapse, so it leaks slowly around the implant."

Things to consider about breast reconstruction

Here are some other important things to keep in mind when considering breast reconstruction:

Not all centers offer every option. When breast reconstruction is something you are considering after a mastectomy, be sure to choose your plastic surgeon wisely. You will want to go to a center, like Fox Chase, where reconstructive surgeons are well versed in all of these procedures so you have the most options to choose from when picking the right one for you.
You can have reconstruction at the same time as a mastectomy or later. There may be an appearance advantage to having the reconstruction done at the same time as a mastectomy, depending on whether you opt for a flap procedure or an implant, Topham said. You should discuss the pros and cons of timing with your surgeon.
Radiation treatment for breast cancer can impact both implant and flap reconstruction, and affect healing times. Implants and the chest wall can tighten with radiation, potentially causing pain. And radiation can shrink a flap reconstruction just like it shrinks a regular breast. For these reasons, surgeons may recommend that you hold off on breast reconstruction until after your radiation treatment is complete.
Implants generally need to be replaced every 10 years. And people with silicone implants should get an MRI every two or three years to monitor them and make sure the implants are okay, Topham said.
Flap reconstruction is a lasting solution. "When the tissues are your own, you don't have to have an implant replaced because there isn't one," Topham said. "They can also have a more natural shape and texture."
Insurance must cover the cost of reconstruction after mastectomy and surgery to make the breasts match. This is according to federal law.
Reconstruction is a personal choice. Some women opt to skip reconstruction after a mastectomy and are completely comfortable with a flat chest. Only you can decide what is physically and emotionally right for you.

Turn to the experts

The plastic and reconstruction surgeons at Fox Chase are experts at building new breasts. They are all board-certified in plastic surgery and are skilled in the latest reconstruction techniques, including free flap procedures.

Another thing to keep in mind is that a second opinion when it comes to reconstructive surgery can be valuable – it is an important decision.

To make an appointment with one of these surgeons, call 888-369-2427. Or you can make an appointment online.