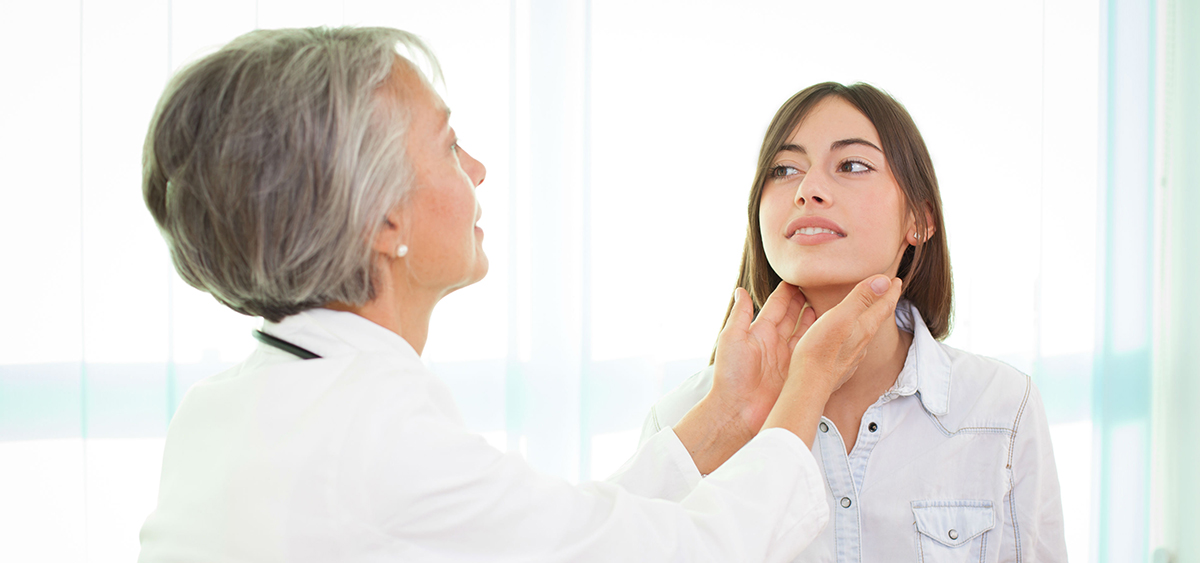 VIEW ALL POSTS
What You Need to Know About Head and Neck Cancer
Head and neck cancers – which are twice as common in men than women -  account for approximately 4 percent of all cancers in the United States. In fact, researchers estimated that in 2017, more than 65,000 men and women in the U.S. would be diagnosed with head and neck cancers.

So, what is head and cancer? Body parts like the inside of the nose, back of the nose, mouth, tongue, tonsil, throat, and voice box are lined with a special skin called mucosa. Head and neck cancer often refers to cancers that arise from this lining. In addition to the cancer of the mucosa – medically known as squamous cell carcinoma – head and neck cancer specialists treat tumors and cancers of the skin, thyroid gland, sinuses, and salivary glands.

Knowing what to look for

Knowing your body and reporting anything different or unusual to your doctor can be a key factor in catching cancer early. Different types of cancers present with different symptoms but some of the most common symptoms of head and neck cancers include:

A lump or mass in the neck
A lump or sore that does not heal
A sore throat that does not go away
Difficulty swallowing
A change or hoarseness in the voice

Other signs of specific types of head and neck cancer can include white or red patches on your gums, tongue, or the lining of your mouth, swelling that causes problems with dentures, unusual bleeding or pain the mouth, frequent headaches, ringing in the ears, and chronic sinuses that do not respond to treatment with antibiotics.

These symptoms could also be caused by other, less serious conditions but it is still important to promptly set up an appointment with your doctor or dentist if you are experiencing any of these things. Our head and neck cancer team at Fox Chase encourages all adults to participate in regular screenings for head and neck cancer. It is painless and takes less than 10 minutes of your time.

Causes and prevention

One thing doctors know for certain is that all head and neck cancers are not the same. While many of these cancers can be attributed to tobacco or alcohol use, others can result from viruses such as the Human Papilloma Virus (HPV). Unfortunately, some are due to just bad luck.

Although not all head and neck cancers can be prevented, your risk for developing these cancers can be reduced by avoiding certain risk factors. Limiting alcohol intake and tobacco consumption – either by not starting to use tobacco products or quitting – can lower your risk. Additionally, you should try to eat a healthy diet, wear dentures that fit properly to avoid irritation, and reducing your risk of HPV infection. Most importantly, any pre-cancerous growths or concerning areas should be evaluated and treated promptly.

One last tip – don't forget the sunscreen and lip balm! Exposure to ultraviolet light can lead to skin cancer and cancer of the lips, so when you're out in the sun, use sunscreen, lip balm with SPF 30 sun protection, and wear wide-brim hats to shield the sensitive skin on your face.

Treatment options for head and neck cancer

For those diagnosed with head and neck cancer, there are more treatment options than ever. Historically, surgery has been the standard treatment for head and neck cancer. Over the last 20 years, however, chemotherapy and radiation have been integrated into treatment plans.

Patients benefit when a multidisciplinary team of physicians that specialize in this specific cancer type is managing his or her care. This team approach which includes practitioners such as radiation, medical, and surgical oncologists, speech and language pathologists, plastic surgeons, physical therapists, radiologists and pathologists is reflective of the complex treatment offered by National Cancer Institute-designated centers like Fox Chase.

Cancer centers like Fox Chase also have support groups that offer education and support for patients who have completed or are currently undergoing chemotherapy, radiation therapy, and/or surgery for head & neck cancer. At Fox Chase, the Head and Neck support group meets the third Tuesday of every month. Additionally, the Speakeezy Club of Delaware Valley, a laryngectomy support group that provides information, education, and psychosocial support to patients and their families, meets on the fourth Thursday or every month.

Take advantage of head and neck cancer screening opportunities

Everyone with risk factors for head and neck should take advantage of opportunities for head and neck cancer screening. Your dentist, oral surgeon, and general physician can all do this screening at any time. Screening is non-invasive, takes only about 10 minutes, and could be what saves your life.

Learn more about the Head and Neck Cancer Program at Fox Chase Cancer Center.