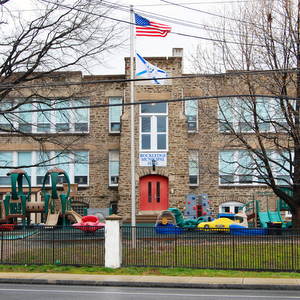 VIEW ALL POSTS
Celebrating Creative Beginnings
Inside the walls of Fox Chase Cancer Center, clinicians, researchers and other employees spend their days working to fulfill the Center's mission to prevail over cancer. 

Creative Beginnings Daycare

Down the street at Creative Beginnings, a dedicated team fulfills that mission in a different way by caring for the children of employees of Fox Chase and the Temple University Health System.

"We see it as a parent partnership," said Kathleen Roberts, director of Creative Beginnings. "We're like part of the family."

Founded in 1981 as the first childcare program offered by a healthcare provider in the Delaware Valley, Creative Beginnings is celebrating its 35th anniversary this year. In those 35 years, nearly 1,000 children have come through the program and the daycare has swelled from just one classroom to ten.

Creative Beginnings is accredited by the National Association for the Education of Young Children (NAEYC) and rated STAR 4, the highest possible rating, by Pennsylvania Keystone STARS, an initiative of the Office of Child Development and Early Learning to improve, support, and recognize the continuous quality improvement efforts of early learning programs in Pennsylvania.

Approximately 100 children are currently enrolled in the program, which is open to children ages six weeks to six years of age. The children are grouped by age, with each classroom having age-appropriate activities and curriculum.

Today, the program is housed in the Rockledge Municipal Hall, a spacious building with an indoor gymnasium, outdoor playground equipment, and specially designed classrooms for infants, toddlers, preschoolers and kindergarten students.

Over the years, the daycare has been a lifesaver for many employees as they juggle demanding careers while raising a family.

When Glenn Rall, Professor, Associate Chief Academic Officer, and director of the Postdoctoral Program, made the move to Fox Chase 21 years ago, he had a three-month-old baby and his wife, Eileen, was pregnant with their second daughter.

Relocating from the West Coast, where he had completed his postdoctoral fellowship, to start as an assistant professor at Fox Chase was stressful enough without having to worry about finding childcare. Rall was made aware of the employee daycare during his recruitment, and after visiting the facility, knew it was the perfect place for his daughters to grow and learn while he and his wife were at work.

"It gave me the confidence not to fret during the day," he said. "I love my job, but first and foremost I'm a husband and father. They're always on my mind. If I can feel a sense of confidence and ease that they're being taken care of, I can do my job a whole lot better."

As friendships blossomed among children, their parents got to know each other outside the walls of the Center.

"Being new to Fox Chase, that was really important," he said. "It adds to the community of working here."

Anjali Albanese, a social worker at Fox Chase, never envisioned having her children attend daycare but wanted to continue her career. It took just one visit to Creative Beginnings for Albanese to feel that if her daughter couldn't be with her all day, she was in the next best place.

"There was an immediate feeling of warmth," she said. "People were smiling and genuinely happy. You could see the love they had for kids who aren't even their own."

The first day Albanese dropped her daughter off was still difficult but made easier by the caring team at Creative Beginnings.

"They could feel how nervous I was and called me later to see how I was doing," she said. "They updated me on her and after all those calls, I picked her up and she was happy and clean – just the way I left her. I thought 'maybe I can do this.'"

Albanese's daughter even stayed at Creative Beginnings for kindergarten and her youngest is still enrolled and loves every minute of her time there.

"They take these children seriously," Albanese said. "The teachers still celebrate milestone events with us. They become part of your family. They're not strangers. Once you let someone take care of your child, you let them into your heart."

To mark its milestone 35th anniversary, Creative Beginnings will host a celebration on Saturday, October 22nd from 10 am to 2 pm for current families, staff, alumni and families who are interested in enrolling their children. The event will feature fall festivities for the entire family, including a pumpkin patch and pumpkin decorating, Quiver Farm apple cider press, Quiver Farm petting zoo, face painting, bead stringing, Mr. Science, a "selfie" photo booth, and DJ entertainment. Light refreshments will be served.